( Don't know if this has been brought up yet.)
.
Just great...I'm in the middle of a reformat.....and I get this.
.
.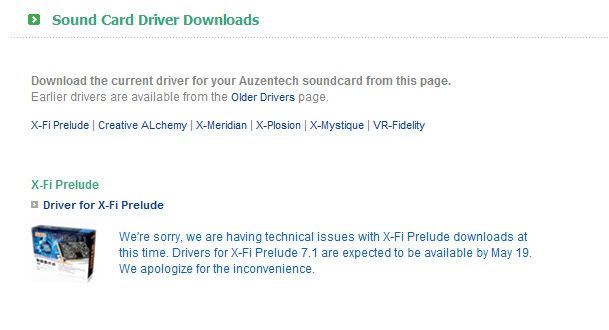 .
.
They seem to be having technical difficulties of some sort.
I can seem to get ANY driver for my sound card till May 19th.
What the.....
I can't believe this. Now what?
CPU
Motherboard
Graphics
RAM
Intel E6750 @ 3.4Ghz
Evga 680i Sli Se
Evga 8800GT SSC
Mushkin 2Gig 800 @ 1000mhz 5-5-5-11
Hard Drive
Optical Drive
OS
Monitor
Seagate 500GB 7200.11 + Seagate Barracuda 250GB
Samsung SHS203B
Win 7
Samsung 22Inch 226BW
Power
Case
Mouse
Kingwin 600 Watt Modular
Antec 900
Mx518 Optical
View all
hide details
CPU
Motherboard
Graphics
RAM
Intel E6750 @ 3.4Ghz
Evga 680i Sli Se
Evga 8800GT SSC
Mushkin 2Gig 800 @ 1000mhz 5-5-5-11
Hard Drive
Optical Drive
OS
Monitor
Seagate 500GB 7200.11 + Seagate Barracuda 250GB
Samsung SHS203B
Win 7
Samsung 22Inch 226BW
Power
Case
Mouse
Kingwin 600 Watt Modular
Antec 900
Mx518 Optical
View all
hide details