Hi All,
I cant get my head around this problem i have. stop 0x0000007B (0xF78D2524, 0xc0000034, 0x00000000, 0x00000000), please, please help me. This happens when it just starts to setup windows
Thinking this was the Raid driver playing up i downloaded and made a f6 floppy courtesy from intel using their f6flpy32.exe programme. I have tried to use the ich9 and the ich8r / 9r driver but both of them show the same stop code.
Has anyone got a skulltrail working with XP.. and if so.. how the smeg did you do it.. btw its xp SP2.
Ideas and thoughts really appreciated ive spent the last 2 days trying to work out whats wrong.
some piccies of it (as some people might think im trolling, this rig does exist)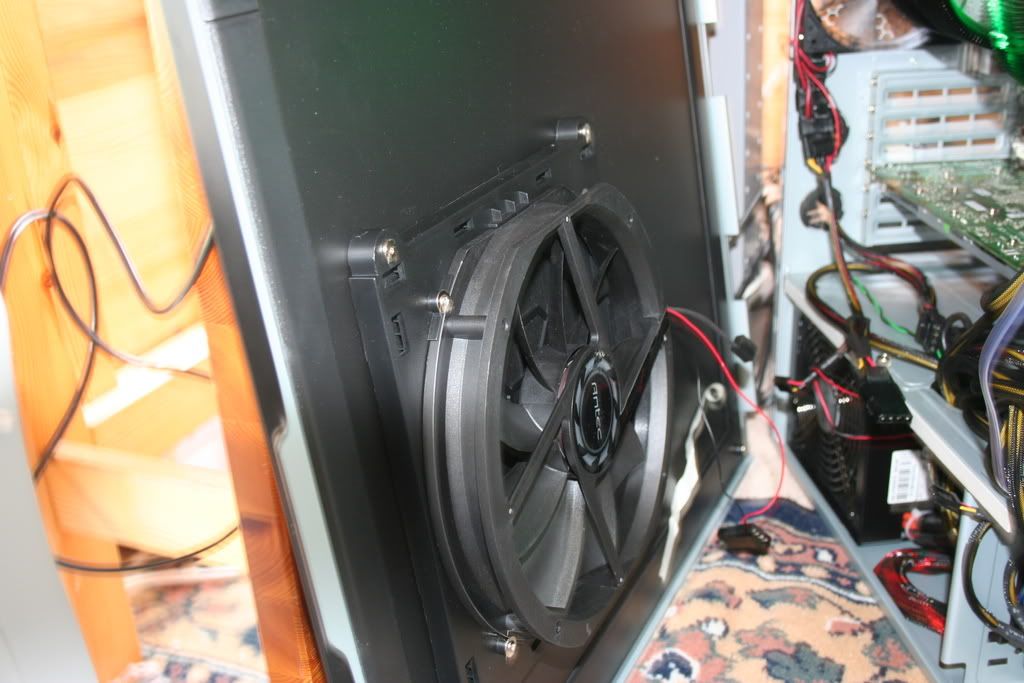 The 200mm fan at the side ( i need to dremel another hole for the enermax psu fan)
2x zalman itanium 9700's and 140mm exhaust fan
,
top 2x 140mm exhaust fans
you can jsut make out the 2x 120mm fans middle drive bay rear and lower psu bay in front of psu's.
I still want to add another 120mm to the front middle drive bay and the lower front drive bay, then i can think about tweaking.
Firstly i just want to get this going, so please any help is appreciated
Specs
1x skulltrail 5400 xs
2xx 2gb Crucial FBDIMMS @667 ( was told by supplier that 800's dont work.. what was that about)
1x pny nvidia quaddro 3700
2x WD raptor 150's on sata 0+1 ( the top 2)
1x nec dvdRW on sata 5
1x intel 10GB Ethernet card (not in yet, just want to get it working first b4 connecting to my 4TB raid array)
Video edit suite, hence the parts.. but id love to see what it can do lol
My last edit suite was a dual xeon 2.8 on the infamous asus pc dl deluxe board.. and that was slapped in a thermal take with 13 fans in it (includes the fans in the drive caddies)