here's my second build. i modified my Antec 900 to give this a super clean look. no wires! 16 second SuperPI and 13,000 3DMark05 so far. CPU 30 idle / 38 full load. quiet quiet quiet.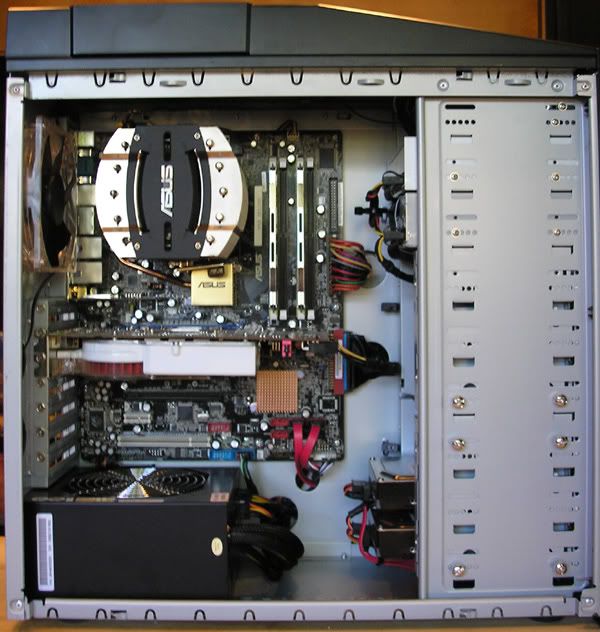 2 hard drives, 2 DVD drives, 5 case fans, temp sensors, fan speed controllers, top panel with 2 USB, firewire, power & reset buttons, headphone & mic jacks, HDD LED, etc. all wires hidden.
with power on and side window off.
close-up of the CPU heatsink.
can't hear a damn thing. quietest computer i've ever owned.
CPU
Motherboard
Graphics
RAM
E6320 @ 2.8
Asus P5W DH Deluxe
(2) Radeon X1900XTX CF
2GB G.Skill HK 4-4-3-5
Hard Drive
Optical Drive
OS
Monitor
640 - 2x320 Samsung RAID-0
Dual DVDs
XP MCE
Acer 22" + Dell 19" LCDs - 2960x1024 rez :D
Keyboard
Power
Case
Mouse
Logitech MX
Zalman 600W RT
Modified Antec 900
Logitech MX
Mouse Pad
Giant
View all
hide details
CPU
Motherboard
Graphics
RAM
E6320 @ 2.8
Asus P5W DH Deluxe
(2) Radeon X1900XTX CF
2GB G.Skill HK 4-4-3-5
Hard Drive
Optical Drive
OS
Monitor
640 - 2x320 Samsung RAID-0
Dual DVDs
XP MCE
Acer 22" + Dell 19" LCDs - 2960x1024 rez :D
Keyboard
Power
Case
Mouse
Logitech MX
Zalman 600W RT
Modified Antec 900
Logitech MX
Mouse Pad
Giant
View all
hide details