Quote:
We already talked about LGA 1366 motherboards intended for Bloomfield processors . It is considered that such motherboards will be based on tylersburg chipset , coupled with the south bridges ICH10 series . Since the three-channel memory controller will move to the processor, the functional possibilities of the north bridge was reduced.

Today appeared new information about the first representatives of tylersburg chipsets . Since the first generation nehalem four core processors bloomfield will appear in the fourth quarter this year, x58 intel chipsets should appear in the same time . As intel promised, motherboard on its base will support three-channel DDR- 3 memory , and PCI express 2.0 slots can work according to : PCI express x16 + PCI express x16 or 4 X PCI express x8.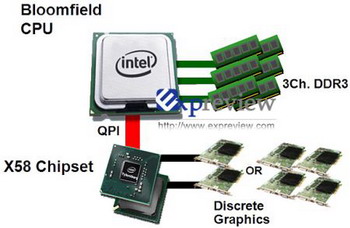 The south bridge will remain as before (as in desktop chipsets fourth series P4x).

The chipset intel p45 will appear in June exhibition computex 2008 , then intel p35 chipset will be removed from production - this will happen only during November 2008.
http://xtreview.com/addcomment-id-51...ylersburg.html