Hi,
I have a BigNg and MiniNG on my system. The BigNG controls 3 fans and some sensors. The MiniNg controls one fan and my water pump.
The probem I'm having is configuration of the MiniNg to run the Liang DCC 3.2 pump at 75% and the fan at 50% on startup. Is it possible to save these settings to a startup profile via the T-Balancer software? If so, what are the steps to accomplish this?
Currently, the startup values of the MiniNG are 100% on the fan and waterpump. After startup I can use T-Balancer to change it to 75% and 50... It just doesn't take for startup.
It will also display 4 messages that state sensor not found, fan blockage, and critical temperature reached. The sensors are connected correctly and nothing is blocking the fans.
Any help is greatly appreciated.
This is what it reports after startup.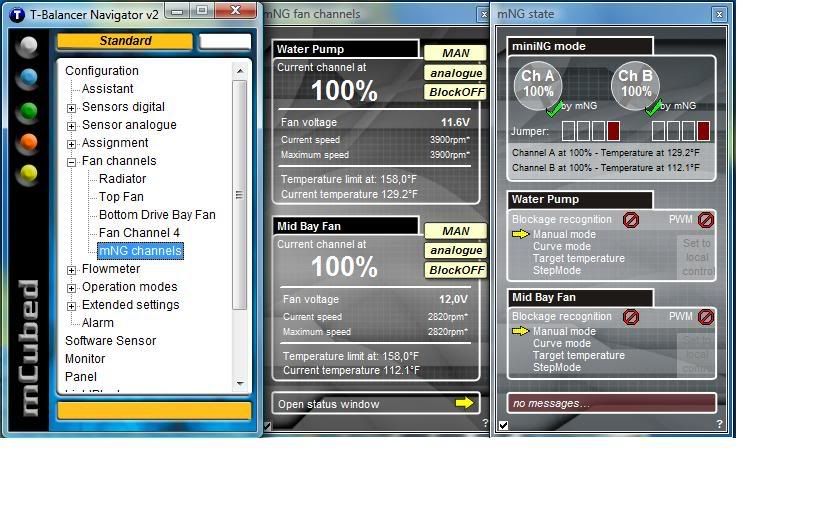 This is what it says after I manually change the settings via t-balancer
CPU
Motherboard
Graphics
RAM
Intel Core 2 Quad Q9650 3.0GHz
MSI P45 Diamond LGA 775 Intel P45 ATX
SAPPHIRE Atomic Radeon HD 4890 1GB 256-bit GDDR5
Kingston HyperX 1600MHz XMP 4x 2GB (8GB Total)
Hard Drive
Optical Drive
OS
Monitor
2 - Barracuda ES 320GB 7200 RPM
Sony NEC Optiarc 18X DVD±R DVD Burner with 12X DVD
Windows 7 64bit
SAMSUNG 226BW 22" 2 ms Widescreen LCD
Keyboard
Power
Case
Mouse
Logitech MX 5000
SILVERSTONE ST85F 850W SLI/CrossFire Ready 80 Plus
Antec P183 Black Tower
Logitech MX 5000
View all
hide details
CPU
Motherboard
Graphics
RAM
Intel Core 2 Quad Q9650 3.0GHz
MSI P45 Diamond LGA 775 Intel P45 ATX
SAPPHIRE Atomic Radeon HD 4890 1GB 256-bit GDDR5
Kingston HyperX 1600MHz XMP 4x 2GB (8GB Total)
Hard Drive
Optical Drive
OS
Monitor
2 - Barracuda ES 320GB 7200 RPM
Sony NEC Optiarc 18X DVD±R DVD Burner with 12X DVD
Windows 7 64bit
SAMSUNG 226BW 22" 2 ms Widescreen LCD
Keyboard
Power
Case
Mouse
Logitech MX 5000
SILVERSTONE ST85F 850W SLI/CrossFire Ready 80 Plus
Antec P183 Black Tower
Logitech MX 5000
View all
hide details