Which temp should I go by (GPU or GPU diode)? Here's a pic of GPU-Z, Rivatuner, and Everest to compare.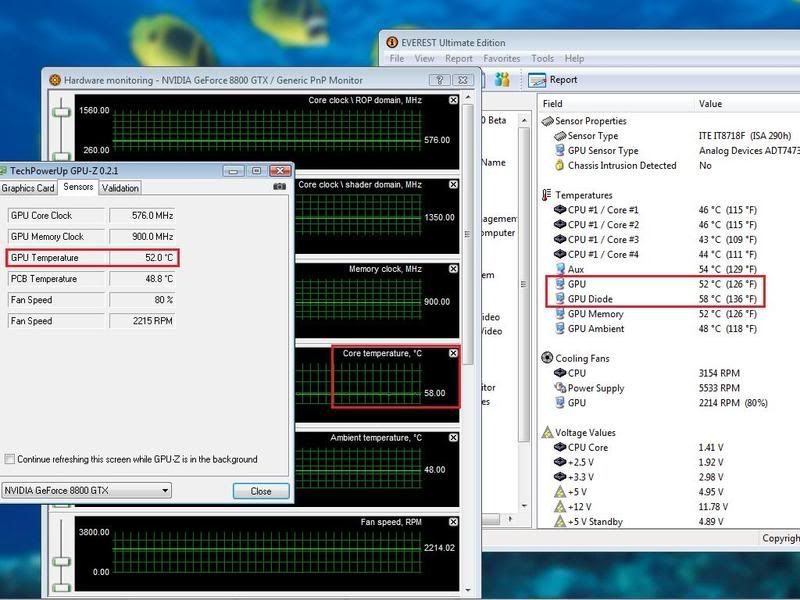 I've done some research, and it seems 85 C is should be a safe max for the card.
Also, when testing stability of oc'd gpu using AtiTool, what's the general consensus of how long one should run when scanning for artifacts?
CPU
Motherboard
Graphics
RAM
Core i7 4280K @ 4.5 Ghz
EVGA X79 FTW
ATI Radeon R9 290
4x 4GB AVEXIR Core Series (White LED)
Hard Drive
Optical Drive
Cooling
OS
Too many to list
Asus
Watercooled
Windows 7 Homoe Premium 64bit
Monitor
X-star, BenQ, Asus
View all
hide details
CPU
Motherboard
Graphics
RAM
Core i7 4280K @ 4.5 Ghz
EVGA X79 FTW
ATI Radeon R9 290
4x 4GB AVEXIR Core Series (White LED)
Hard Drive
Optical Drive
Cooling
OS
Too many to list
Asus
Watercooled
Windows 7 Homoe Premium 64bit
Monitor
X-star, BenQ, Asus
View all
hide details