Well after a disappointing experience with the 360 Elite, I sprung for a 40GB PS3 and a 320GB HDD upgrade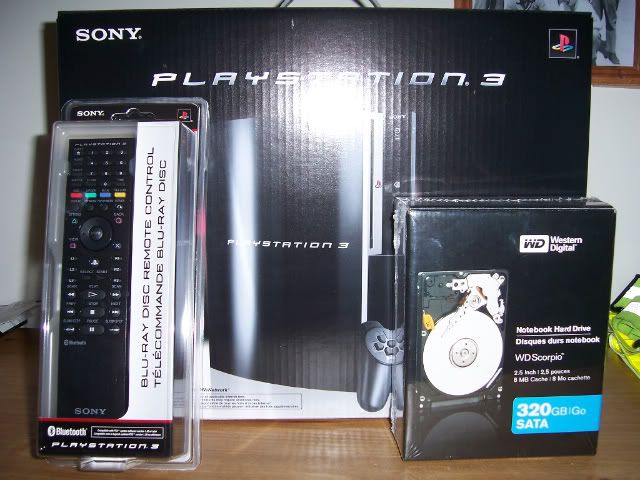 Installing the hard drive is the easiest "mod" I've ever done. Really is simple. I replaced the HDD before even turning the console on one time, which probably isn't the way you're supposed to do it, I dont know. I had to download the firmware onto a USB drive, reload it and format the drive. All in all it took very little time to do.
The 40GB is whisper quiet too...much more so than my 60GB one. Although the plastic chrome on the 40GB looks kinda cheap, but it's tucked away in my TV stand in my bedroom.
Now before anyone flames me for being a fanboy...I gave the 360 an honest shot. But the console for the bedroom will be used primarily for media (music and video) and the 360 simply doesn't measure up in that dept. I'm a fanboy of what works better, and in the case, the PS3 wins. I will miss Halo 3 tho...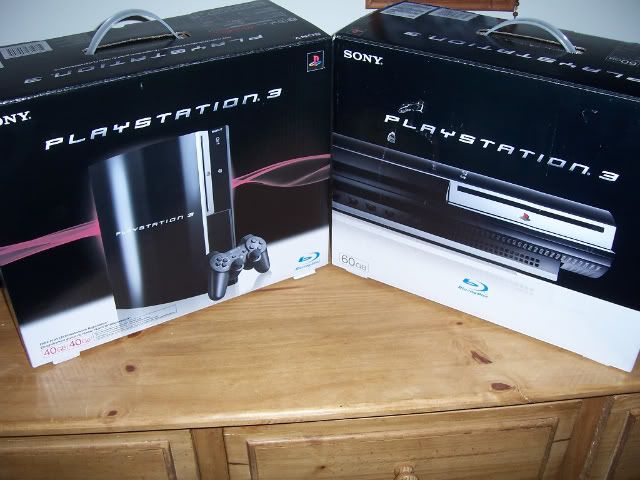 Giddy-up
CPU
Motherboard
Graphics
RAM
Q6600 G0 @ 2.4 GHz
Asus Maximus Formula
Asus EN8800GT 512MB
4GB G.Skill DDR2-1000
Hard Drive
Optical Drive
OS
Monitor
1.858TB (3x JBOD)
HP 16x DVD Burner
Vista Ultimate x64 SP2
24" FPD2485 Gateway LCD
Keyboard
Power
Case
Mouse
Razer Lycosa
Ultra X3 1000w
Antec P182
Logitech G5
Mouse Pad
Razer Xact Mat
View all
hide details
CPU
Motherboard
Graphics
RAM
Q6600 G0 @ 2.4 GHz
Asus Maximus Formula
Asus EN8800GT 512MB
4GB G.Skill DDR2-1000
Hard Drive
Optical Drive
OS
Monitor
1.858TB (3x JBOD)
HP 16x DVD Burner
Vista Ultimate x64 SP2
24" FPD2485 Gateway LCD
Keyboard
Power
Case
Mouse
Razer Lycosa
Ultra X3 1000w
Antec P182
Logitech G5
Mouse Pad
Razer Xact Mat
View all
hide details