Hey overclockees, this is my newest 3Dmark06 score.. gonna do some other benches later.. for crysis and so on..
Processor: Q6700 @4 .0 ghz // 1.55v (1.54 after vdroop).. even though i pencil mod the resistor.
GPU: 2 x 8800 GTS 512 @ 808/1984/2154
GPU fan @ 75%
3dmark06 website w/ my score
http://service.futuremark.com/compare?3dm06=6729002
Link to my image.. if the image posted here is too small.
http://s34.photobucket.com/albums/d1...on3dmark06.jpg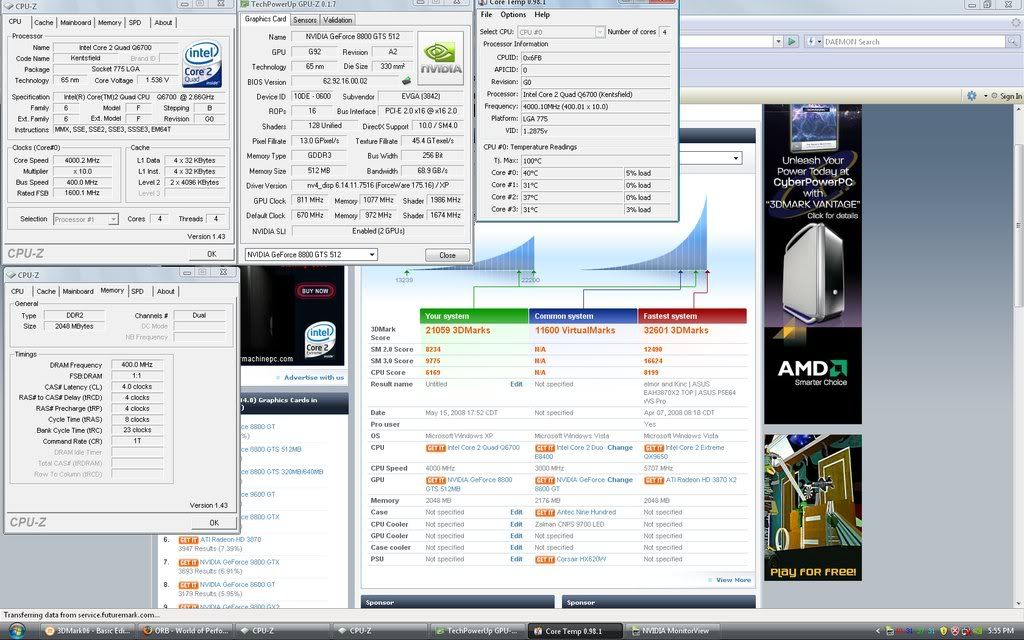 What do you guys think about the score?
i remember someone here score 20k with a e8400.. but i cant find him =[
CPU
Motherboard
Graphics
RAM
Q6700 @ 3.8 ghz // 1.46 vCore 24/7
Evga nForce 780i SLI w/ PencilMod
BFG GTX260
4GB Dominator's @ 4/4/4/8-1T, 1066mhz.
Hard Drive
OS
Monitor
Keyboard
Seagate 300GB// Sata 3.0 [Raptor X on the way!]
Window XP SP2 32Bit [64bit soon!]
21.6' Samsung 216BW
G11
Power
Case
Mouse
Mouse Pad
700W OCZ XSTREAM
Antec 900
G5
Beachside
View all
hide details
CPU
Motherboard
Graphics
RAM
Q6700 @ 3.8 ghz // 1.46 vCore 24/7
Evga nForce 780i SLI w/ PencilMod
BFG GTX260
4GB Dominator's @ 4/4/4/8-1T, 1066mhz.
Hard Drive
OS
Monitor
Keyboard
Seagate 300GB// Sata 3.0 [Raptor X on the way!]
Window XP SP2 32Bit [64bit soon!]
21.6' Samsung 216BW
G11
Power
Case
Mouse
Mouse Pad
700W OCZ XSTREAM
Antec 900
G5
Beachside
View all
hide details