In my opinion, the best backup software for OSX is Carbon Copy Cloner (CCC). There is Time Machine of course. However, I feel that Time Machine's strength is its ability to back files up hourly, half hourly, or whatever interval you choose.
For total system backups, I prefer to create a disk image using CCC. The disk image created can be restored to the HDD, and the system will be left exactly as it was before (the last time you backed up.)
The interface looks like this: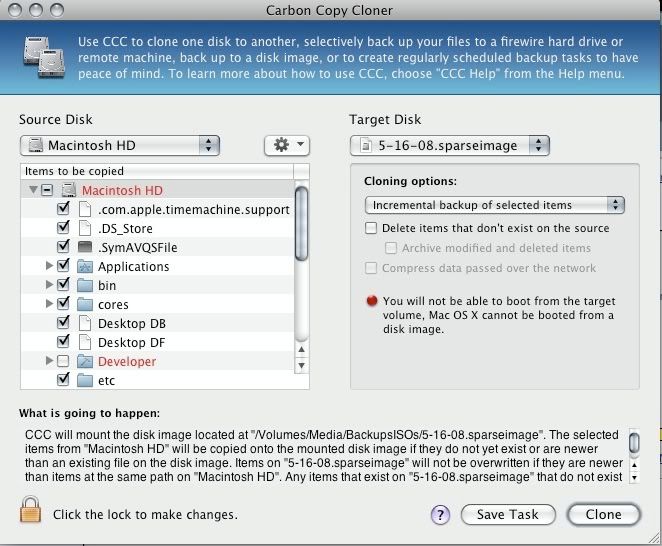 What I am doing here is selecting a disk to backup (my internal HDD), choosing what exactly to backup (hidden preference files and stuff are visible without having to choose to enable visibility), choosing a destination (I chose a previous disk image which I renamed to today's date), then selecting to do an incremental backup. This will use my old backup file but only backup new or modified files.
You should save your disk image as a "read/write sparse image." This will allow you to do incremental backups; a read-only .dmg disk image won't allow you to continue the backup on that disk image for next time. Also, read-only .dmgs take double the HDD space to complete the task (although only 1x disk space will be used in final), since they do a two-step process. For these reasons, I can't see any advantage in using a .dmg, non-writable disk image. Use a sparse image.
You can save your settings into a "Task" which will be executed every so often (whatever interval you choose; daily, weekly, at what time, etc.) Personally, I just manually do an incremental backup every week.
To restore, you would do the following (use the picture for reference):
1. Boot from your OSX install disk (put the disk in, hold C while booting)
2. Go to Utilities at the top of the Menu Bar and select Disk Utility
3. Connect your external HDD (you should have saved the disk image to an external HDD) via USB or Firewire or whatever.
4. Go to File in the Menu Bar
5. Open Disk Image
6. Choose your disk image that you created with CCC
7. Now on the left, click your destination (probably internal) HDD.
8. Click the "Restore" tab.
9. Drag the backup image which should now be at the side bar to "Source"
10. Drag the internal (destination) HDD to the "Destination" box
11. If you want to format the HDD to get rid of the old stuff, click the "Erase Destination" box.
12. Hit restore, and the process should proceed.
13. If all goes well (which it should), then your system should be exactly the way you had it before.