Ati tool shows this: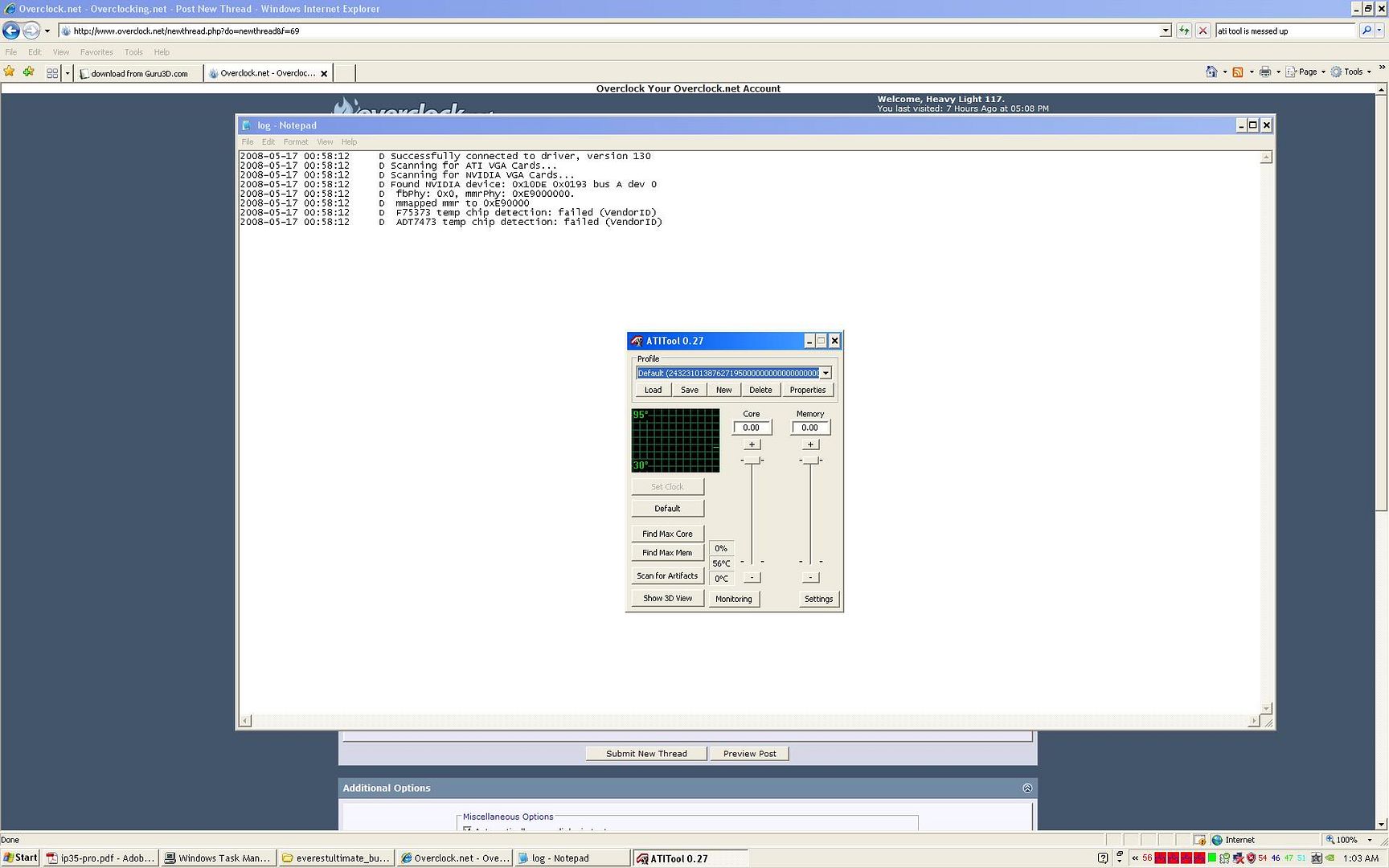 It was really hot today do you guys think something bad happened to one of my cards. They are in SLI and in my sig rig. I ran 3dmark 06 and got the of score 15301. My frames looked the same and I think thats the score I got before the problems starting occuring. When I use winamp and put my visualizations to fullscreen it freezes. I reinstalled my drivers and that seemed to help a little bit but I'm still having problems.
As for ati tool it shows up like you see there. What does that mean?
CPU
Motherboard
Graphics
RAM
Q6600 GO @ 3.6ghz (1.42 Vcore)
Gigabyte GA-EP45 UD3P
Gigabyte 7950 Windforce + 6770 XFX
G.Skill 8GB DDR2 1066mhz
Hard Drive
Optical Drive
OS
Monitor
OCZ Agtility 2 60Gigs + 4TB 3 drives
LG DVD
Win7 64bit
24' Gateway
Keyboard
Power
Case
Mouse
Logitech Wireless
(1)PCP 610W + (2) Theramltake 650W VGA
Armor Case
MS Optical Mouse
View all
hide details
CPU
Motherboard
Graphics
RAM
Q6600 GO @ 3.6ghz (1.42 Vcore)
Gigabyte GA-EP45 UD3P
Gigabyte 7950 Windforce + 6770 XFX
G.Skill 8GB DDR2 1066mhz
Hard Drive
Optical Drive
OS
Monitor
OCZ Agtility 2 60Gigs + 4TB 3 drives
LG DVD
Win7 64bit
24' Gateway
Keyboard
Power
Case
Mouse
Logitech Wireless
(1)PCP 610W + (2) Theramltake 650W VGA
Armor Case
MS Optical Mouse
View all
hide details