Quote:
Gigabyte representative talked about motherboards, energy effectiveness and competition. According to data, prepared by gigabyte specialists , ASUS company, which is the basic gigabyte competitor , use doubtful ways in the fight for buyers.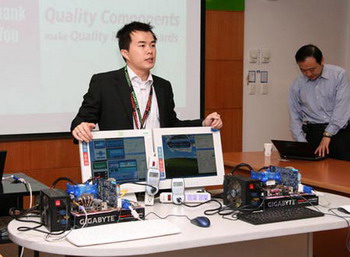 After comparing gigabyte and ASUS motherboards , high efficiency of power systems , Gigabyte engineers came to the conclusion: ASUS frankly deceives users.

In the documentation, published BY ASUS it was indicated that motherboards with EPU logotype contain Asus energy processing unit element . Actually, these motherboards include components, specially intended for energy consumption decrease and increase in the energy effectiveness. As ASUS asserts , EPU motherboard can ensure up to 80,23% energy savings in comparison with other motherboards (without EPU).



Gigabyte Checking showed that the real value does not exceed 58,6%. According to Gigabyte, ASUS did not introduce any changes in the motherboards , construction and components composition remained the same.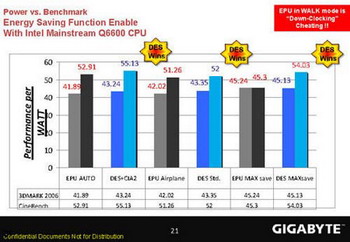 In comparison with several systems on base of gigabyte and ASUS motherboards higher efficiency was showed by gigabyte products . Gigabyte DES exceeded ASUS systems EPU by 4,1-17%. Actually, Gigabyte note that ASUS EPU reduces some system frequencies and voltage in order to decrease the energy consumption instead of real increase in the effectiveness.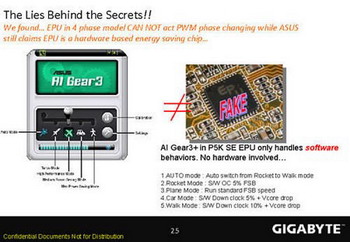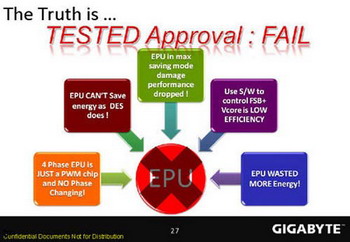 Furthermore, gigabyte specialists noted that ASUS uses cheap and potentially unreliable capacitors.
http://xtreview.com/addcomment-id-52...e-vs-Asus.html