Quote: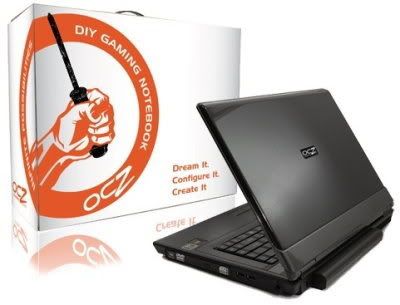 OCZ Technology Group is best-known for memory, but it's also gotten into power supplies, cooling, and video cards. Now it's getting into systems, with what they call a "Do-It-Yourself" notebook.

In their press release, OCZ said:

Under this program, users ranging from hardware enthusiasts to mainstream gamers can partake in configuring and building their own gaming-grade mobile solution. The OCZ DIY program enables users to purchase an unconfigured notebook and ultimately customize the system to their needs with the help of guides and direct support.

OCZ intends to offer a true DIY product allowing the individual to garner similar benefits of building a desktop PC:

Customization – User selects Operating System, CPU, memory, and HDD/SSD of choice

Value – User can save money by purchasing components individually through sales, bundles, rebates, auctions, trades, etc. Additionally there is no mark-up for labor costs of assembling the notebook

Craft – User sees the notebook from beginning to end and enjoys building their own notebook, savvy consumers can go one step beyond and personalize the outlook of the unit, creating a truly handcrafted notebook

Interestingly, if you take a look at the DIY Notebook manual (.PDF), it's not just customization - you have to put the pieces (hardware) together as well. This is where the "value" section above comes in.

Much of what OCZ supplies, in fact, will be the chassis which will host the CPU and other components. It's interesting that at least with their initial offering, you can't choose a different GPU. Sorry to say that the NVIDIA GeForce 8600M GT is not that great a choice for a GPU - and no way to have dual-SLI cards, either? What kind of a gaming laptop is this?

Yeah, yeah, I'm just griping. But they really ought to allow a choice of GPU.

Anyway, no pricing information or availability. As far as chances of success: this has been tried before, and despite the fact it's OCZ, I really don't see any reason to believe this attempt will be more successful. Time will tell.
source