Ok so I know lapping is nothing new but for me it has yielded great results, so I thought I`d share them with you all.
Motherboard: P5B Deluxe WiFi.
CPU: E6600 rev.B2.
Cooler: Arctic cooling freezer pro 7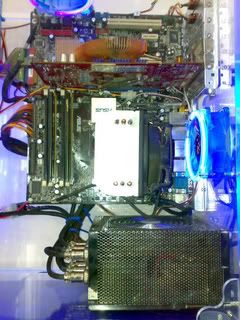 I've always been a little disappointed with this chip, I`ve had it for a couple of years now and the wild overclocks and cool running temps i'd often heard people talk of just never happened for me. even with a mild overclock my CPU temps would always be too high for 24/7 use
average overclocked temps were always in the 60's under load, and around 50c+ idling.
I decided it was time to take of the heat sink and lap it, as well as the processor.
I think most of us know the idea behind lapping but for anyone unsure O-Jay from ccl forums has done a great
guide to Lapping
here.
Anyway on with the show.
As you can see from the first couple of pics I used wet and dry taped to a wooden board to ruff up the surface so I could see where the problem was.
immediately it was apparent that the chip was in fact quite badly concave.
I carried on lapping down through the various grades of wet'n'dry (used dry) from 400-800-1200
then went over again with the 1200 and just a tiny bit of water. I then did the same with the heatsink.
Incidentally the heatsink was an arse, due to its size and shape it was very hard to keep it flat while sanding. with a bit of perseverance though I got it some where close to the CPU although it doesn't show so well in the pic.
Next Up Results
Edited by urbtree - 5/19/08 at 6:02am
CPU
Motherboard
Graphics
RAM
core 2 duo e6600 @ 3.8 ghz
p5b deluxe wifi
GTX260
4g xms 2 800 mhz
Hard Drive
OS
Monitor
Power
hitachi deathstar250 seagate barrcuda 250
Win7 Ult
yep two o those
hyper type R 600w
Case
Sunbeamtech uv blue
View all
hide details
CPU
Motherboard
Graphics
RAM
core 2 duo e6600 @ 3.8 ghz
p5b deluxe wifi
GTX260
4g xms 2 800 mhz
Hard Drive
OS
Monitor
Power
hitachi deathstar250 seagate barrcuda 250
Win7 Ult
yep two o those
hyper type R 600w
Case
Sunbeamtech uv blue
View all
hide details