I am thinking of buying an OCZ Vendetta 2. I am using an Abit mobo(IP35E) in a Thermaltake M9 case.
My question to you V2 owners is, How much clearance is there underneath the fins on the heatsink?
The NB on my board is 2cm away from the lower edge of the socket itself, and is ~4cm high.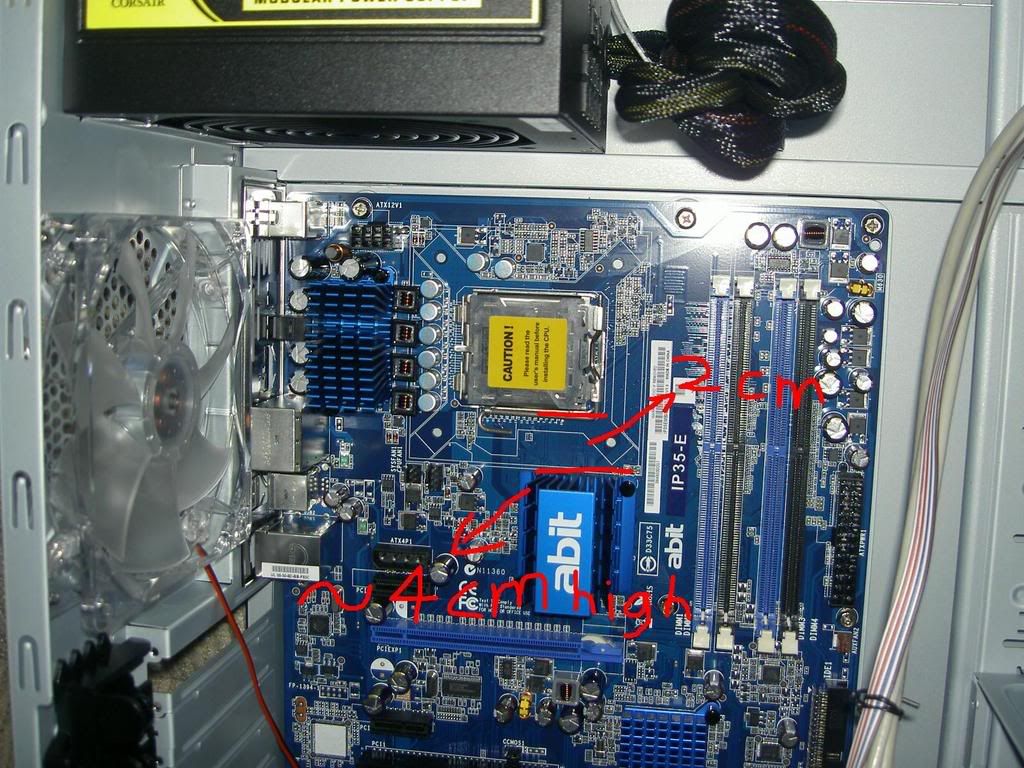 I am going to have the Vendetta pointing toward the rear of the case to exhaust there. Do you guys think it will clear the NB? I am pretty sure that it will
, but I wanted to make sure before I blew any $$$ on it.
CPU
Motherboard
RAM
Hard Drive
Core 2 Duo E6600
Abit IP35-E
2GB Corsair XMS2
320 GB Western Digital SATA
OS
Monitor
Keyboard
Power
WinXP Media Center
Samsung SyncMaster 22", SyncMaster 17"
Saitek Eclipse
Corsair HX520 Modular
Case
Mouse
Thermaltake M9
Logitech MX Revolution
View all
hide details
CPU
Motherboard
RAM
Hard Drive
Core 2 Duo E6600
Abit IP35-E
2GB Corsair XMS2
320 GB Western Digital SATA
OS
Monitor
Keyboard
Power
WinXP Media Center
Samsung SyncMaster 22", SyncMaster 17"
Saitek Eclipse
Corsair HX520 Modular
Case
Mouse
Thermaltake M9
Logitech MX Revolution
View all
hide details