Just saw this on El Reg
But it's also for sale on
Ebay
Pretty cool idea, shame about the specs
Quote:
Laptops are designed to be portable, so a 19.5in machine is really defeating the object. Unless, that is you buy one that folds up. Now, thanks to one eBayer, you can.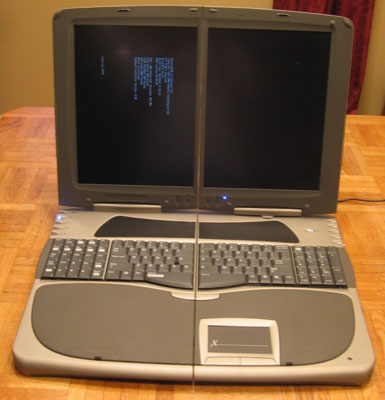 Hinges allow the laptop to fold and for its screen(s) to be rotated

An intrepid eBay seller has posted a Xentex-brand prototype laptop that that has a hinge down the middle, allowing it to literally be folded in half. Although this won't detract from the machine's weight, and make the laptop twice as thick, the ability to 'fold' your laptop away is unique.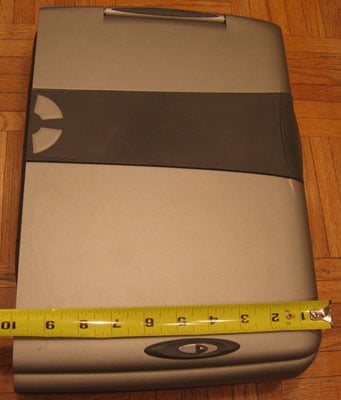 CPU
Motherboard
Graphics
RAM
Q6600 G0 @3.4'ish
ASUS P5E
XFX HD6950 s/w to HD6970
4GB OCZ DDR2 1066 @850 4-4-4-12
Hard Drive
OS
Monitor
Keyboard
3x1TB & 3x320GB Barracuda's
Win 7 Ultimate 64 & XP PRO X64
ACER P243W 1920x1200 :D
Logitech DiNovo
Power
Case
Mouse
Mouse Pad
OCZ ModXstream 700W
Lian-li PC-A71B
G5
Everglide Ricochet
View all
hide details
CPU
Motherboard
Graphics
RAM
Q6600 G0 @3.4'ish
ASUS P5E
XFX HD6950 s/w to HD6970
4GB OCZ DDR2 1066 @850 4-4-4-12
Hard Drive
OS
Monitor
Keyboard
3x1TB & 3x320GB Barracuda's
Win 7 Ultimate 64 & XP PRO X64
ACER P243W 1920x1200 :D
Logitech DiNovo
Power
Case
Mouse
Mouse Pad
OCZ ModXstream 700W
Lian-li PC-A71B
G5
Everglide Ricochet
View all
hide details