I've been doing some cable management work on my machine and had the side panel off while it was running.
I noticed something strange about the 9800GX2. It has vents in the rear of the card beside the DVI plugs to expel hot air, and on buying the card and taking a look at how it's put together I noticed these were pretty small given the monstrous size of the card (probably because of the DVI plugs being on top of eachother due to the two seperate boards in the card).
I was running RivaTuner and set the fan speed to 100% in there to see if it made a difference to temperatures, and noticed that the card is not actually pushing it's hot air out of the back of the case. It's pulling air in through the bottom and top of the boards as can be expected, channeling it between the GPU's, but then exhausing it out of the SIDE of the card, back into the case.
On closer inspection (shining a maglite into the side of the card) there are fins and a guide on the GPU heatsink that actually push the air out of the side of the card, back into the inside of the case.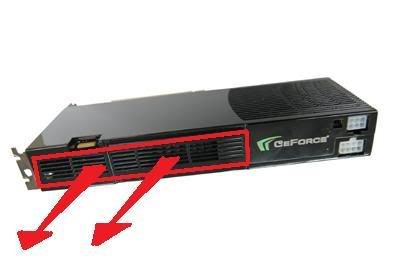 (yeah, my mspaint skills are made of win)
Since I got it, my GX2 has been running close to 70 degrees on full load while playing Crysis and Eve-Online. It's seated in the top PCI-E slot on my motherboard with a fan in the side panel of my Antec 900 blowing air into the case onto it, as Antec reccomends for video cooling. Anyone using their head can see that pushing air into the case, directly into the path of the air the video card is trying to expel is not going to do much for cooling.
Reversing the fan in the side of my case to exhaust the hot air that the GX2 is pouring out has dropped the temperature of the inside of my case by 8-10 degrees, and the card is now running at 57-60 degrees on full load.
If anyone else is running a GX2 and has a side mounted case fan blowing air on the video card, I suggest you try doing the same and see if it has the same effect as it's done wonders for my card.
The temperature of the air that the GX2 pushes out is insane, so if you're running one with a solid case side, you might want to look into mounting a fan.
I'd be interested to hear feedback from people with the same card to see if the airflow on their card is the same, and if reversing the fan in the side of their case has the same effect.
Anyways, food for thought and something to try if you want to get the temperatures down.
CPU
Motherboard
Graphics
RAM
Intel Core i7 980x 3.33GHz @ 4.93GHz
Asus Rampage III Extreme
2x 3GB Palit GTX580 (SLI)
24GB (6x4) Corsair Dominator 1600MHz
Hard Drive
Optical Drive
OS
Monitor
6x 1TB Samsung Spinpoint F3
Lite-On iHBS112 BD-R
Windows 7 Ulitmate x64
3x Dell 24" Dell Ultrasharp 2408WFP
Keyboard
Power
Case
Mouse
Logitech G15 Rev 2.0
Antec 1200w Truepower Quattro
Antec DarkFleet DF-85
Logitech G9x Gaming Mouse
Mouse Pad
My Desk Dx
View all
hide details
CPU
Motherboard
Graphics
RAM
Intel Core i7 980x 3.33GHz @ 4.93GHz
Asus Rampage III Extreme
2x 3GB Palit GTX580 (SLI)
24GB (6x4) Corsair Dominator 1600MHz
Hard Drive
Optical Drive
OS
Monitor
6x 1TB Samsung Spinpoint F3
Lite-On iHBS112 BD-R
Windows 7 Ulitmate x64
3x Dell 24" Dell Ultrasharp 2408WFP
Keyboard
Power
Case
Mouse
Logitech G15 Rev 2.0
Antec 1200w Truepower Quattro
Antec DarkFleet DF-85
Logitech G9x Gaming Mouse
Mouse Pad
My Desk Dx
View all
hide details