Update:

Finished the stands. They fit together nicely.
Cutting Stand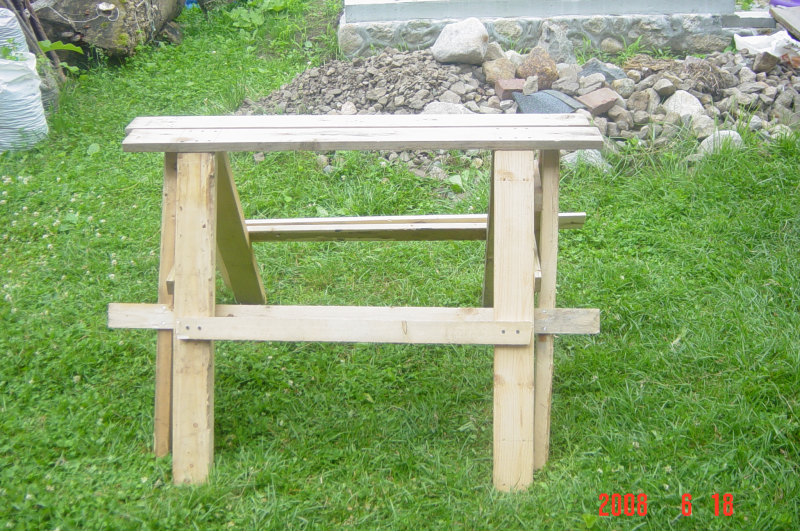 Close cutting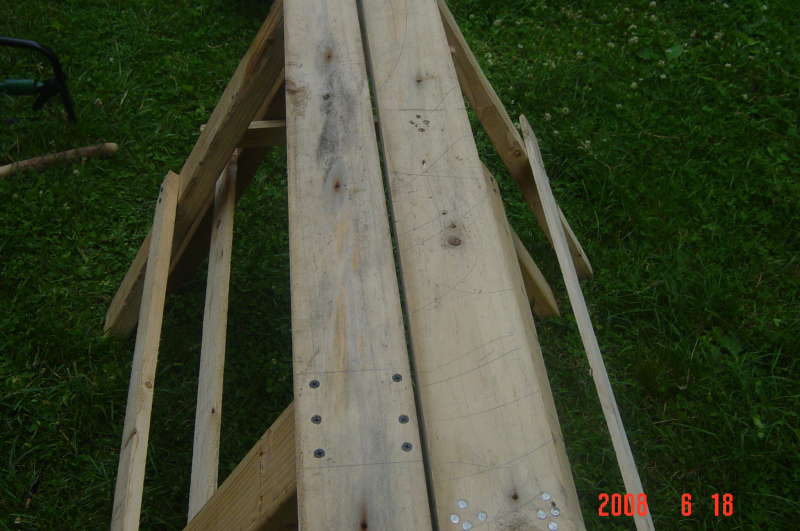 Farther Apart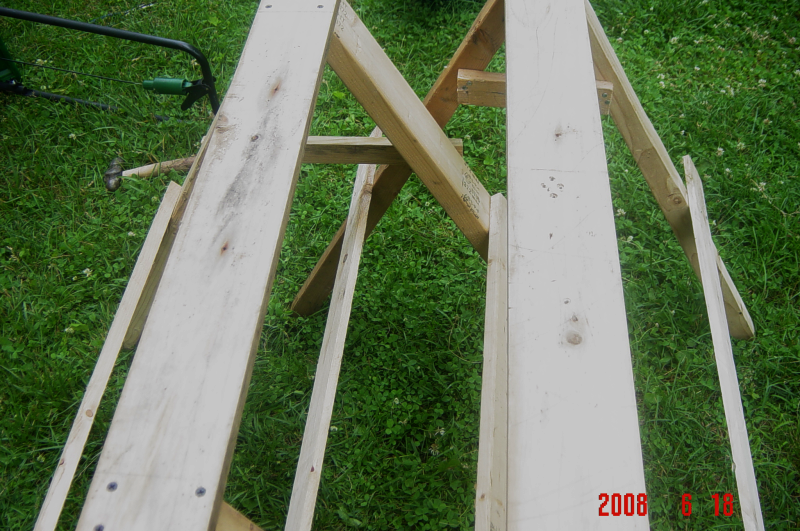 I sort of retouched this photo a little bit. Sunlight got too bright and you couldn't make out the details in the original picture.
Stand #1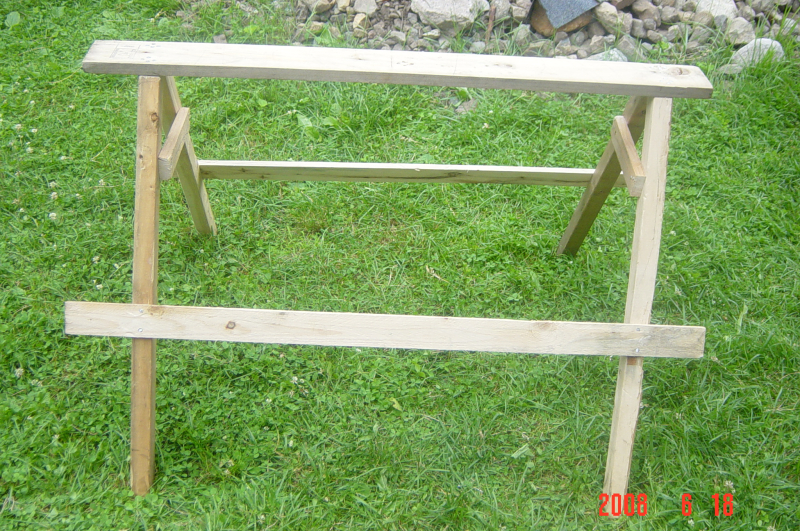 Stand #1 Close Up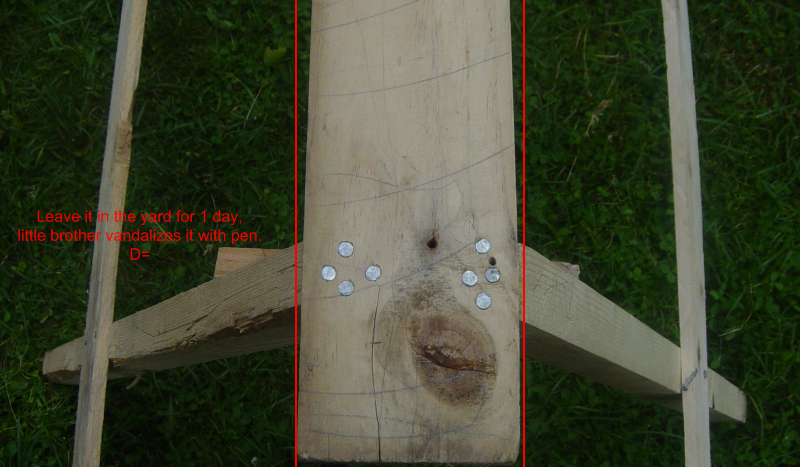 Attached the wood using 4 nails each. Bottom 2 nails each. Total of 32 nails used. Got vandalized by my little brother.
I'll sand it down anyways...
Stand #2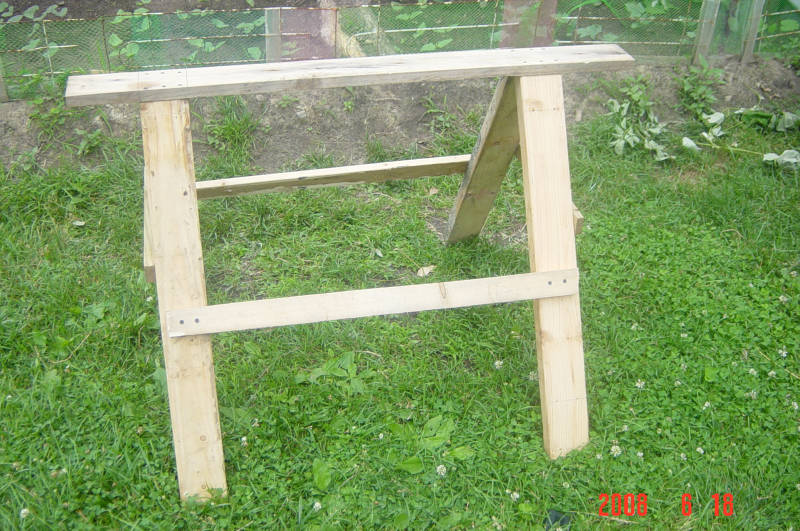 Grandfather designed it for me because my first one wasn't sturdy enough in his opinion. Used 2x as much wood as I used in first one. But it's really sturdy and stuff.
Stand #2 Close up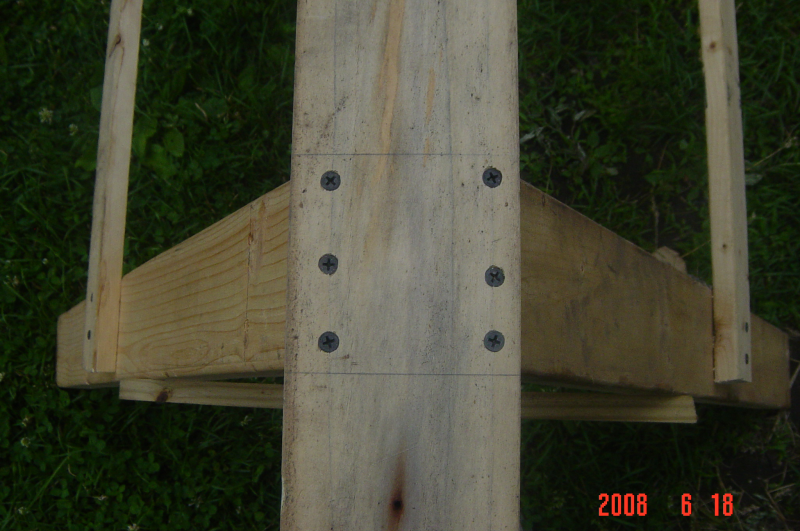 Instead of nails, I decided to use screws, since there was so much wood used. By using screws, I could easily remove the screws and disassemble the stand, and reuse the wood.
3 screws for each leg, 2 screws for each side of a brace.
Total # of screws used: 28 screws
I'll get to cutting tomorrow. I'm getting tired/lazy again. Spent ~1 hour making the stand because it took a long time to find wood to use, and I had never screwed together wood before (successfully).
Sorry about the quality of the pics. Bought the camera ~6 years back. Planning on upgrading the camera soon. Too bad parents wouldn't buy the 12MP camera I found for 100 awhile back since it wasn't from a "good" brand. They'll only buy from Sony for cameras and video-cameras and TVs and etc.
Edited by xHassassin - 6/21/08 at 11:35am
CPU
Motherboard
Graphics
RAM
E8400
GIGABYTE GA-P35-DS3L
eVGA 9800GT Stock Speeds
GSkill 4GB (2x2GB) PC6400
Hard Drive
Optical Drive
OS
Monitor
Samsung F3 500GB
Samsung 22X DVD Drive
Windows 7 64-bit
22" Acer x223w
Keyboard
Power
Case
Mouse
IBM Model M Model 1391401
Antec EarthWatts 500W
Troglodytic Tech Terminal
Razer Deathadder
Mouse Pad
Steelseries Qck+
View all
hide details
CPU
Motherboard
Graphics
RAM
E8400
GIGABYTE GA-P35-DS3L
eVGA 9800GT Stock Speeds
GSkill 4GB (2x2GB) PC6400
Hard Drive
Optical Drive
OS
Monitor
Samsung F3 500GB
Samsung 22X DVD Drive
Windows 7 64-bit
22" Acer x223w
Keyboard
Power
Case
Mouse
IBM Model M Model 1391401
Antec EarthWatts 500W
Troglodytic Tech Terminal
Razer Deathadder
Mouse Pad
Steelseries Qck+
View all
hide details