Quote:
VIA Company announced yesterday OpenBook : standard platform for creation of light compact notebook with 8.9 inch screen on base of C 7 M processors series ULV with energy consumption level not more than 3.5 W. The model is based on processors with frequencies from 1.0 to 1.6 GHz and chipset VIA VX800, whose integrated graphic system support directX 9.0, and also accelerates video decoding : MPEG-2, MPEG-4, WMV9, VC1 and DivX. With approximately one kilogram weight this notebook have the sizes 240 X 175 X 36 mm. screen resolution equal to 1024 X 600 pixels.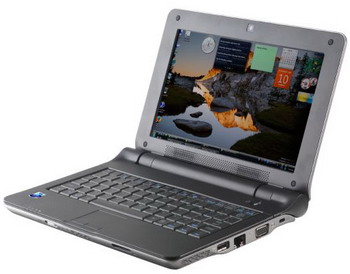 This notebook includes not only wiFi adapters and Bluetooth, but also adapters wiMAX, HSDPA, EV-DO or W -CDMa. Three ports USB 2.0, VGA, 2 mega-pixel camera, sound ports and memory reader 4- in -1 . OpenBook support up to 2Gb DDR-2 memory . As operating systems are proposed not only different Linux versions , but also Windows vista Basic or Windows XP.

VIA gives partners complete access to OpenBook design documentation ; therefore, they can introduce their improvements and changes. The price of such notebook will be packed in the custom range from $400 to $600.
http://xtreview.com/addcomment-id-53...-OpenBook.html