I have own a Radeon 700032MB which btw i played halo on, a Radeon 9250, FX5200, FX5500, Geforce BFG 6200, EVGA Geforce 6200, and a 2400 HD Pro. Out of all those cards, the best card that works perfectly, no problems with drivers, graphics, etc is the
3DFUZION 256MB DDR 128Bit bus FX5500
I never had any problems with it, the only flaws with this card is: No Shader Model 3 and lower core and memory clock. Even tho, i plan to overclocked this card for the first time. Nevertheless, i could play almost all of my games with ease, expect for the newer ones of course.
But ever since i bought the 2400 HD PCI card for 137 dollars, lately i haven't been able to play almost 70% of my games. I tried to play
Unreal 2 & This FPS game called: Chaser
And i get low fps, something about 7-13fps.
THE 2400 HD IS 64BIT BUS AND IT HAS A MAJOR PROBLEM WITH FOV in games
I can play Unreal 2 and Chaser at 1280x1024 everything on high with my FX5500 and get over 29-37fps.
Anyways, either my CPU is too weak to handle the 2400 HD or its the 64bit bus. Maybe using a PIII/600MHZ has a problem with 64bit cards. But then i got to thinking, that couldn't be the problem, because the Radeon 7000 didn't have any problems playing some of my older games, but with the 2400 HD pro does. Alright, so then i figure it was this: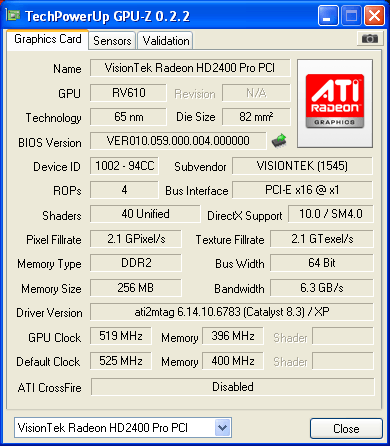 Notice the
Bandwidth
I have notice the lower the bandwidth for a GPU , the better. But using the 2400, I have major FOV of problems, making the game unplayable. So maybe the card is too powerful for my PIII/600MHZ.
So anyways, the bottom line is like this. I plan to buy a new computer, a secondary one in a few weeks, i have 800 dollars to spend. But for this computer, i will go back and use the FX5500 and enjoy my games in peace. However, i think using the Diamond X1550 which has a 128bit bus might be the only card that works good other then the FX5500. So i will test it out when i find it. Using a PIII/600MHZ with my specs, i guess its either the FX5500 or the Diamond X1550.
The funny thing, i just notice that i wasted 137 dollars
CPU
Motherboard
Graphics
RAM
Intel Xeon X3220 @ 2.40GHz Kentsfield 65nm Tech...
Dell Inc. 0GX297 (Microprocessor)
PNY GTX 550 TI 1GB GDDR5
4GB DDR2 Memory
Hard Drive
Optical Drive
Cooling
OS
500GB WD+External 500GB WD
Super Ritemaster Speed Plus DVD
Speed fan Software+Stock Cooler Fan
Windows 7 Ultimate x64
Monitor
Keyboard
Power
Case
LCD Acer 21inch Monitor
HP Black Keyboard
Thermaltake 430 PSU
Dell Optiplex 745
Mouse
Mouse Pad
Audio
Dynex Grey and Black Mouse
Air National Guard
Diamond C-Media PCI Audio Device
View all
hide details
CPU
Motherboard
Graphics
RAM
Intel Xeon X3220 @ 2.40GHz Kentsfield 65nm Tech...
Dell Inc. 0GX297 (Microprocessor)
PNY GTX 550 TI 1GB GDDR5
4GB DDR2 Memory
Hard Drive
Optical Drive
Cooling
OS
500GB WD+External 500GB WD
Super Ritemaster Speed Plus DVD
Speed fan Software+Stock Cooler Fan
Windows 7 Ultimate x64
Monitor
Keyboard
Power
Case
LCD Acer 21inch Monitor
HP Black Keyboard
Thermaltake 430 PSU
Dell Optiplex 745
Mouse
Mouse Pad
Audio
Dynex Grey and Black Mouse
Air National Guard
Diamond C-Media PCI Audio Device
View all
hide details