As you all know, i went back to my old 3dfuzion FX5500 card, never had any problems with it, seems to be the greatest pci card that works on this computer. Anyways, i just install the lastest drivers for it and take a look: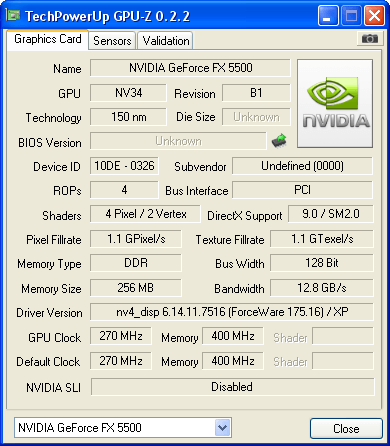 12.8GB of bandwidth, and a 270core clock, with a 400memory clock?
This card has more bandwidth then the 2400 HD pro and the 6200 card, it has the same bandwidth as the 8500 GT series. I haven't tested out any games yet with the drivers, but i am about to play Painkiller black edition and see how it runs.....
CPU
Motherboard
Graphics
RAM
Intel Xeon X3220 @ 2.40GHz Kentsfield 65nm Tech...
Dell Inc. 0GX297 (Microprocessor)
PNY GTX 550 TI 1GB GDDR5
4GB DDR2 Memory
Hard Drive
Optical Drive
Cooling
OS
500GB WD+External 500GB WD
Super Ritemaster Speed Plus DVD
Speed fan Software+Stock Cooler Fan
Windows 7 Ultimate x64
Monitor
Keyboard
Power
Case
LCD Acer 21inch Monitor
HP Black Keyboard
Thermaltake 430 PSU
Dell Optiplex 745
Mouse
Mouse Pad
Audio
Dynex Grey and Black Mouse
Air National Guard
Diamond C-Media PCI Audio Device
View all
hide details
CPU
Motherboard
Graphics
RAM
Intel Xeon X3220 @ 2.40GHz Kentsfield 65nm Tech...
Dell Inc. 0GX297 (Microprocessor)
PNY GTX 550 TI 1GB GDDR5
4GB DDR2 Memory
Hard Drive
Optical Drive
Cooling
OS
500GB WD+External 500GB WD
Super Ritemaster Speed Plus DVD
Speed fan Software+Stock Cooler Fan
Windows 7 Ultimate x64
Monitor
Keyboard
Power
Case
LCD Acer 21inch Monitor
HP Black Keyboard
Thermaltake 430 PSU
Dell Optiplex 745
Mouse
Mouse Pad
Audio
Dynex Grey and Black Mouse
Air National Guard
Diamond C-Media PCI Audio Device
View all
hide details