I just got it today in exchange of my Gigabyte P35-DSL3 i really like it since it is just like it the P35-DSL3 was but with RAID, more SATA, digital read out, better OC features. What are your guys' thoughts on this board?
I was going to get the eVGA 780i but they were out of stock.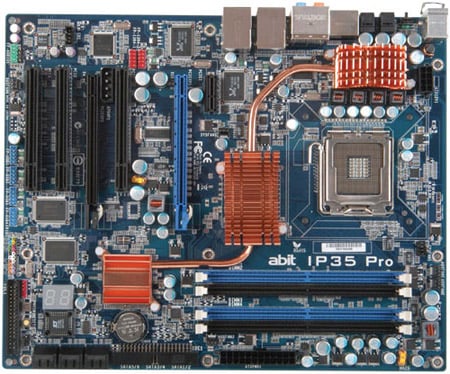 This is what the board looks like I was wondering because I have a HR-03 NB cooler, do you guys think I should keep it off of it? I did not take off the heat pipe yet, but do you think it's worth taking it off? Or is there a way to take just the NB part off so I can fit the HR-03 in? If not I have no problem keeping the heatpipe on there just wanted some preferences,
Thank you.
Also if anyone here knows this board and could direct me to good bios settings for overclocking that would be reputationlisious
.
CPU
Motherboard
Graphics
RAM
Intel Core i7 - 920
eVGA X58 3x SLI
XFX Radeon HD 5770 XXX Edition
6GB DDR3 Corsair Dominator
Hard Drive
Optical Drive
OS
Monitor
Hitatchi 2TB 7200RPM
LG 24x DVD Burner
Windows 7 Professional
28" LG Monitor
Power
Case
Mouse
Corsair 650TX
Cooler Master HAF-932
Logitech X1100
View all
hide details
CPU
Motherboard
Graphics
RAM
Intel Core i7 - 920
eVGA X58 3x SLI
XFX Radeon HD 5770 XXX Edition
6GB DDR3 Corsair Dominator
Hard Drive
Optical Drive
OS
Monitor
Hitatchi 2TB 7200RPM
LG 24x DVD Burner
Windows 7 Professional
28" LG Monitor
Power
Case
Mouse
Corsair 650TX
Cooler Master HAF-932
Logitech X1100
View all
hide details