Ok here is the pic of my progress so far for those who were wanting to see.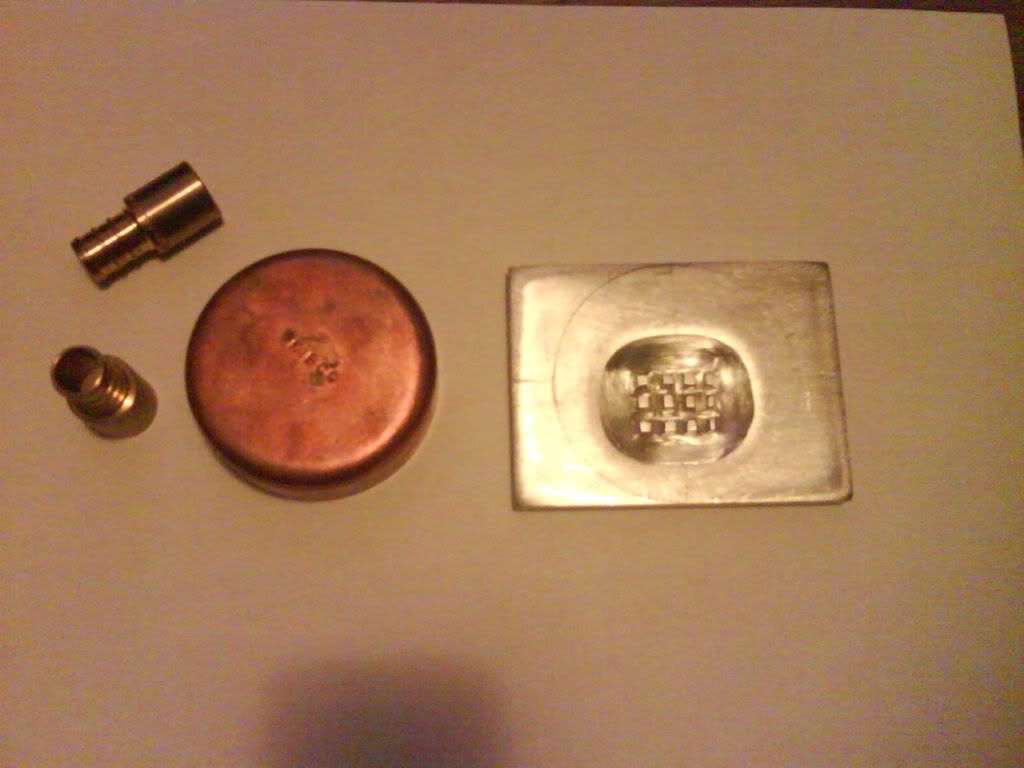 I used a dremel to carve it and thats a 2'' copper cap from LOWS. 2 1/2'' id barbs. the base is an old HS I took off an old AMD.
I would love to hear your feedback on this build!
yeah I know the base should be copper...eventualy Ill just buy a block I just wanted to see how cheep I could do a loop.
Edited by DIRTYDUCK - 6/7/08 at 9:59pm
CPU
Motherboard
Graphics
RAM
E6750 @3.6 1.40v
P5N-D SLI 750i
EVGA 9800GX2
4Gigs G.Skill 800
Hard Drive
Optical Drive
OS
Monitor
40G WD IDE/250G sata
40xDVDRW
Vista 64bit
22" hp A4576A
Keyboard
Power
Case
Mouse
Logitech
Antec 650w Neopower
herbal green
Logitech
Mouse Pad
Rotting blue/black neo
View all
hide details
CPU
Motherboard
Graphics
RAM
E6750 @3.6 1.40v
P5N-D SLI 750i
EVGA 9800GX2
4Gigs G.Skill 800
Hard Drive
Optical Drive
OS
Monitor
40G WD IDE/250G sata
40xDVDRW
Vista 64bit
22" hp A4576A
Keyboard
Power
Case
Mouse
Logitech
Antec 650w Neopower
herbal green
Logitech
Mouse Pad
Rotting blue/black neo
View all
hide details