http://anandtech.com/weblog/showpost.aspx?i=454
Quote:
Antec gave us a sneak peek at an early prototype most controversial case design yet: the Skeleton. It's a totally open air case design, your motherboard is mostly exposed and sits on the upper level of the "case" while below it you have room for a power supply, optical drive and hard drive. The entire thing is cooled by a slow spinning 250mm fan and there's enough room to passively cool your CPU with a good heatsink.


Availability will be around September of this year and pricing has yet to be determined. What you see in the gallery is a very early prototype, the final product will be made out of better materials and have some minor changes to allow for things like larger video cards.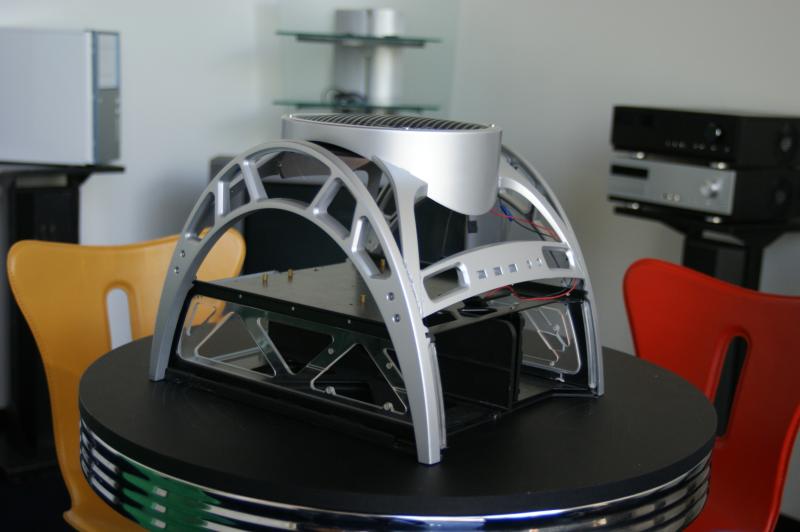 I've always wanted to build a "case" similar to that design. They always beat me to it!!!!
CPU
Motherboard
Graphics
RAM
X2 5000+ BE
Gigabyte GA-MA78GM-S2H AM2+
Integrated HD3200
2x2GB OCZ DDR2
Hard Drive
Monitor
Power
Case
Maxtor 40GB
Samsung 2220WM 22"
Antec Neo HE 550W
Ultra Wizard
View all
hide details
CPU
Motherboard
Graphics
RAM
X2 5000+ BE
Gigabyte GA-MA78GM-S2H AM2+
Integrated HD3200
2x2GB OCZ DDR2
Hard Drive
Monitor
Power
Case
Maxtor 40GB
Samsung 2220WM 22"
Antec Neo HE 550W
Ultra Wizard
View all
hide details