I've been having issues with the latest ATI drivers(games freezing and so forth 8.4 driver) I lowered my CPU OC back to stock and was still having issues and Vista determined it was a driver issue. I also had problems uninstalling the driver, but I finally got that solved.
So I installed the new 8.5 drivers today and everything seems OK.
However when OCing my 2 3870's I found something strange. I could get my core up to 860( GPUz reads it at 859, ATItool -857)
Then I started bumping up the memory. I started at 1200, and ran furmarkv 1.3 at every 5 MHz higher.( I also did this for the core)
Unlike when I did the core (Which went up several times during testing) I got the same score at 860/ 1200 and 860/1360.
I used this benchmark because it's fast and in the past it found certain combinations worked much better than others. That was the former version though. This is using the new version.
Has anyone tried using this version and does this sound right? It seems bizarre to me.
I didn't try 3DMark 06 because it takes longer and it's also testing the CPU also and I am trying to isolate my 3870s.
Here's the SS. ATITool is reading the first SS wrong look at GPUz instead.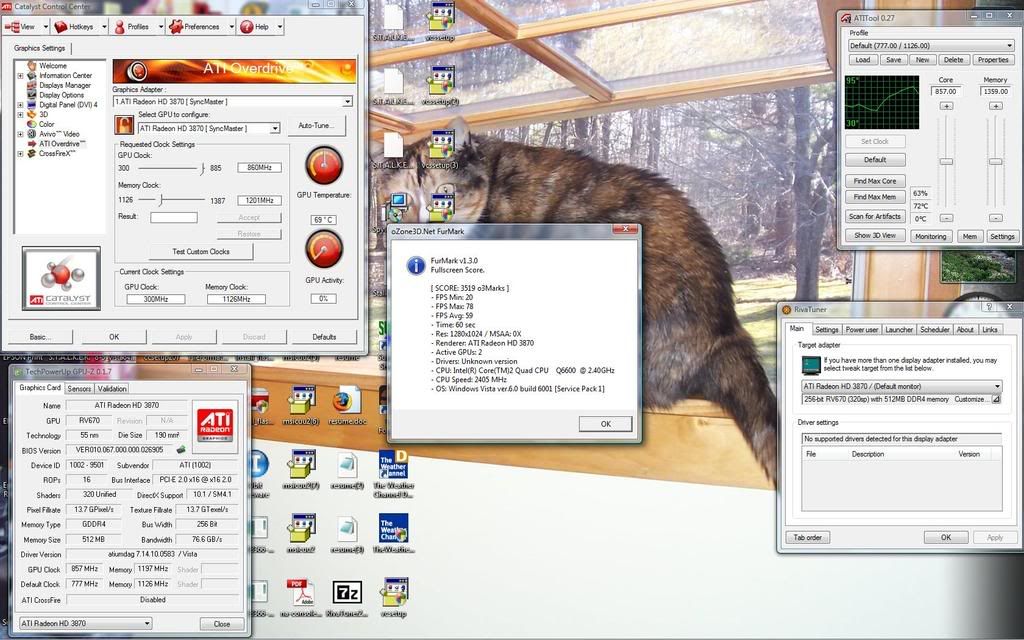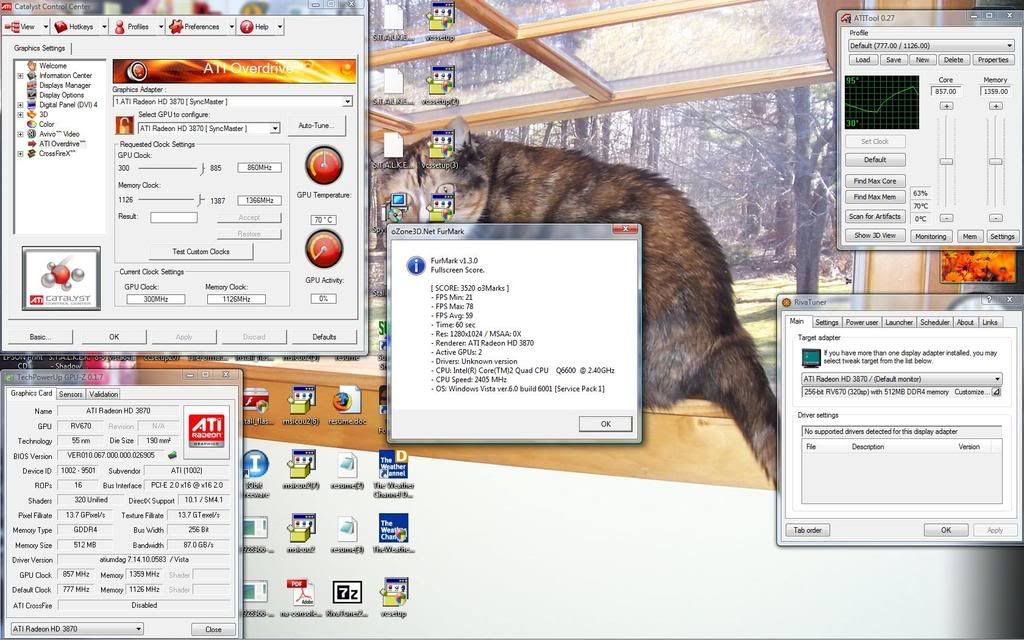 CPU
Motherboard
Graphics
RAM
Q6600G0 L728B205 OC to3.6
Asus Maximus Formula
Sapphire Radeon 3870
4X1GB Crucial Ballistix
Hard Drive
Optical Drive
OS
Monitor
WD 320GB
2 X Sony DVD combo
Vista ultimate 64
ViewSonic VX2235wm 22-inc
Power
Case
PC Power & Cooling Silencer 750 Quad
Cheap
View all
hide details
CPU
Motherboard
Graphics
RAM
Q6600G0 L728B205 OC to3.6
Asus Maximus Formula
Sapphire Radeon 3870
4X1GB Crucial Ballistix
Hard Drive
Optical Drive
OS
Monitor
WD 320GB
2 X Sony DVD combo
Vista ultimate 64
ViewSonic VX2235wm 22-inc
Power
Case
PC Power & Cooling Silencer 750 Quad
Cheap
View all
hide details