I scanned this from CustomPC magazine (UK) showing the results of SLI and Crossfire testing they did in their newest issue. This shot is of Crysis.
The 9600GT beats out the 8800GT in both resolutions. And at 1680x1050, only 2x 3870X2. 3x 8800GTX and 3x 9800GTX is faster.
Pretty impressive considering the price difference when putting an SLI rig together.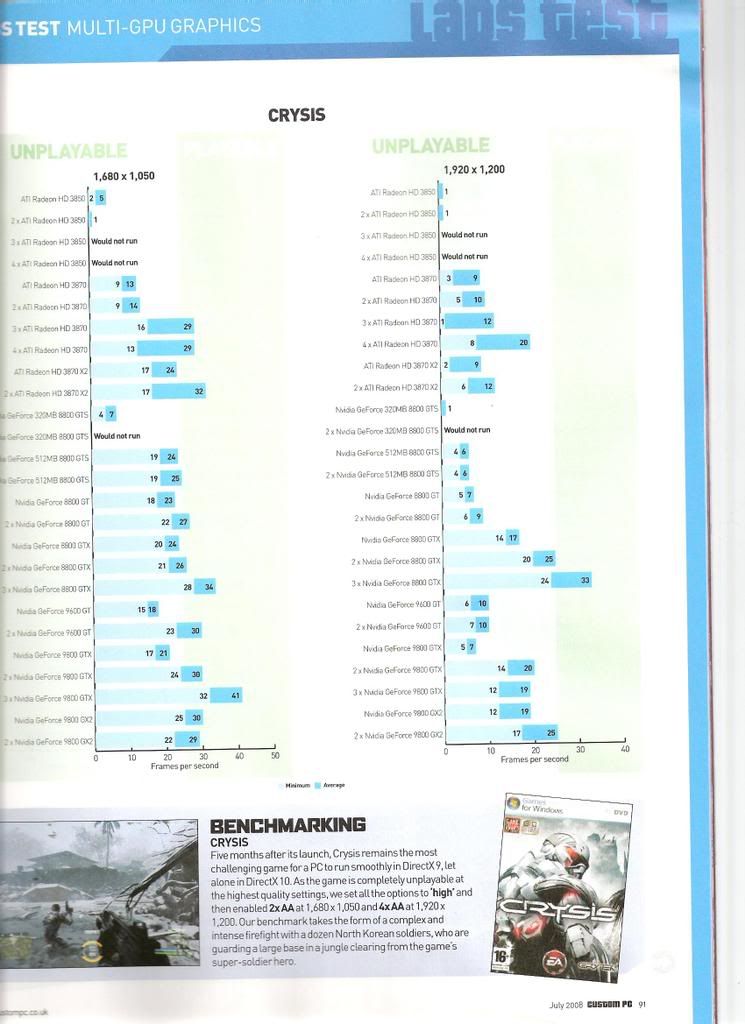 CPU
Motherboard
Graphics
RAM
C2D E8400 Wolfdale @ 4.05 GHz
Asus P5Q
XFX 8800GT 512MB
4GB OCZ DDR2 800
Hard Drive
Optical Drive
OS
Monitor
2x Excelstor Jupiter SATA3 RAID0
Lite-On DVD-RW
Windows Vista Home Premium
HP w2207 22" Widescreen
Power
Case
Mouse
Thermaltake Purepower RX 600W
Ultra Grid
Microsoft Intellimouse
View all
hide details
CPU
Motherboard
Graphics
RAM
C2D E8400 Wolfdale @ 4.05 GHz
Asus P5Q
XFX 8800GT 512MB
4GB OCZ DDR2 800
Hard Drive
Optical Drive
OS
Monitor
2x Excelstor Jupiter SATA3 RAID0
Lite-On DVD-RW
Windows Vista Home Premium
HP w2207 22" Widescreen
Power
Case
Mouse
Thermaltake Purepower RX 600W
Ultra Grid
Microsoft Intellimouse
View all
hide details