I decided it was time to mod my keyboard, so yesterday I took it apart and knocked it out.
Here we go!
What my keyboard looked like before I started.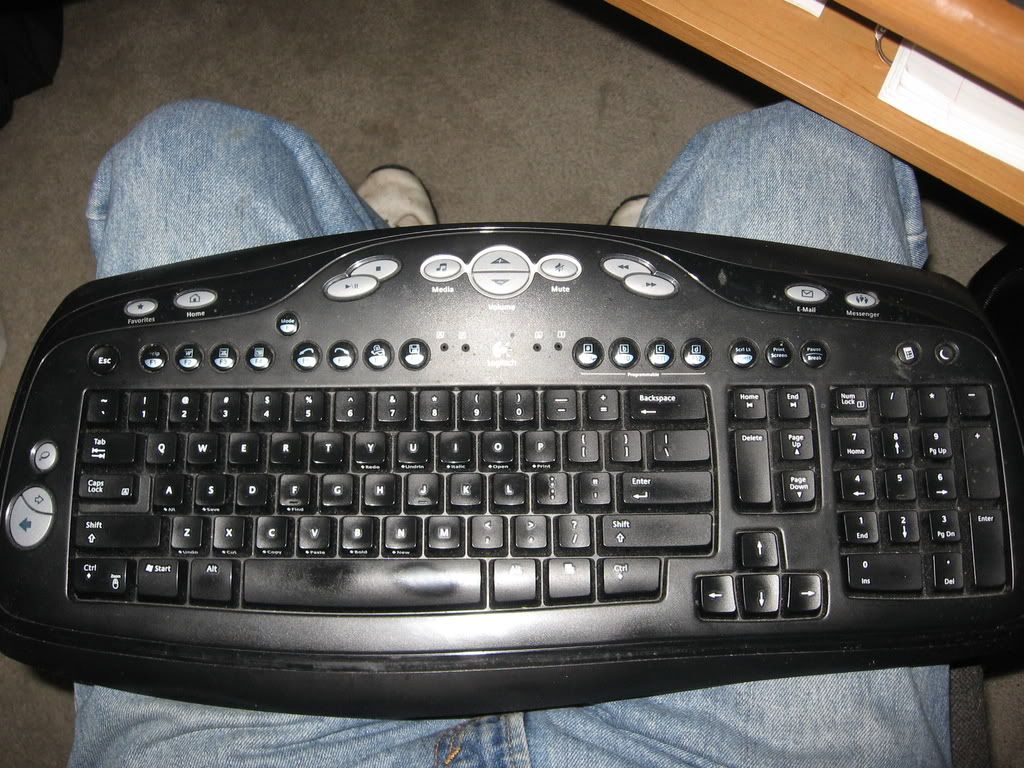 Below, you see the simple tools I used for this project.
The Painter's Touch Primer is great for plastic! Goes on real nice and covers without using a lot or multiple coats if you don't want. A simple .96 cent can of Aluminum/Silver from WallyMart. A Fine grit sandpaper disc meant for drills. It had a nice rounded edge which worked beautifully. 1" Painter's Tape, exacto knife with a new blade, tweezers to remove the excess tape. And of course, a kitchen glove to keep the paint off of me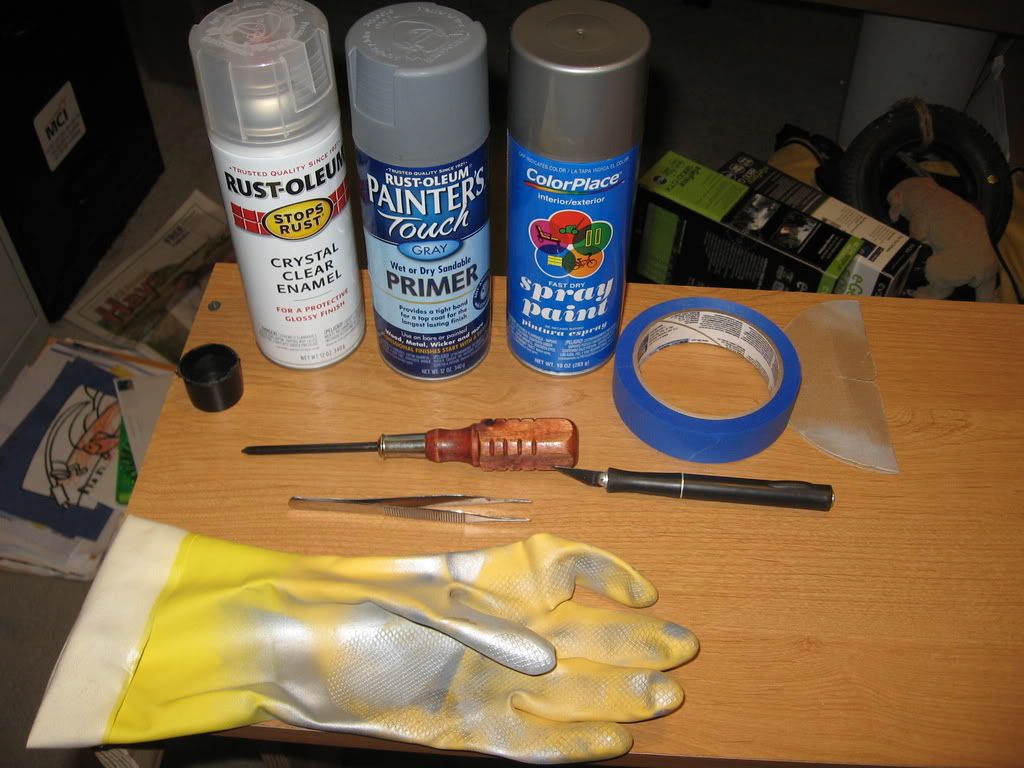 Placed the Tape and trimming it to cover the shiny black ring around the board.
My New small Workbench!
Finished with the trim and moving on to the "rings" around the media keys.
Sanded down and primered. Put 2 coats to heal any remaining imperfect places.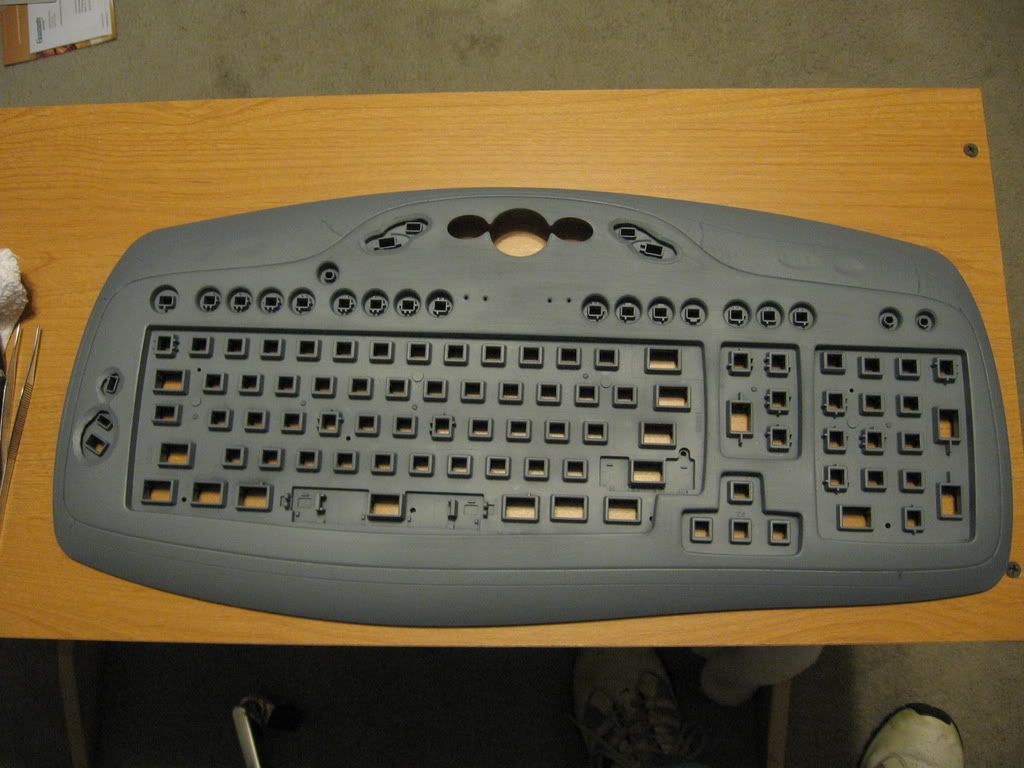 Here, the board has been covered with it's first coat of Alum/Silver. Again, I went with 2 coats to ensure it was nicely covered and a 2nd thicker coat to help even out the color.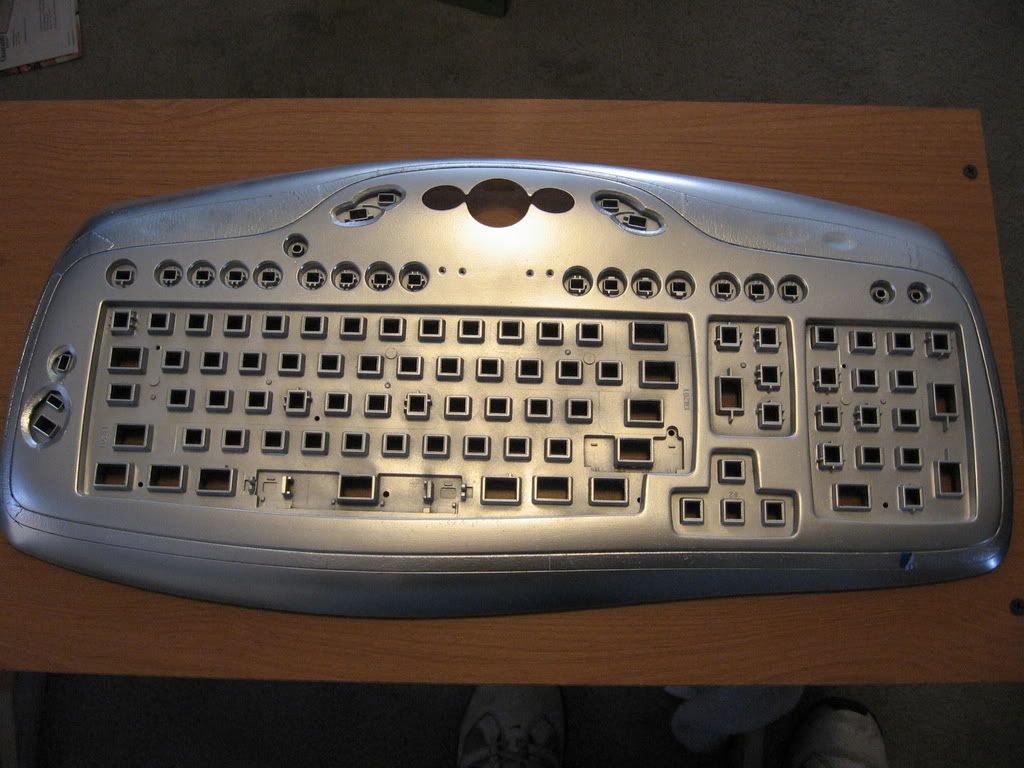 Here, I have removed the outer trim and have moved onto removing the "rings" surrounding the media keys.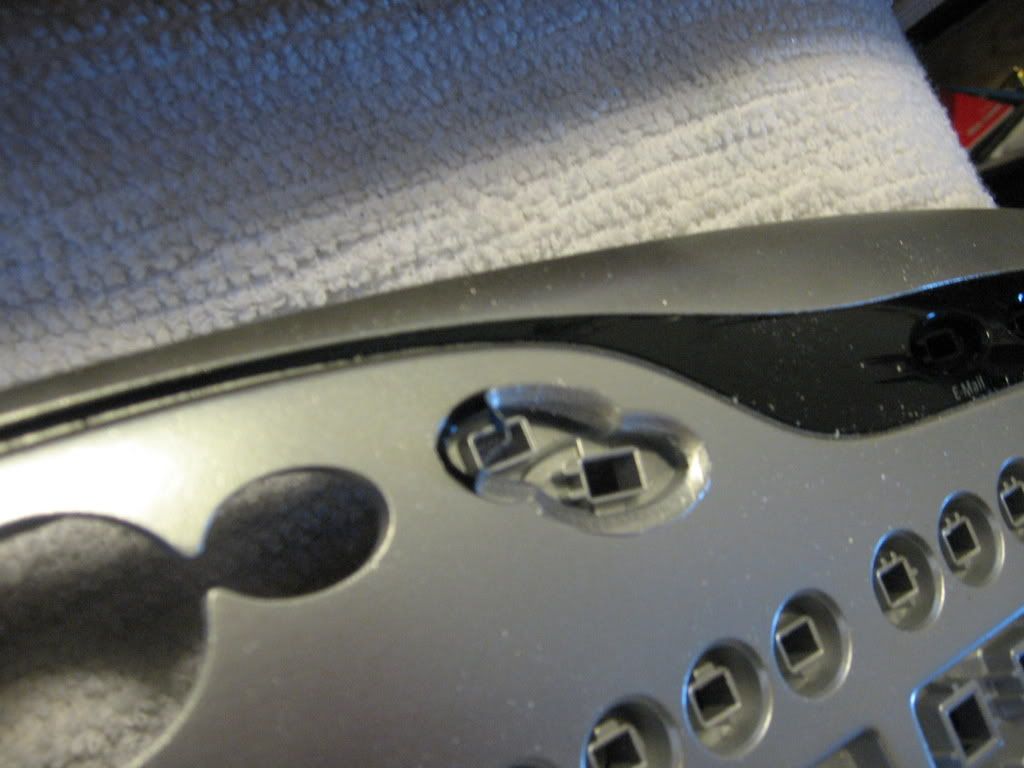 An overall shot of the board once all the tape has been removed. Lookin good so far!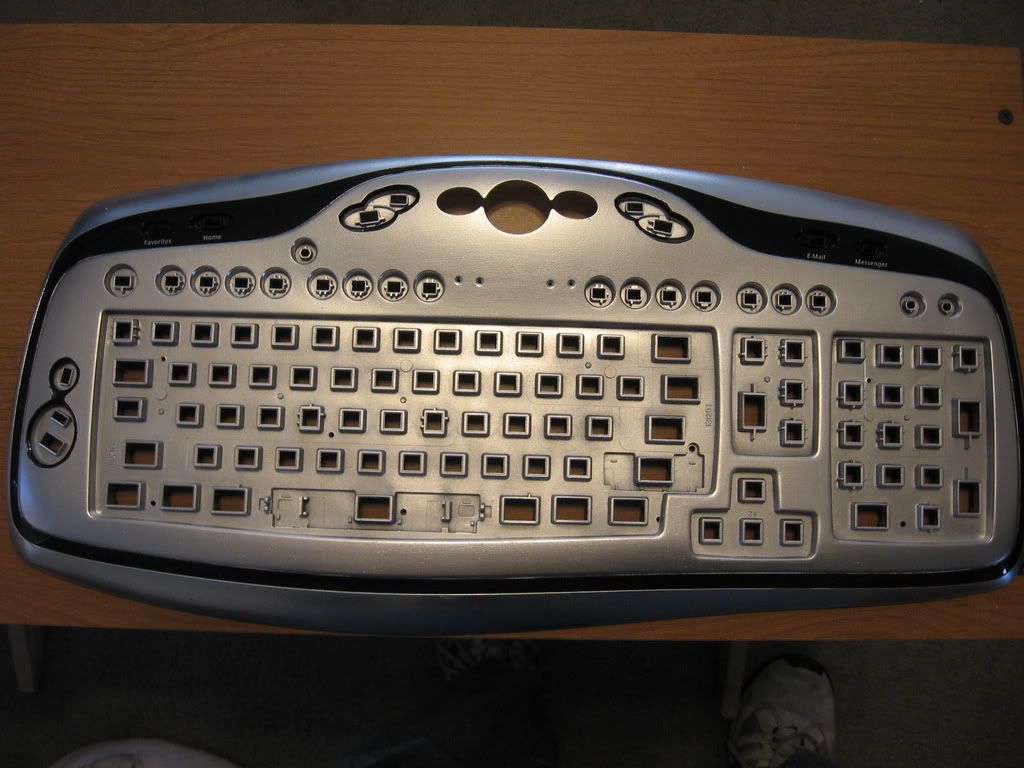 A close-up shot, you can see I didn't do as well on the Rings on one side, but it didn't need to be perfect anyway. I decided to keep the shiny rings mid-project at any rate.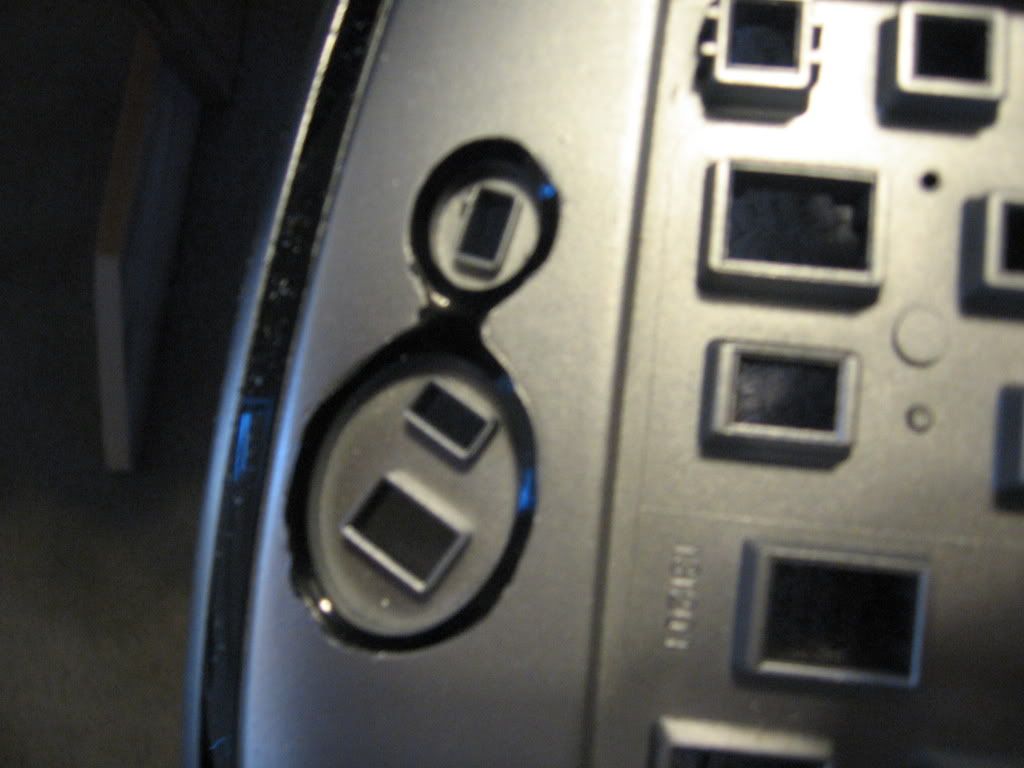 Completed Project! Without flash.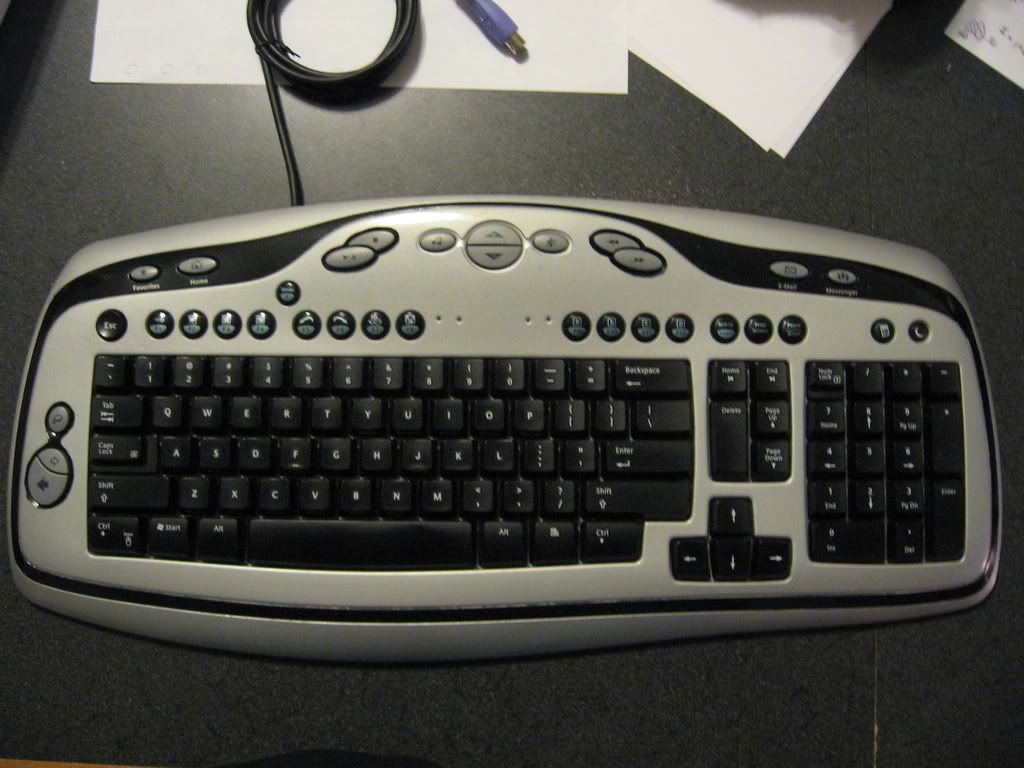 I don't which looks better with or without so...
I would have liked to re-finish the keys as well, but I don't know where or even if I can get the little letter "stickers" anyway. Now, my keyboard matches my mouse, Z-5500 speakers, and PC case!
I hope you have enjoyed the show. Thanks for stopping by!
Edited by Vargess - 6/1/08 at 11:04pm
CPU
Motherboard
Graphics
RAM
i7 720QM
Dell
2x HD5870 via Crossfire
4gb DDR 1066mHz
Hard Drive
Optical Drive
OS
Monitor
2x 500gb Raid 0
Slot Load BlueRay
Windows 7 Home Premium
17" RGB LED 1200p
Power
Case
Mouse
240w Adapter
Limited Edition Nebula Red Aluminum Case
Logitech G700
View all
hide details
CPU
Motherboard
Graphics
RAM
i7 720QM
Dell
2x HD5870 via Crossfire
4gb DDR 1066mHz
Hard Drive
Optical Drive
OS
Monitor
2x 500gb Raid 0
Slot Load BlueRay
Windows 7 Home Premium
17" RGB LED 1200p
Power
Case
Mouse
240w Adapter
Limited Edition Nebula Red Aluminum Case
Logitech G700
View all
hide details