Hey everyone! Sorry for the bad image quality, iphones are terrible.
I own an Asus p5n32e-sli Plus, and making use of the
Scythe Kaze Master Fan Controller
that I got from
Kopi
(thanks a ton!)...i determined that I didn't really appreciate my mid to high(load) 50C temps (the 46 is while in bios XD) on my Northbridge. It IS a chipset...and I have a weird superstitious relationship with 60C for chips.. call me crazy.
So I ordered a couple of thermaltake spirit II's and got underweigh with installing them!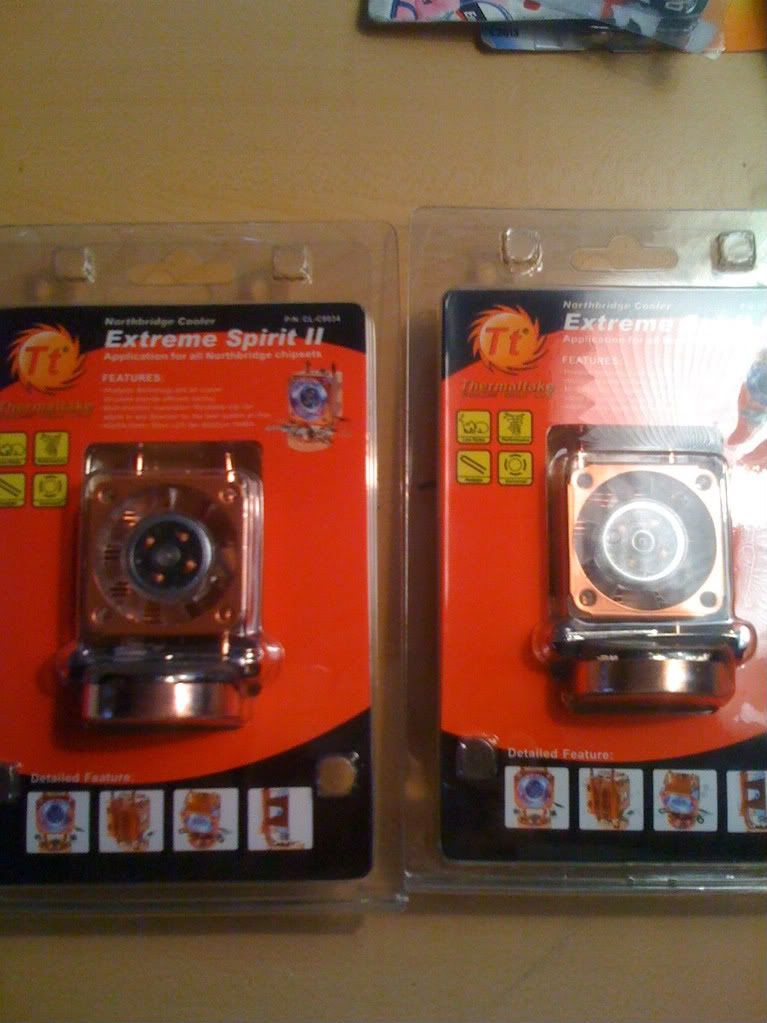 First, removal of mobo
The stock cooling can be removed by pushing in the springy pushpins to give you working room, and clamping the expandable pin with some pliers or tweasers, then letting it slide right through.
these are the new coolers. Note the ridiculous difference in sheer mass...
Asus fails at thermal compound. Even with the board warm, the TIm still stuck and made me nervous pulling the pipes off. It was dried and shiny =(
Also, the mounting screws for the new TT sinks were installed in that previous picture.
I set the sinks on the chipsets and put my 8800GTS in the topmost picE slot to check for clearance, as it is where the card lives (to gain the most benefit from the side fans). After getting the mounting positions correct, I added a tiny bit of AS5 to the chipsets -
BE CAREFUL AS5 is electro-conductive and will short your board if you let it get on the green chip area between the capacitors!!! I did this to my first mobo!-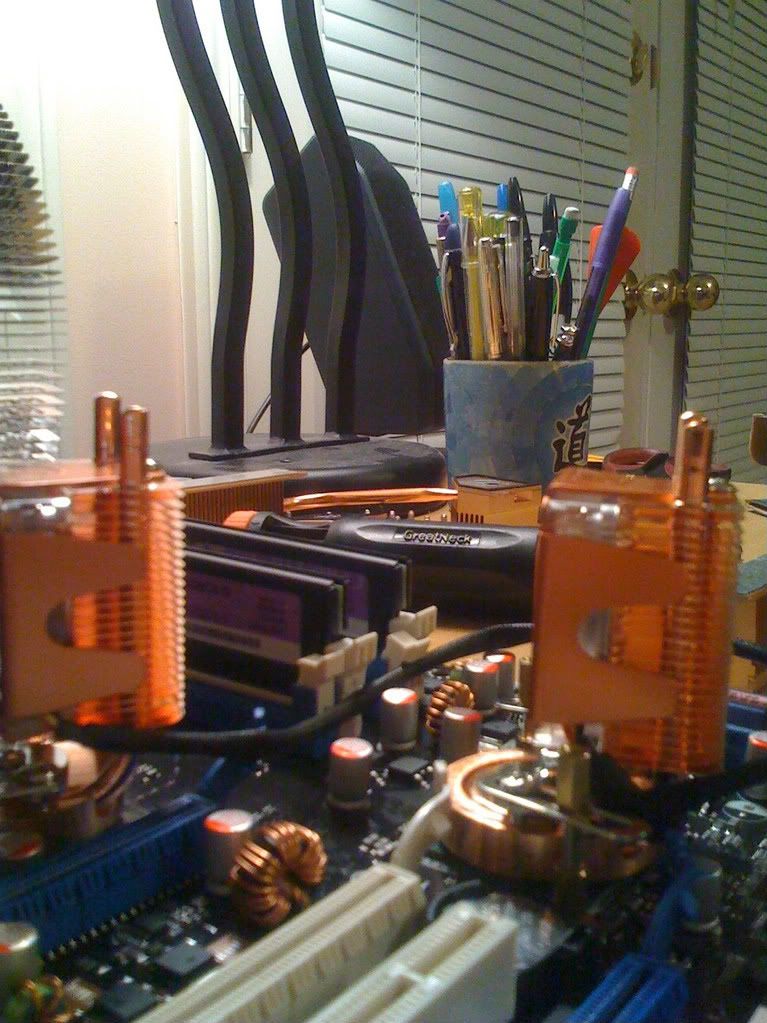 Photogenic? If only the iphone came with a 10 megapixel camera lol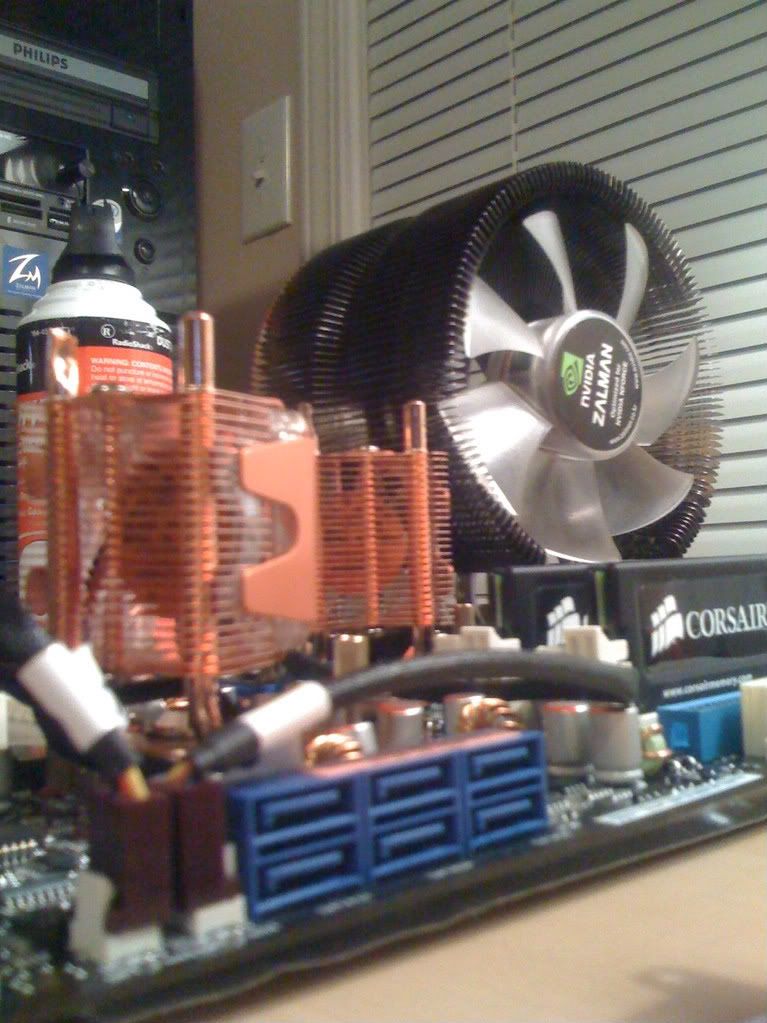 So at this point I decided that while my 8800 was out of the case, I might as well reseat it's sink with As5...didn't bother with the memory and secondary chip TIM's because I have no idea about them..havnt done any research on it..note that this looks like a lot of as5 but this chip is huge and its sink is unlapped...
So tim...what are you going to do about the mosfet cooling? The stock heatpipes rout heat to them..so surely you have a solution!
Actually
robilar
in the p5n32e ocing guide he wrote has probably the best solution I can think of..
So..here are mine!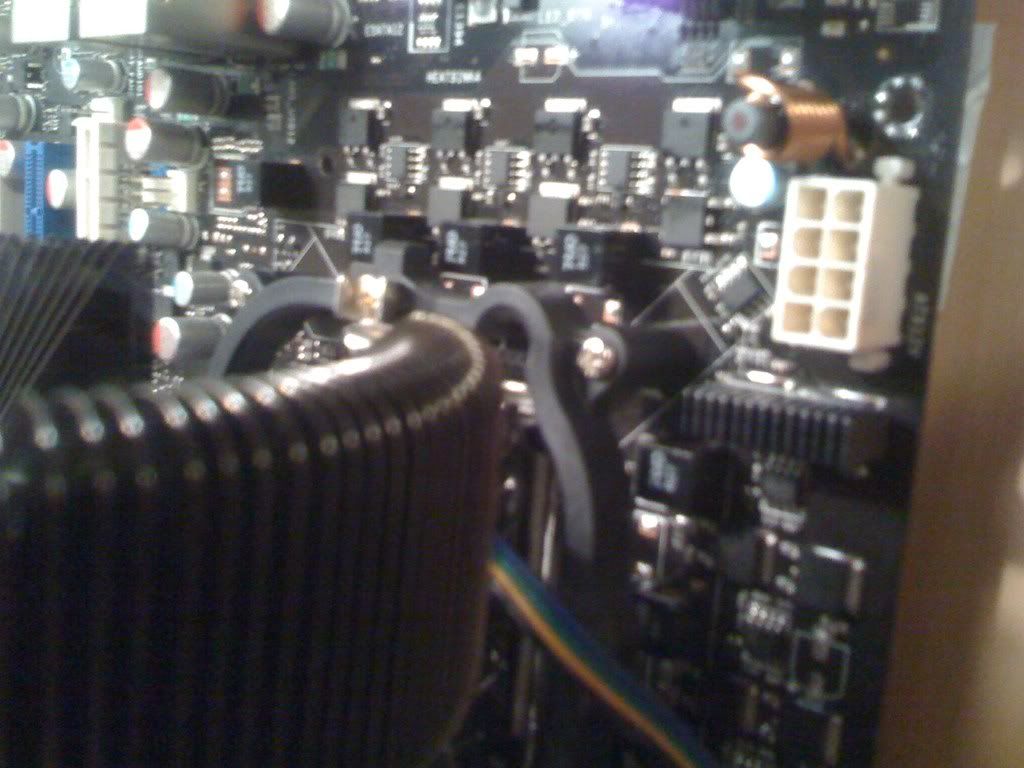 Aaaaaaand all done!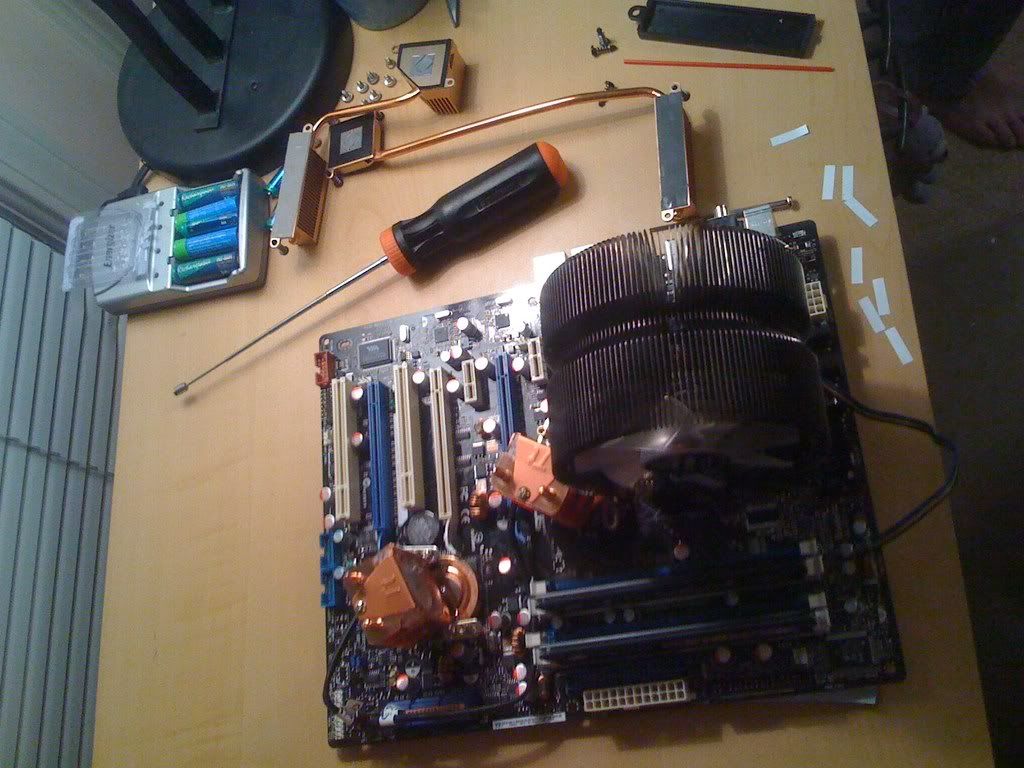 Some pictures of the finished product...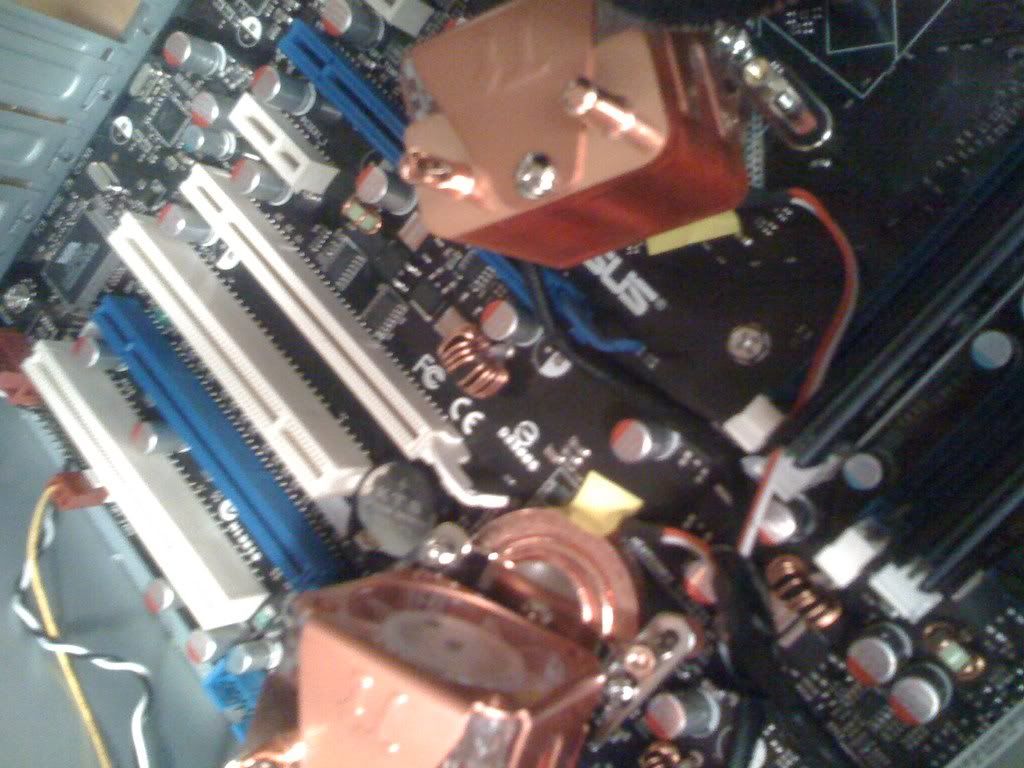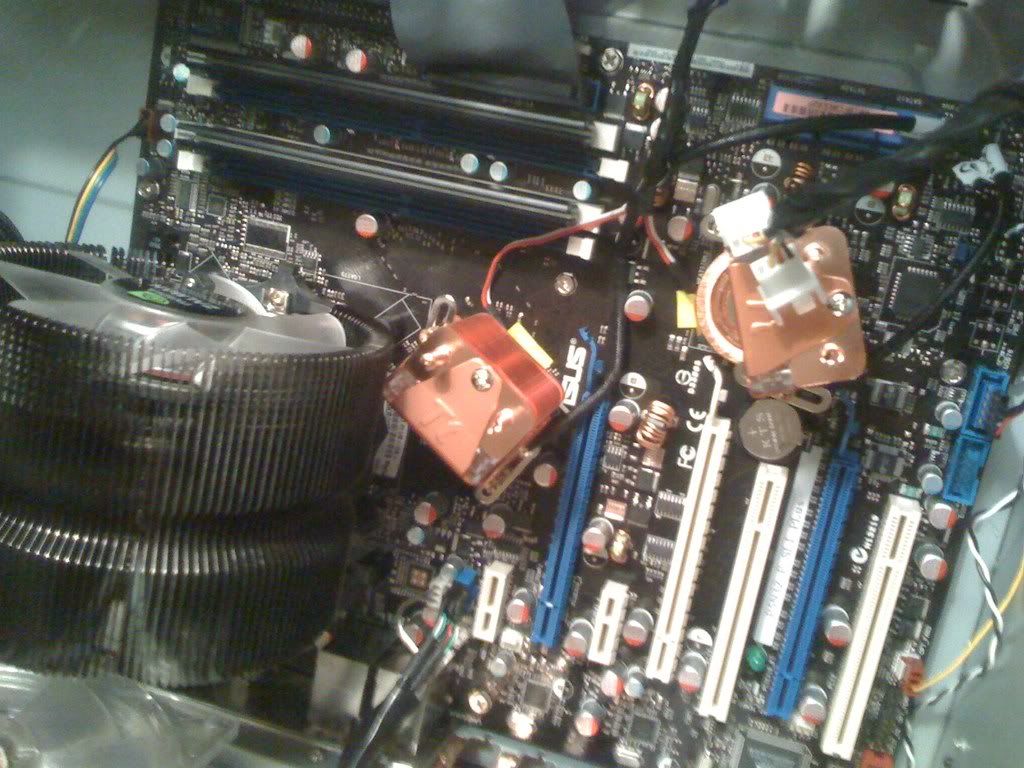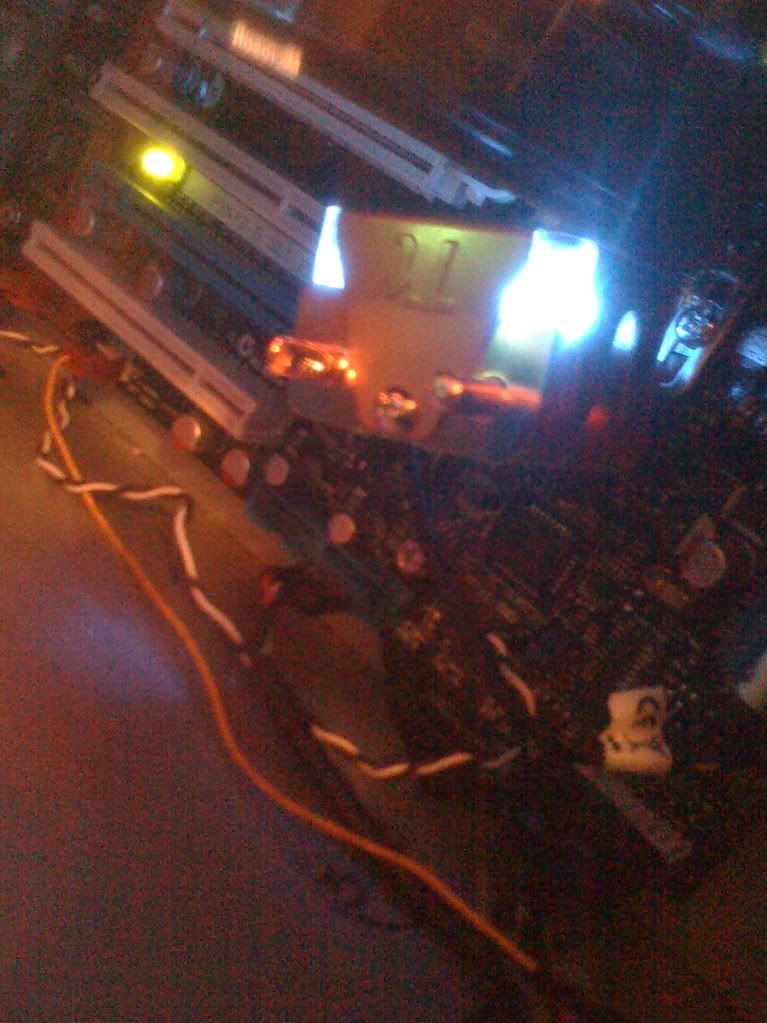 Before: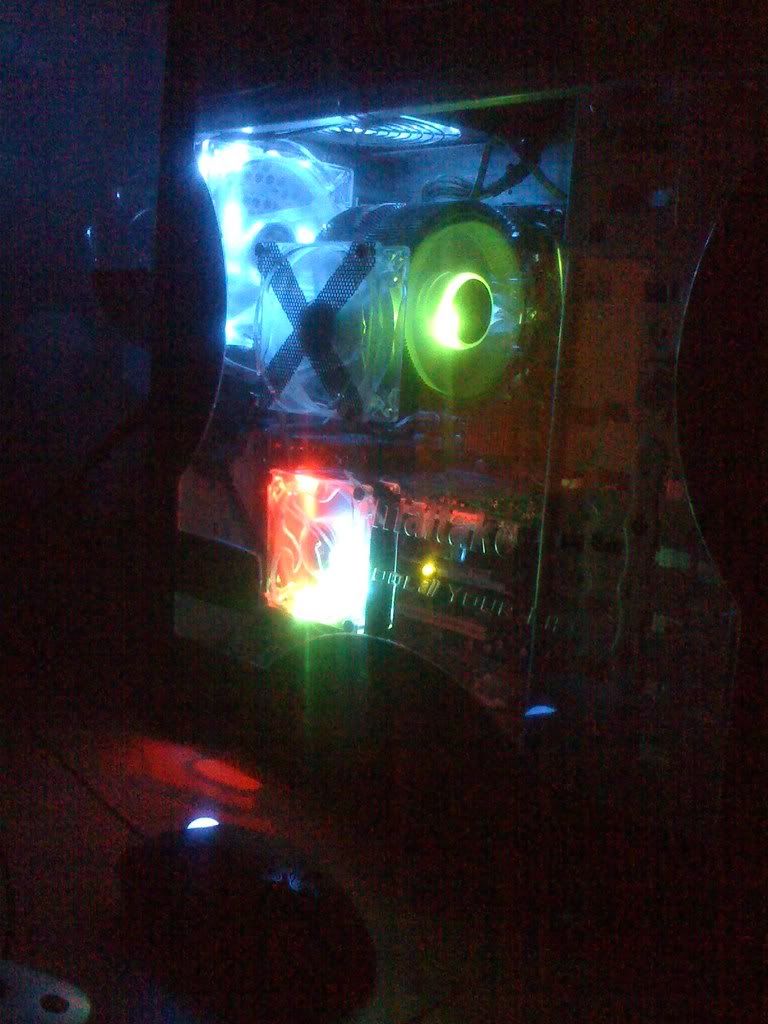 Aaaaand after: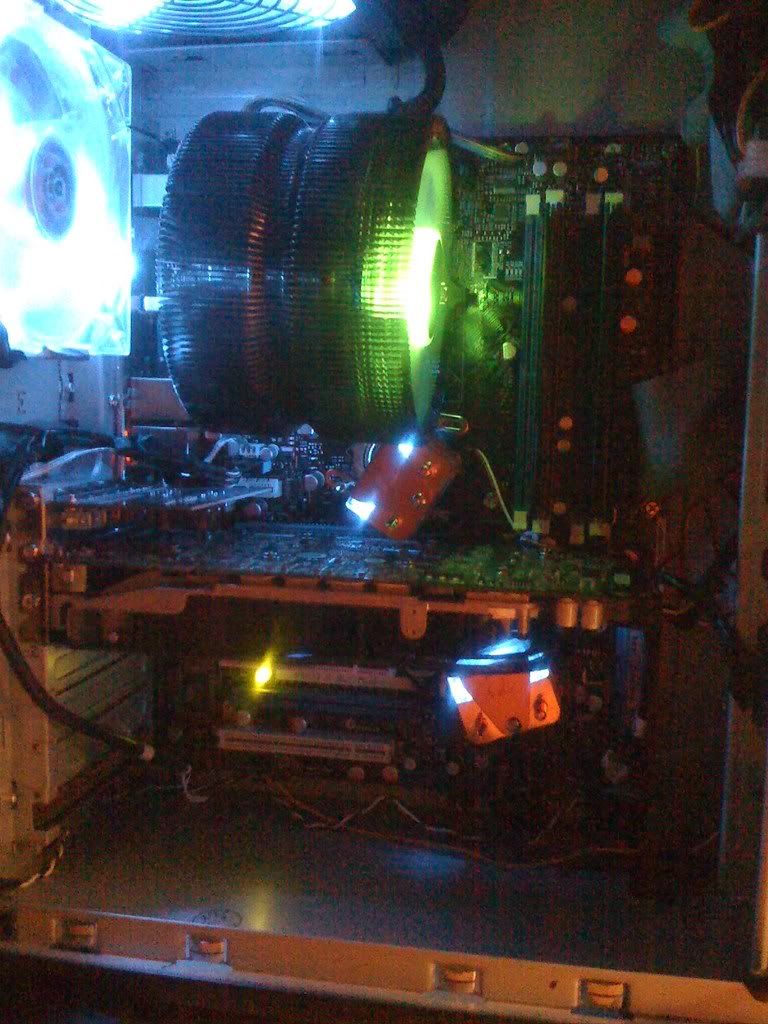 I shoved the thermal probes from the kaze master into the foamy ring thing that came with the sinks to get temps, and NB is at 46C at the moment im typing this (down at LEAST 5C) and SB is at 44C.
Now to get a tuniq or TRUE so I can get more than a 50% overclock on my e6600.
And yes, I like to photo-document things.
CPU
Motherboard
Graphics
RAM
i5 2500k
Asus Max iv gene-z
xfx 6870 black
kingston hyperx ddr3-1600
Hard Drive
Power
2x wd black 1tb in raid0
ocz 750w
View all
hide details
CPU
Motherboard
Graphics
RAM
i5 2500k
Asus Max iv gene-z
xfx 6870 black
kingston hyperx ddr3-1600
Hard Drive
Power
2x wd black 1tb in raid0
ocz 750w
View all
hide details