Quote:
If you've been wondering how to make Asus's diminutive Eee PC even more stylish, you might want to think about fitting a touch screen – and that's now easier than ever.

A new kit designed to offer solderless installation of a touch-screen on the 7†Eee PC 701 has been unveiled by jkkmobile via the hacker haven Hack A Day. The kit, provided by Chinese retailer Mobile01 provides everything you need to turn the Eee PC into a touch-screen enabled unit – and there's no worries about melting through important cables or burning your fingers, as it comes with all the connectors pre-made.

Although this isn't the first touchscreen mod for Asus's popular ultra-small notebook, it is the easiest. Using the USB headers already present on the Eee PC motherboard, the panel comes with a USB hub that fits internally in the Eee to ensure that the webcam – often the first victim when modders start to run out of free USB ports – continues to work after the panel is installed. While parts of the nine-step instruction list sound a little hairy – I was particularly concered regarding step 3, "bend the frame†- there's certainly a lot less to go wrong here than with your average touchscreen modification.

While this mod, like any other, will result in a thoroughly invalidated warranty, the very fact that it involves no soldering or cutting will make it more approachable for would-be modders lacking the experience or confidence to make a good job of soldering additional components to the micro-sized motherboard in the Eee PC.

The kit is expected to sell for around £40, with a version that includes a Bluetooth module on the PCB coming in at £50.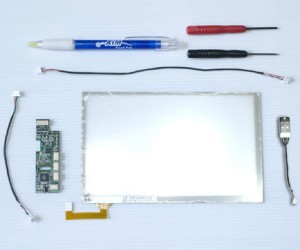 Source