Quote:
Ubisoft has revealed that it's new Tom Clancy military flight sim, Tom Clancy's HAWX will be released ahead of previous schedules and can be expected on shelves this September.

The game had previously been set for a release sometime closer to Christmas, autumn at the earliest. Progress on the game must have barreled forwards though because the latest release schedule issued by a Ubisoft spokesperson sets the game as expected to be on shelves this September.

Tom Clancy's HAWX is a modern combat flight sim set inside the Tom Clancy universe. We got a chance to have a quick hands-on with the game at the recent Ubidays 2008 event in Paris and the game was certainly feeling very polished and well put together, with mention of HAWX units crossing over into other Tom Clancy games, such as Endwar.

Ubisoft recently started celebrating the tenth anniversary of the Tom Clancy franchise, which began with the original Rainbow Six a decade ago.

The latest schedules for the company also list Far Cry 2, Rayman Raving Rabbids TV Party, Tom Clancy's EndWar and Shaun White Snowboarding as being released in the same September - Christmas period. We managed to bag extensive hands-on time with some of these games, including HAWX at the Ubidays 2008 event - so expect to see previews in the next few weeks.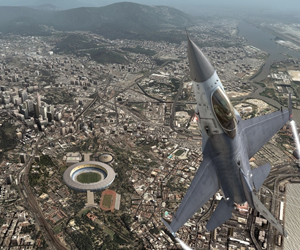 Source