Explorer.exe is taking up HUGE amounts of system memory. I can end the process and restart it and it'll go back down to normal...but it slowly builds up to this usage. I haven't restarted the process in 2 days and it's at 2GB now.
I've included some screenshots that show usage...
I have Nod32 AV and have done full scans, and it finds nothing. Is there anyway within process explorer to see which processes are taking up all of these resources?
Any ideas?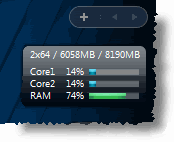 CPU
Motherboard
Graphics
RAM
Core 2 Duo E8400
ASUS P5K-E
Sapphire Radeon 3870x2
8GB (4x2GB) G.SKILL 4GB PC2 8000
Hard Drive
Optical Drive
OS
Monitor
Samsung HD501LJ 500GB
Samsung 20X Lightscribe
Vista X64
Dell 2407WFP
Keyboard
Power
Case
Mouse
Razer Tarantula
Cooler Master Real Power pro 750
Rocket-Li
Logitech G5
Mouse Pad
Rocketfish Double Sided
View all
hide details
CPU
Motherboard
Graphics
RAM
Core 2 Duo E8400
ASUS P5K-E
Sapphire Radeon 3870x2
8GB (4x2GB) G.SKILL 4GB PC2 8000
Hard Drive
Optical Drive
OS
Monitor
Samsung HD501LJ 500GB
Samsung 20X Lightscribe
Vista X64
Dell 2407WFP
Keyboard
Power
Case
Mouse
Razer Tarantula
Cooler Master Real Power pro 750
Rocket-Li
Logitech G5
Mouse Pad
Rocketfish Double Sided
View all
hide details