Quote:
Not content with simply blowing all your minds with our first look at the Maximus II Formula recently, the X48 Rampage Extreme not only mirrors this look and style, but also promises to be even more... Extreme.

On the bottom we now have toggle, confirm and a select lever for some on-the-fly overclocking action, apparently even when in Windows and in-game. However reaching into your case while you frag isn't the easiest thing, but it's a cool idea that no one else has even remotely come up with yet.

Instead of a line of capacitors or Hi-C caps like MSI use, Asus is now using just one huge Fujitsu low profile 3V-1000uF "bling" capacitor above the memory, under the CPU socket on the back of the board and (we think) for the north bridge under its heatsink too.

The Fusion waterblock is now removable and rocket red in colour, and the PWM heatsink between CPU and rear I/O is heatpiped on its own and is super huge – it's almost the height of my fist. Again, that's removable too if you find a cooler incompatibility. The board features the usual EPU and 16-phase CPU power design and even DriveXpert (although we're not sure why a mainstream solution features on a core enthusiast board), but no ExpressGate.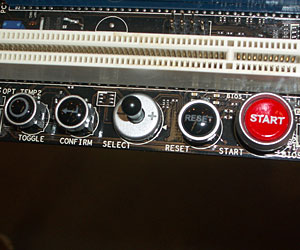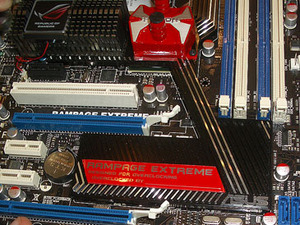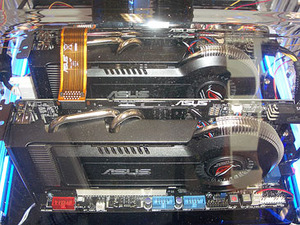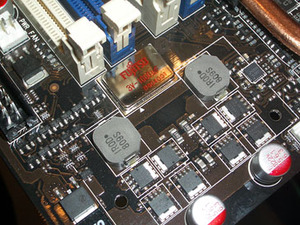 The bottom heatsink above the south bridge also has space so you can sign your name too. We were told some of the king-pin overclockers out there wanted their name splashed about a little more when people took pics of them reaching records. If there could be whipped cream and a cherry to top off the e-peen, this would be it.

Also on display were a couple of new RoG branded graphics products too - Asus is keen to push this brand ever further across its product ranges.



Source