So I went to bed last nite like most people like to do, but when I wake up this morning I am left with a nice error from vista saying the computed checksome doesnt match the actual checksum or something. I reboot again and it does it again.
So I figure ill see whats going on in the bios, only to be met with: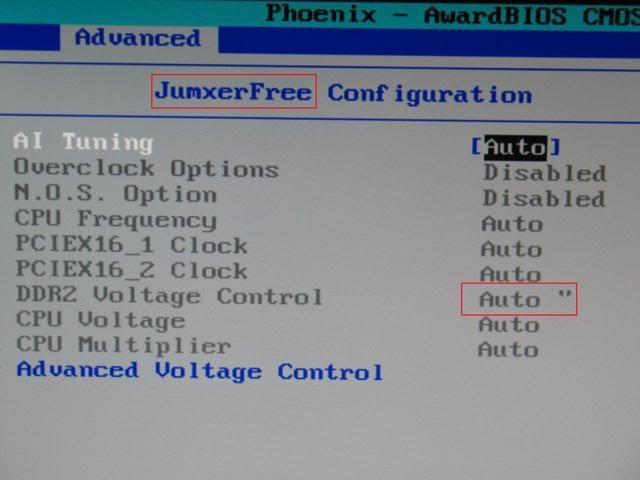 The weird part, is where it says JumxerFree, 30 seconds before that it actually said JumperFree, and the DDR2 Volage never said that before either with the ", it was just plain Auto. If I go into those options, I get crazy impossible settings like 3.9v which I never had before, and its not in a nice list, its all over the place ffrom like 1.9 to 3.9 to 2.4 etc...
My first suspect is either the board or the memory, which I will be testing in a moment (individual). I cant even boot off a CD so memtest is not possible, the PC just spits out errors at me on ANY boot attempt from any device.
... Just figured I would post this here for some different points of view...
CPU
Motherboard
Graphics
RAM
Core i7 920 D0
Asus P6T
Sapphire 4870X2
3x2GB OCZ Gold DDR3-1600
Hard Drive
Optical Drive
OS
Monitor
2 x 500gb RAID 0, 2 x 1TB Caviar Black
Samsung 22x Sata DVD+-R/DL
Vista x64
Acer x223w
Keyboard
Power
Case
Mouse
Logitech G15 gen2
Cooler Master 850w 6 Rail
Antec Twelve Hundred
OCZ Equilizer
Mouse Pad
Fellowes Ergonomic Wrist Support
View all
hide details
CPU
Motherboard
Graphics
RAM
Core i7 920 D0
Asus P6T
Sapphire 4870X2
3x2GB OCZ Gold DDR3-1600
Hard Drive
Optical Drive
OS
Monitor
2 x 500gb RAID 0, 2 x 1TB Caviar Black
Samsung 22x Sata DVD+-R/DL
Vista x64
Acer x223w
Keyboard
Power
Case
Mouse
Logitech G15 gen2
Cooler Master 850w 6 Rail
Antec Twelve Hundred
OCZ Equilizer
Mouse Pad
Fellowes Ergonomic Wrist Support
View all
hide details