http://www.bit-tech.net/news/2008/06...i-intel-mobo/1
Quote:
Asus showed us its latest motherboards yesterday – one that caught our keen eyes was its P5N7A-D/SAS, which is what looks to be the first Hybrid SLI motherboard for Intel processors.

What's interesting is that the GeForce 9400 chipset appears to be a single chip solution – this has some benefits when it comes to saving space on the board and as a result, there's a fairly interesting board layout.

Despite being a full-ATX design, the board only features a single PCI-Express x16 slot, but because of this it does feature three PCI slots and a couple of PCI-Express x1 interconnects. There are six SATA connectors and an IDE socket, which is rotated 90 degrees along the edge of the board.

In addition, the memory slots are also pretty low down the board and will be very close to resistors on the back of longer graphics cards, although it is unlikely to cause a problem. Finally, the 24-pin ATX connector is bizarrely placed right next to the rear I/O panel, which means you'll have to run cables across the board.

Asus also includes the Express Gate boot console, which enables you to get online in just a few seconds using an embedded Linux operating system. What's interesting though is the lack of EPU—or at least any mention of it in the marketing collateral—which is an interesting decision nevertheless.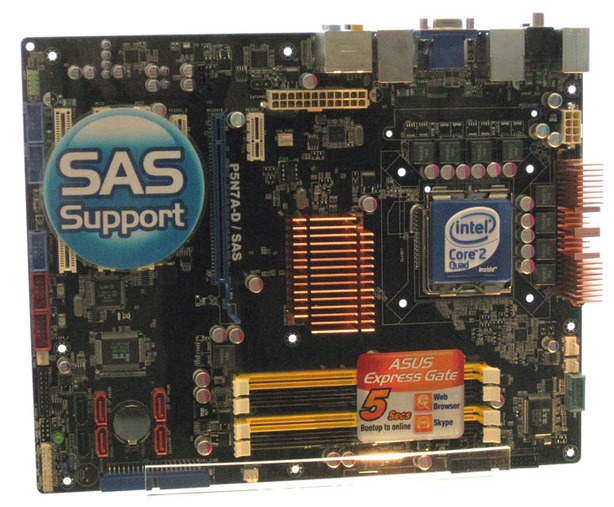 SAS support?!?! Is there anything else that shares the acronym with Serial Attached SCSI?
CPU
Motherboard
Graphics
RAM
X2 5000+ BE
Gigabyte GA-MA78GM-S2H AM2+
Integrated HD3200
2x2GB OCZ DDR2
Hard Drive
Monitor
Power
Case
Maxtor 40GB
Samsung 2220WM 22"
Antec Neo HE 550W
Ultra Wizard
View all
hide details
CPU
Motherboard
Graphics
RAM
X2 5000+ BE
Gigabyte GA-MA78GM-S2H AM2+
Integrated HD3200
2x2GB OCZ DDR2
Hard Drive
Monitor
Power
Case
Maxtor 40GB
Samsung 2220WM 22"
Antec Neo HE 550W
Ultra Wizard
View all
hide details