Ive got most of my water cooling setup sorted now, its pretty huge hehe, ill get some pics when mounted on the wall outside, i have a couple of TEC questions if i may.
After reading NOL's guide ive learned a fair bit, I know i need a coldplate between the cpu and TEC with cermaic paste between, but do i need one between TEC and waterblock also? or just stick AS5 or similar there?
Also ive ordered another 9800gx2 so go in sli, but my psu will be pretty maxed i think (880w hiper) so i was wondering if one of these from my old CB days could power it? (bottom one has nifty switch on back to adjust 3v-6v-9v-12v-13.8v)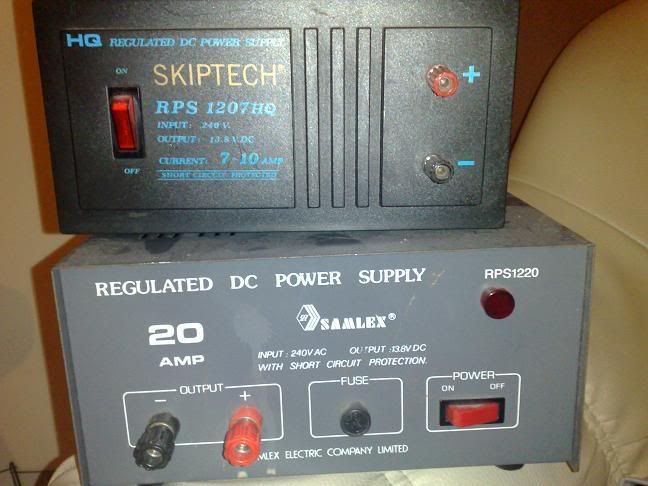 It mentions only certain waterblocks take TEC's, was wondering if you could tell me the best one for a very high flow system with 1/2" barbs (minimum).
last but not least, ive got hold of a 320w 50mm(i think) TEC, this should cool a clocked Q6600? I hope anyway lol
before i forget what does di-electric grease come named as? dont seem to be able to find any reference to it on any local sites, and are there good brands of cermaic paste like AS5 is for heat?
enough of my questions now, thanks for reading all my crap lol.
CPU
Motherboard
Graphics
RAM
Q6600 G0
Asus P5K pro
8800gtx
4gb Geil Black dragon cl2
Hard Drive
Optical Drive
OS
Monitor
2x 250gb hitachi sata2 raid 0
sata dvdrw
vista 64
22" yurako cheap thing
Power
Case
Mouse
600w antec
asus cheese case
cheap nasty optical
View all
hide details
CPU
Motherboard
Graphics
RAM
Q6600 G0
Asus P5K pro
8800gtx
4gb Geil Black dragon cl2
Hard Drive
Optical Drive
OS
Monitor
2x 250gb hitachi sata2 raid 0
sata dvdrw
vista 64
22" yurako cheap thing
Power
Case
Mouse
600w antec
asus cheese case
cheap nasty optical
View all
hide details