Quote:
Gigabyte showed us how its inexpensive GA-EG45M-DS2H motherboard is able to not only playback a Blu ray disk at HD resolutions without much fuss at all, but it was also able to do it over a standard VGA connection.

It does have DVI and HDMI and offers HDCP over these, but both (the usually fussy) PowerDVD 8 and WinDVD Platinum didn't seem to mind and played back a movie decoding the VC1 stream just fine.

Unfortunately, Gigabyte's Realtek ALC889a chipset that does support content encryption for HD sound is still unable to talk to the playback software and so we're still left with DVD quality Dolby Digital and DTS sound.

It even features Gigabyte's DES energy saving software, but it has been reduced to just four phases to keep costs down. The whole board has solid aluminium capped capacitors (Fujitsu and Nippon Chemicon), one phase memory and north bridge power regulation as well, while both the north and south bridges are also passively cooled.

More general features include a single PCI-Express x16 slot, two PCI and one PCI-Express x1 slot, five SATA 3Gbps, one eSATA and four DDR2 DIMM slots for plenty of upgradability as well.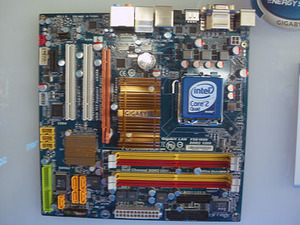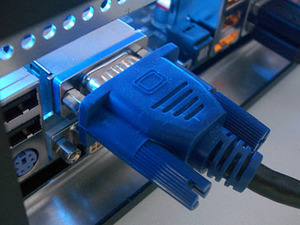 Source