Quote:
According to several sources close to the hard drive industry, Western Digital is working on a 20,000 RPM Raptor hard drive to combat the increasing pressure from SSD manufacturers.

We have spoken to a lot of people out here in Taipei about this industry's direction and one thing is becoming clear: SSDs are going to be affordable in the next 12 to 18 months.

Because of this, hard drive manufacturers are starting to get a little worried about what marketshare SSDs might eventually take away from them—especially where performance is more of a concern than storage capacity.

And that's exactly what Western Digital's Raptor line is all about.

The new drive will be very similar to the recently-released VelociRaptor, in that it'll be a 2.5in drive with a custom 3.5in housing built around it. Details are incredibly light at this stage, given that the product is still in development, and we don't even have a release timeframe at the moment.

However, our sources said that the drive will be 'silent' – that's the last thing I would have expected from a drive with platters spinning at 20,000 RPM. Western Digital is apparently working on silencing the beast by improving the housing technology, which will now not just act as a heatsink, but also as a noise cancelling device. We'd also hope that the drive enclosure has some vibration dampening technology as well, because that's also likely to be a problem given the high spindle speeds.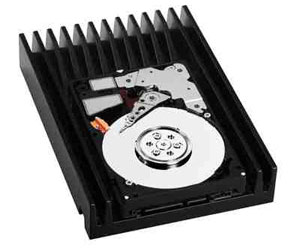 Source