Quote:
Originally Posted by
grunion
Thanks for the pics.
I just don't think I'm gonna go with the bottom mount PSU.
I still think it's much easier to cable manage with a top mounted PSU. How much of a gap is there between the PSU and the case floor?
I think that I'll be getting the
Lian-Li PC-P60
I love my Armor Jr. cable management was a breeze after I cut some holes.
I just need more room for opticals and my 3 Raptors.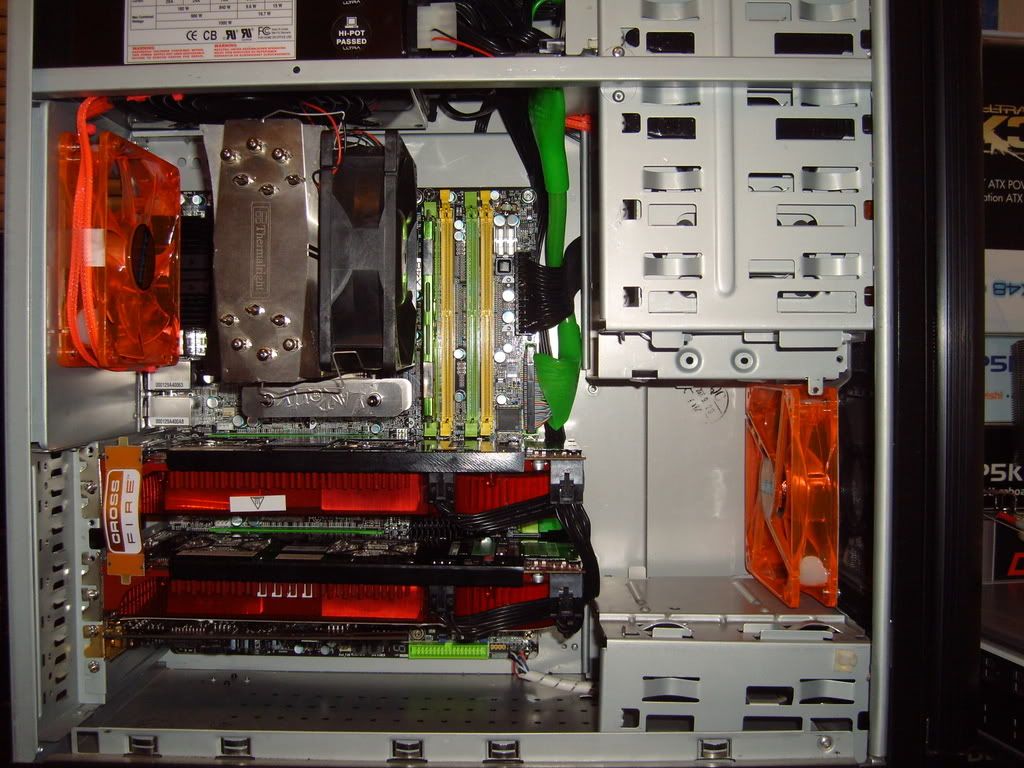 There are rubber stands that the PSU sits on at the bottom of the case. I'd say it's about 1/4" - 1/3" but it might be a bit smaller. There is also a plate that can be detached from the PSU slot for larger, uncommon PSUs, but it looks like it can be flipped upside down so if you want to mount your PSU a little higher it might be possible.
Quote:
Nice! I'm getting this case in a couple of days (waiting for paycheck) could you post a pic of the outside of the case in all it's LED lighted glory?
Pics of this tonight.
CPU
Motherboard
Graphics
RAM
C2D E4600 2.88GHz OC'd 20% through BIOS
ASUS Striker Extreme
XFX GeForce 9800 GTX(G92) 512MB
G.Skill DDR2 800 4GB
Hard Drive
Optical Drive
OS
Monitor
150 Raptor, 250, 250, (RIP) 1000
DVD/RW
Vista Home Premium x64
19" Samsung monitor, 24" Dell Monitor
Keyboard
Power
Case
Mouse
Logitech G15
600W
Antec Twelve Hundred
Logitech MX518
View all
hide details
CPU
Motherboard
Graphics
RAM
C2D E4600 2.88GHz OC'd 20% through BIOS
ASUS Striker Extreme
XFX GeForce 9800 GTX(G92) 512MB
G.Skill DDR2 800 4GB
Hard Drive
Optical Drive
OS
Monitor
150 Raptor, 250, 250, (RIP) 1000
DVD/RW
Vista Home Premium x64
19" Samsung monitor, 24" Dell Monitor
Keyboard
Power
Case
Mouse
Logitech G15
600W
Antec Twelve Hundred
Logitech MX518
View all
hide details