Some of the more interesting bits of the article...
Quote: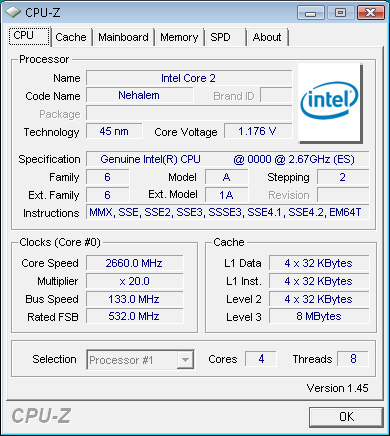 Nehalem no longer has a conventional FSB, its clock speed is derived from a multiplier of an external clock frequency - in this case 133MHz. Expect all Nehalem chips to come out in frequencies that are multiples of 133MHz.

...

With an integrated memory controller, Intel needed a new pinout for Nehalem and the first version with three 64-bit DDR3 memory channels features a 1366-pin LGA interface: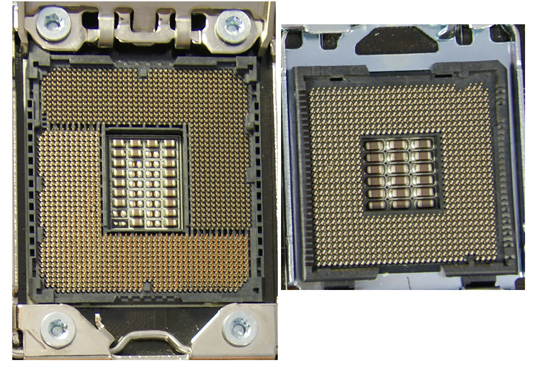 The socket is noticeably bigger than LGA-775 as is the mounting area for heatsinks. You can't reuse LGA-775 heatsinks and instead must use a heatsink with mounting holes more spread apart. As far as we can tell, the same push-pin mounting mechanism from LGA-775 is present in Nehalem which is disappointing.

...

While Nehalem is designed to scale to up to 8 cores per chip, each one of those cores has the hardware necessary to execute two threads simultaneously - yep, it's the return of Hyper Threading. Thus our quad-core Nehalem sample appeared as 8 logical cores under Windows Vista: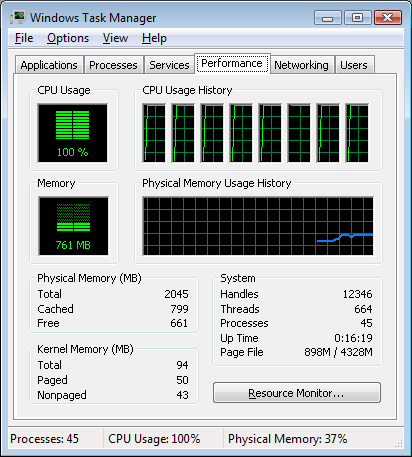 Note that as in previous implementations of Hyper Threading (or other SMT processors) this isn't a doubling of execution resources, it's simply allowing two instruction threads to make their way down the pipeline at the same time to make better use of idle execution units. Having 8 physical cores will obviously be faster, but 8 logical (4 physical) is a highly power efficient way of increasing performance.

...

Built on the same 45nm process as Penryn, we expect Nehalem to have higher power consumption than Penryn but given Intel's target of a 1% increase in performance for no more than a 1% increase in power consumption per microarchitectural change - the results should be reasonable: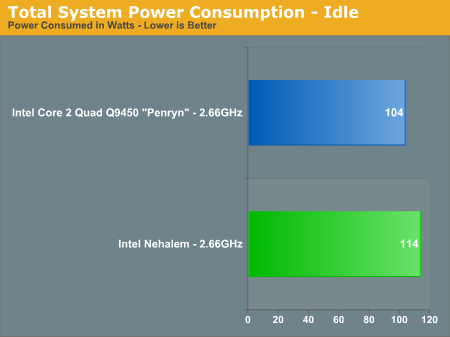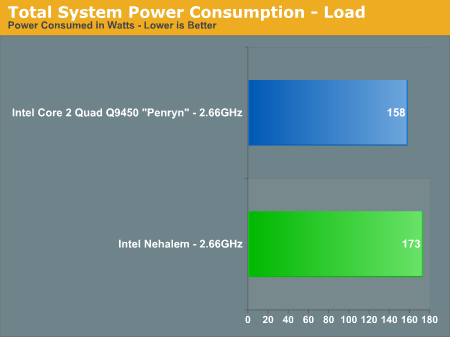 And reasonable they are; for a 20 - 50% increase in performance, total system power consumption only went up by 10%.

...

First keep in mind that these performance numbers are early, and they were run on a partly crippled, very early platform. With that preface, the fact that Nehalem is still able to post these 20 - 50% performance gains says only one thing about Intel's tick-tock cadence: they did it.

We've been told to expect a 20 - 30% overall advantage over Penryn and it looks like Intel is on track to delivering just that in Q4. At 2.66GHz, Nehalem is already faster than the fastest 3.2GHz Penryns on the market today. At 3.2GHz, I'd feel comfortable calling it baby Skulltrail in all but the most heavily threaded benchmarks. This thing is fast and this is on a very early platform, keep in mind that Nehalem doesn't launch until Q4 of this year.

One valid concern is with regards to performance in applications that don't scale well beyond two or four cores, what will Nehalem offer us then? Our DivX test doesn't scale well beyond four cores and even then Nehalem's performance was in the 20 - 30% faster range that we've been expecting. The other thing to keep in mind is that none of these tests are really stressing Nehalem's integrated memory controller. When AMD made the move to an IMC, we saw an instant 20% performance boost in most applications. I suspect that the applications that don't benefit from Hyper Threading, will at least benefit from the IMC. We've only scratched the surface of Nehalem here, looking at the benefits of Hyper Threading and its lower latency unaligned cache accesses. We've hinted at what's to come with the extremely well balanced and low latency memory hierarchy of Intel's new baby. Once this thing gets closer to launch, we should be able to fill in the rest of the puzzle.
LAZY LINK
CPU
Motherboard
Graphics
RAM
Q6600@ 3.6GHz 1.37v
DFI LP LT P35
eVGA 8800GTS 512mb
4GB Crucial Ballistix DDR2-800
Hard Drive
Optical Drive
OS
Monitor
MAXTOR 500GB + Samsung Spinpoint 1TB
Philips DVD+-RW
XP Pro w/ SP3
24" Samsung 2493HM + 21.6" Samsung 216BW
Keyboard
Power
Case
Mouse
Saitek Eclipse II
PC P&C Silencer 610w
Rocketfish
Razer DeathAdder
View all
hide details
CPU
Motherboard
Graphics
RAM
Q6600@ 3.6GHz 1.37v
DFI LP LT P35
eVGA 8800GTS 512mb
4GB Crucial Ballistix DDR2-800
Hard Drive
Optical Drive
OS
Monitor
MAXTOR 500GB + Samsung Spinpoint 1TB
Philips DVD+-RW
XP Pro w/ SP3
24" Samsung 2493HM + 21.6" Samsung 216BW
Keyboard
Power
Case
Mouse
Saitek Eclipse II
PC P&C Silencer 610w
Rocketfish
Razer DeathAdder
View all
hide details