Quote: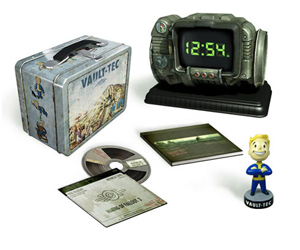 Online retailer Amazon has signed a deal with Bethesda to exclusively sell a collectors edition package for Fallout 3, titled Fallout 3: Survival Edition.

The package, which will be sold only through Amazon, will include the game, Making of Fallout 3 DVD, hardcover artbook and a specially made lunchbox and wrist-mouted alarm clock similar to the Pip-boy used in the game. Oh, and a Pip-boy statuette too.

We contacted Pete Hines to confirm the availability of this package in the UK and were told that unfortunately this package is available only in the US at this time.

"This is an exciting day for Amazon customers and Fallout fans," said Greg Hart vice president of video games and software at Amazon.

"We're delighted to be the exclusive destination for Fallout 3 Survival Edition; this is a great example of the continually expanding selection we offer to gamers."

"We're thrilled to be working with Amazon.com on this exclusive edition," said Vlatko Andonov, president of Bethesda Softworks.

"The Survival Edition offers gamers the unique opportunity to own a piece of videogame history along with a collection of limited edition items – it's the definitive Fallout 3 package."
Source