Everything about TV's
I am writing my first guide here, so bear with me.
This guide will include everything about modern TV's, including their history, how they operate, cabling for them and TV terms, as well as future TV tech.
First, we will start with the types of TV most commonly found in today's market. The most common TV types are:
1.LCD
2.Projection, includes DLP, LCD, LCos, CRT
3.Plasma
History and how they operate:
LCD
LCD, or Liquid Crystal Display, is a TV technology that has been around since 1968 when RCA made the first prototype LCD. In 1970 Hoffmann-LaRoche, Wolfgang Helfrich and Martin Schadt, use former research done on liquid crystals to develop the first commercially available TN-LCD watch display, in conjunction with Brown, Boveri & Cie. Please note that LCD technology has been in development since the 1880's.
LCD TV's work on the principal that liquid crystals are constantly in what is known as the "Nematic phase". A particular sort of Nematic liquid crystal, called twisted nematics (TN), is as the name implies twisted. Applying an electric current to these liquid crystals will untwist them to varying degrees, depending on the current's voltage. LCDs use these liquid crystals because they are predictable in the amount of un-twisting when varying levels of voltage are applied. So, as we can see here, LCD's produce an image by manipulating the liquid crystals in the housing with an electric current.
NOTE: There are numerous types of nematic phases including, super twisted nematics (STN), dual scan twisted nematics (DSTN), ferroelectric liquid crystal (FLC) and surface stabilized ferroelectric liquid crystal (SSFLC). I have not looked into any of these, so I cannot give any info on them. If this guide does well, I will constantly update it with more info.
LCD's are surprisingly simple to construct. The following is a sample of how a LCD is created:
To create an LCD, you take two pieces of polarized glass. A special polymer that creates microscopic grooves in the surface is rubbed on the side of the glass that does not have the polarizing film on it. The grooves must be in the same direction as the polarizing film. You then add a coating of nematic liquid crystals to one of the filters. The grooves will cause the first layer of molecules to align with the filter's orientation. Then add the second piece of glass with the polarizing film at a right angle to the first piece. Each successive layer of TN molecules will gradually twist until the uppermost layer is at a 90-degree angle to the bottom, matching the polarized glass filters.
As light strikes the first filter, it is polarized. The molecules in each layer then guide the light they receive to the next layer. As the light passes through the liquid crystal layers, the molecules also change the light's plane of vibration to match their own angle. When the light reaches the far side of the liquid crystal substance, it vibrates at the same angle as the final layer of molecules. If the final layer is matched up with the second polarized glass filter, then the light will pass through.
If you apply an electric charge to liquid crystal molecules, they untwist. When they straighten out, they change the angle of the light passing through them so that it no longer matches the angle of the top polarizing filter. Consequently, no light can pass through that area of the LCD, which makes that area darker than the surrounding areas.
Here is a nice diagram in paint. (I am not an artist).
This is an example of a very simple LCD screen, one that would be used in a watch or alarm clock.
From Left to Right:
1.Mirror, this would make this a Reflective display (bounces light off which produces image)
2.Polarized Glass
3.Electrode Plane
4.Liquid Crystal substance
5.Another piece of glass
6.Another polarized film, at a right-angle to the first one.
Liquid Crystal by nature does not produce any light, so you must add artificial lights in order for an image to be seen. This is done in one of three ways:
1.
Reflective
– natural light that bounces off the mirror in the screen to produce a simple image. Think alarm clock or watch.
2.
Backlit
– most LCD monitors use what is called Backlit lighting or florescent tubes mounted in the screen with a white diffusion panel (used to scatter the light for uniformity).
3.
LED
– light emitting diode. I will get into these more later on, but they are used in some newer model LCD's to produce light.
Please note, that this section does not include future technology (or commonly unobtainable) like OLED. I will get into that later in the guide.
Next, we have Active Matrix or Passive Matrix. I like to think of both of these as an Excel Spreadsheet, odd I know, but it makes sense to me. In a passive Matrix, you have two pieces of glass called substrates. On one you have columns on the other you have rows made of a transparent conductive substance, usually indium-tin oxide. The two pieces of substrates are connected via an integrated circuit. The liquid crystals are added between the substrate. With a polarizing film added to the outside. Lets say you need to activate a pixel in cell (remember I am using Excel examples) C3, the integrated circuit sends a signal down column C and a ground signal down row 3. When the two signals meet that pixel is activated and untwisted. Although this is a great system it has notoriously slow response times. Therefore, it is not good for gaming or other media.
Active Matrix, LCDs depend on thin film transistors (TFT). Basically, TFTs are tiny switching transistors and capacitors. They are arranged in the same way as the passive matrix, but each cell has a TFT. Again, let's say you have to activate a pixel in cell C3, row 3 is turned on, and then a charge is sent down column C. Since only row 3 has power, the only cell that is activated is C3. The capacitor then holds this power until the next refresh. This allows a much faster activation of pixels, resulting in a better refresh rate.
In a common LCD there are colored pixels. Each pixel on a LCD is actually made up of three sub-pixels, Red, Green and Blue. So, if each sub-pixel requires a transistor, for a monitor that has a resolution of 1024*768, you are looking at 2,359,296 (1024 x 768 x 3) transistors etched onto the glass. This explains why it is common to have a bad pixel on an LCD monitor every now and then.
Projection TV, includes DLP, LCD, LCos and CRT
There are two main types of Projection TV's, one being Rear-Projection and the other is Front Projection. Both are TV types that most consumers have seen and used in person on numerous occasions. Projection technology has been around for many decades (originally created during the era of silent movies), but has only become synonymous with home theater systems for the past 2 decades.
The basic parts of a projection TV
Both projection TV types work using basically the same methods. In a Front Projection system (basically a movie projector, or standard Home theater projector), the light is sent from a lamp into a lens (which focuses the light into a small cross-section) which is then amplified by a screen (with the image on it) onto the main projection screen. Here is a picture of how a Front-Projection system works:
A Rear-projection TV works in a different way. The light is still transmitted by the lamp and passed through a lens, but instead of being amplified through a screen, it is reflected from the screen (again, with the image on it) onto the projection screen (which would in turn show the reverse of the projected image). Here is a picture of how Rear-Projection works:
Projection TV's use two different methods of producing an image on the screen. The first is Reflective, meaning that light is sent from the lamp hits the image and is reflected off the screen onto the main projection screen. This is used in Rear-Projection sets. Then there is Transmissive, meaning that the lamp produces the light and the image is magnified through the first screen onto the main projector screen. A front projector system uses this type of technology.
Now that we understand how the different types of projection work, let's look at the different projection technologies. There are many different uses of projection in TV's, including:
1.CRT
2.LCD
3.LCos (SXRD, is a LCos system, just using Sony's patented name for it.)
4.DLP
The most common (until the last few years) has been
CRT
. Everyone on Overclock.net has seen a CRT monitor before, the same principal works in CRT projectors. The work by either having three CRT's (one for Red, Blue and Green), one black-and-white CRT and a spinning color wheel that adds the color or one color CRT with red, green and blue phosphors. A CRT is a Cathode Ray Tube, basically a vacuum tube that has a cathode (a filament that is heated-up, think of a light bulb) vacuum sealed in a glass "tube", electrodes and anodes. The word "Ray" in CRT, is referring to a stream of electrodes that are naturally emitted off a heated cathode. Since electrons are negative and anodes are positive, the electrons are attracted to the anodes. Since this attraction is done inside the tube, the electrons can be manipulated by the anodes. The electrons are focused into a beam by a focusing anode. This beam is then accelerated by (you guessed it) an accelerating beam. This beam then flies out of the vacuum and hits the screen on the end of the tube. This screen is painted with a phosphorous material, which glows when the beam hits it.
Let's assume for this example that our example CRT TV has 3 individual CRT's for Red, Blue and Green. Each CRT will fire its beam when that specific color is needed on the screen. So firing different CRT's at different times will produce different colors.
However, in a CRT the beam is focused, so how can it change to have red only cover a specific spot on the screen? This is done by steering coils. At the rear of the CRT there are two steering coils (basically copper wiring wrapped up). This creates magnetic fields within the CRT, allowing the beam to be positioned in any location. Each of the steering coils controls a different axis of movement. One controls vertical and one controls horizontal. By varying the amount of voltage applied to an individual coil, you can dictate where on the screen you want the image.
Next, we have
LCD
projection screens. Please refer to LCD section of guide. The only difference is that instead of having light coming from a backlit source, like fluorescent lights, the light is produced through a lamp.
Third, we have
LCos
, or
SXRD
(for Sony fans). This is my current TV of choice (60" Sony SXRD). LCos stands for Liquid Crystal over Silicon. SXRD stands for Silicon X-tal Reflective Display. They are basically the same technology, just with SXRD having a few subtle variations. I will not go into the differences here, as they are a little too technical for me. However, the difference to the end user is peanuts. LCos works on the same principal as LCD's, in which liquid crystals are manipulated through voltage to be with switched on or off. A LCos device is similar to a DLP chip, in which it is only 1-inch square. Instead of having liquid crystals sandwiched between two polarized panels, LCoS has a layer of liquid crystal sandwiched between a transparent TFT and a silicon semiconductor. The semiconductor has a reflective surface. The lamp shines light through a polarized lens and on the LCoS chip. Voltage is sent through the chip to determine if the liquid crystals will be on or off (open or close). The voltage will determine how much light shines through a specific crystal. This affects how much light hits the reflective surface, which bounces the image onto the screen. Here is a picture of a LCoS chip:
Lastly, we have
DLP
. DLP stands for Digital Light Processing. It is a new technology that allows for a very crisp picture. This is based on a DMD (Digital Micromirror Device), which is a chip about 1-inch square that houses thousands of miniscule mirrors on it (each mirror represents one pixel of the display). In addition to the mirrors a DMD contains a cmos ddr ram chip, a heat sink and an optical window.
When an image is sent through the TV, the lamp sends the image through a color wheel. The light that passes through the color wheel then goes into the DMD. The color wheel along with the DMD, determine the color of the light that is processed. The DMD detects the signal, adjusts the brightness, makes it progressive and then sizes it to fit the screen. This is all done within 16 microseconds. Depending upon which pixel needs to be displayed, the mirror corresponding to that pixel will be either on or off. If the mirror is "on", it creates a light gray light. If the mirror is "off" it creates a dark gray light. The mirrors switch from on to off up to 5,000 times per second. This image is then shot onto the screen, resulting in the picture.
Here is a picture of how DLP works:
This is only a one chip, one color wheel system.
There are also three chip DLP systems. This work in the same way, but instead of having one DMD they have three each with their own color wheel. In a 3-chip system, the white light generated from the lamp passes through a prism that divides it into red, green and blue. Each chip is dedicated to one of these three colors. The colored light that the mirrors reflect is then combined and passes through the projection lens to form an image. Here is how a 3-chip system looks: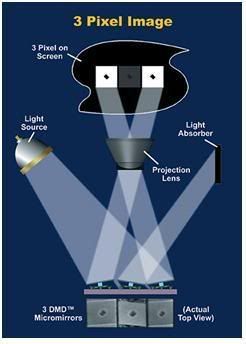 That is how a majority of projection TV's work.
Plasma
What is plasma? Plasma is defined as a gas made up of free-flowing ions (electrically charged atoms) and electrons (negatively charged particles). In a plasma Tv, each pixel is made up of three fluorescent lights (Red, Green and Blue). Plasma is what is inside a fluorescent light. In an inactive state (no current being passed through it), plasma has visible charge, therefore no image. However, when a voltage is sent through the plasma, it creates free electrons. These electrons then start colliding with other atoms, which move other electrons out of the atom. This causes instability in the atom. When an atom loses an electron it becomes positively charged (ion). Because of this, some of the atoms become negatively charged as well (adding an electron). The instability of the atoms causes chaos in the plasma. All of the negative atoms start colliding with the positive atoms and vice-versa. All of this movement creates photons (in plasma TV, Xenon and neon atoms create light photons).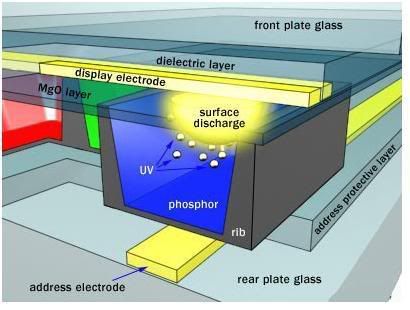 The xenon and neon gas in a plasma television is housed in tiny cells positioned between two plates of glass. Electrodes are also sandwiched between the glass plates, on both sides of the cells. Since it is on both sides of the cells, there are two electrodes. Both electrodes extend the entire length of the glass. There are "display electrodes" and "address electrodes". Display electrodes are above the gas cells near the front glass and are arranged in a horizontal pattern. The address electrodes are behind the gas cells near the back glass and are arranged in a vertical pattern. These patterns create a grid of electrodes throughout the screen. Let's go back to my Excel example. In this case display electrodes would be "rows", while address electrodes would be "columns". If I need to ignite the gas in a specific cell, a charge is sent through both electrodes to that spot. Once the charge has reached its location an electric current runs through the cell causing the cell to give off light photons (as described above). The photons then react with phosphor in the cell. This reaction causes the phosphor atoms to heat up exponentially. This reaction enables the pixel to show as a specific color. The electric current that runs through the cell determines the exact color (through voltage adjustments). Each pixel is broken down into 3 sub-pixels (green, blue and red) and depending on the voltage applied, any amount of those sub pixels can be used to create the color spectrum.
Here is a picture of a plasma grid:
Now that all major TV types have been discussed let's move onto how to connect them to different devices.
Cables
I am only going to go into video cables in this guide. At some point, if this is wanted, I will make an audio cable guide.
Analog Vs Digital
Most people here know that digital cables are better, but some do not know the reason. Analog cables send data in a continuous waveform. However, the signal can and will degrade over time/distance. Digital cables are not affected by that (degrading signal do happen with digital, but not in the same way). Digital cables send a signal in 1's and 0's, or bits. These bits are sent through the wiring and reconstructed in a square wave in the receiver. Another huge difference in analog and digital cables is the amount of bandwidth they can handle. The more the cable can take, the greater the information can be passed. Example, a HDMI can handle 1080p tv signal while a coaxial cannot because there is more bandwidth capability in the HDMI, allowing for the greater amount of data.
Analog Cables:
Coaxial
cables are the typical cable you get from the cable company. 99% of TV's connected used Coaxial in some form, either from the satellite to the box, or from VCR to TV, etc. Coaxial cable is a bit of mystery to myself, as it defies the rules about bandwidth and resolution of analog devices. It can support high resolutions and can send high amounts of data, without too much signal loss. If anyone can enlighten me on this, it would be greatly appreciated.
Composite
video cables are the cables that are included with most standard AV equipment. They have a single cable (yellow) for video, and two cables (red and white) for 2 channel audio. Typically composite can handle 480i resolution TV.
S-Video
is nearly identical to composite except it splits up luminance (black and white) and chrominance (color) information. This allows the receiver to get a higher quality feed. Typically S-video can handle 480i and 480p resolution TV.
Component
is a high-definition connection that contains three separate connectors. One contains the luminance (brightness), while the others contain blue and red, respectively. This connection is referred to as Y-Pb-Pr. Component can typically display 480i, 480p, 720p and 1080i resolution TV. There are certain sets that can accept 1080p signals from component cables.
Digital Cables:
DVI
is something everyone on here should know. DVI or Digital Video Interface is a digital cable technology that allows digital video to pass from sender to receiver. The max amount of cabling without a noticeable degradation in signal is 50 feet. The max bandwidth for single link DVI is 4.95Gbps, while dual-link is 9.9Gbps. DVI cables can support 480i, 480p, 720p, 1080i, 1080p and higher resolutions. DVI can transfer 165 million pixels per second, which the max TV setting (1080p) requires only 144.4 million pixels per second.
HDMI
or High Definition Multimedia Interface is a digital cable technology that allows digital video and audio to pass from sender to receiver. The max bandwidth is the same as DVI. HDMI can also support 480i, 480p, 720p, 1080i, 1080p and higher resolutions. The main draw of this cable for home theater use, is the ability to carry uncompressed audio as well as video sources. HDMI can transfer 165 million pixels per second, which the max TV setting (1080p) requires only 144.4 million pixels per second.
Television Resolutions
There are multiple types of TV resolutions and definitions available to consumers. The most common are:
SDTV
– standard definition TV. Displays max resolution of 480i (640 x 480)
EDTV
– Enhanced Definition TV – Displays max resolution of 480p (640 x 480)
HDTV
– High Definition Tv – Displays max resolution of 1080p (1920 x 1080), however to be considered HDTV it must have a 16:9 aspect ratio.
Additional Information
Lastly, some important definitions everyone should know:
Aspect Ratio:
The ratio of image width to image height. Common motion-picture ratios are 1.85:1 and 2.35:1. Television screens are usually 1.33:1 (also known as 4:3), which is similar to the Academy standard for films in the '50s. HDTV is 1.78:1, or 16:9. When widescreen movies (films with aspect ratios wider than 1.33:1) are displayed on 1.33:1 televisions, the image must be letterboxed, anamorphically squeezed, or panned-and-scanned to fit the screen
ATSC:
Advanced Television Systems Committee. Government-directed committee that developed our digital television transmission system.
Bandwidth:
In audio, the range of frequencies a device operates within. In video, the range of frequencies passed from the input to the output.
Black Level:
Light level of the darker portions of a video image. A black level control sets the light level of the darkest portion of the video signal to match that of the display's black level capability. Black is, of course, the absence of light. Many displays, however, have as much difficulty shutting off the light in the black portions of an image as they do creating light in the brighter portions. CRT-based displays usually have better black levels than DLP, plasma, and LCD, which rank, generally, in that order.
Contrast:
Relative difference between the brightest and darkest parts of an image. A contrast control adjusts the peak white level of a display device.
HDCP: High-Bandwidth Digital Content Protection. Created by Intel, HDCP is used with HDTV signals over DVI and HDMI connections and on D-Theater D-VHS recordings to prevent unauthorized duplication of copyright material.
Interlace:
Process of alternating scan lines to create a complete image. In CRT displays, every second field/frame is scanned between the first field/frame. The first field represents the odd lines; the second field represents the even lines. The fields are aligned and timed so that, with a still image, the human eye blurs the two fields together and sees them as one. Interlace scanning allows only half the lines to be transmitted and presented at any given moment. A 1080i HD signal transmits and displays only 540 lines per 60th of a second. 480i NTSC transmits and displays only 240 lines per 60th of a second. Motion in the image can make the fields noticeable. Interlaced images have motion artifacts when two fields don't match to create the complete frame, often most noticeable in film-based material.
NTSC:
National Television Standards Committee. Government-directed committee that established the U.S. color TV standard in 1953. Also known, sarcastically, as Never Twice the Same Color or Never The Same Color due to the inherent difficulty in achieving proper color calibration.
Progressive Scanning:
Each frame of a video image is scanned complete, from top to bottom, not interlaced. For example, 480p means that each image frame is made of 480 horizontal lines drawn vertically. Computer images are all progressively scanned. Requires more bandwidth (twice as much vertical information) and a faster horizontal scan frequency than interlaced images of the same resolution.
Thanks for this great information goes out to:
www.hometheatermag.com
www.howstuffworks.com
www.wikipedia.com
my knowledge of home theater equipment
I will be adding to this constantly, if everyone feels it is worth it. Things to be added:
1.LED
2.OLED
3.Future TV types
4.Broadcasting differences
5.Audio wiring
Please post any suggestions or improvements.
Edited by Mmansueto - 6/23/08 at 1:54pm
CPU
Motherboard
Graphics
RAM
Intel i5 2500K
gigabyte z68x-ud3h-b3
2 x Sapphire 6950 (unlocked to 6970)
12Gb Gskill Ripjaws
Hard Drive
OS
Case
Intel X25 SSD, 6TB WD Greens
Windows 7 Ultimate x64
Soldam Windy Alcadia FX2000R SOJ
View all
hide details
CPU
Motherboard
Graphics
RAM
Intel i5 2500K
gigabyte z68x-ud3h-b3
2 x Sapphire 6950 (unlocked to 6970)
12Gb Gskill Ripjaws
Hard Drive
OS
Case
Intel X25 SSD, 6TB WD Greens
Windows 7 Ultimate x64
Soldam Windy Alcadia FX2000R SOJ
View all
hide details