First off, hello everybody, I've been a member here for awhile but usually just lurked around looking for information. I can tell there's plenty of people here who know they're stuff. Maybe after a while I'll become another wise, knowledgeable oc'er.
I have done enough research to know the basics, so when I upgraded my mobo, cpu, and RAM recently, I decided to see what this $60 X2 could really do. I started by disabling the variable fan speeds and CnQ functions, I want the multiplier and fans at full speed, after all. Then I, quite simply, increased the bus speed a few Mhz at a time, testing with P95 and checking the temps with the CPUID HWMonitor.
Long story short, I am currently running at 3.05 Ghz (stock speed is 2.3 Ghz) with idle temps at 34 C and full load temps at 59 C. This is done by raising the bus speed up to 265 Mhz. P95 is the only program that causes the temps to ever get that high. Even hours of playing a game, or heavy multitasking with uTorrent running and 3 monitors enabled only gets the temps up to about 54 C.
The thing is, I have actually yet to have a single problem at all. Zero errors on P95, no crashes, no BSOD, no artifacts during gaming, CPU related or otherwise. I did decide to raise my vCore up one notch to 1.350, just because I felt that any lower may not be safe, up above the 250 Mhz bus speed.
I'm really happy this little 'throw away' CPU (I plan on upgrading to quad core fairly soon) was able to break the 3.0 Gig mark. My WEI has raised significantly from 5.0 to 5.5, and games are running faster than ever.
Which brings me to my questions. How does this compare to others' experiences on the same or similar chips? Will an aftermarket HSF make a significant difference and allow me to go further? Which one should I buy? Is there something I'm overlooking as a noob?
Should I keep pushing my luck until I do get it to crash, or are my temps just too high? I don't want to leave any 'free' performance on the table. I don't know enough about overclocking or changing the timings on my RAM, so I haven't bothered to mess with that yet. I'm willing to do it, if someone can give me some help.
Well, thanks in advance for any friendly advice. Questions/Comments are appreciated. My specs should be in my sig (if not I'll fix it right away). I'll include a screenshot to give you more info.
EDIT: My finicky video cards are acting up a little. I need to restart, then I'll add the screenshot.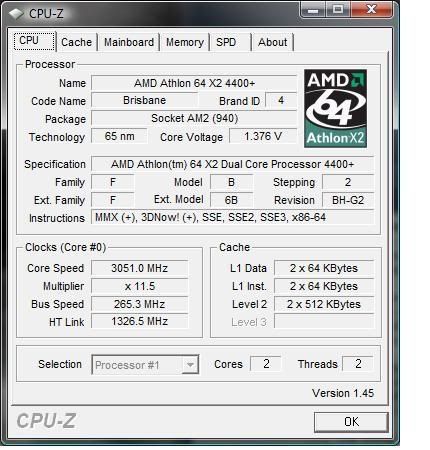 Edited by CASEfan - 6/9/08 at 5:38pm
CPU
Motherboard
Graphics
RAM
Phenom II X2 555 @4.0 GHz
Gigabyte GA-MA-790FX-DS5
Diamond Radeon HD 4870 1 GB
4 GB OCZ DDR2 1066
Hard Drive
Optical Drive
OS
Monitor
64 GB SSD, 250 GB HDD
Optiarc BD-ROM
7 64-bit Home Premium
Gateway FPD2275W
Power
Case
Mouse
PC P&C Silencer 750 Quad
Coolermaster Centurion 5
Logitech G5
View all
hide details
CPU
Motherboard
Graphics
RAM
Phenom II X2 555 @4.0 GHz
Gigabyte GA-MA-790FX-DS5
Diamond Radeon HD 4870 1 GB
4 GB OCZ DDR2 1066
Hard Drive
Optical Drive
OS
Monitor
64 GB SSD, 250 GB HDD
Optiarc BD-ROM
7 64-bit Home Premium
Gateway FPD2275W
Power
Case
Mouse
PC P&C Silencer 750 Quad
Coolermaster Centurion 5
Logitech G5
View all
hide details