Alright this thread deserve its own...........
READ CAREFULLY, BECAUSE I DID 2 THINGS
I am completely blown away by them. As you all know i am using this card:
So anyways, you guys remember when i was talking about how i couldn't install none of the new drivers on the 6200 because the higher the bandwidth, the worse the results was, low game fps, FOV problems, game crashing, etc. Well i just install the new drivers seen here: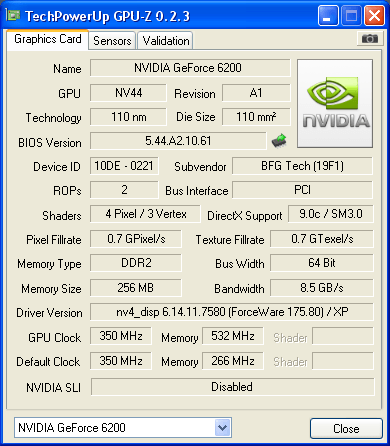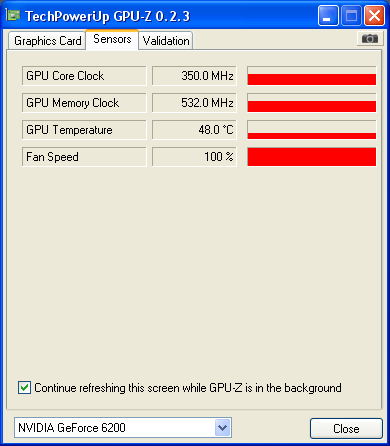 Notice the bandwidth for this card is
8.5GB
Over at the video card compare site, it says its suppose to be 8.8GB.
Alright, so i tested out 3 games. 3 games which i was having major problems with. " Unreal GOLD, Unreal 2004, and The Thing " When i was using the 175.16 drivers, i couldn't play them correctly, The thing had terrible fps , FOV problems, skipping, etc you name it. Unreal 2004 would crash like every 10mins or so and Unreal GOLD was slow and the game look wash out even on the highest settings.
But ***, now using the Beta 175.80 drivers. Unreal GOLD looks amazing, and the game is moving fast as hell, and in the game " The Thing " all those problems are gone, and Unreal 2004 i can play at the highest settings now and i didn't detect no slow down, and the crashing is gone. Apps running fast, AVI and DVD movies are no longer skipping in Blaze HDTV pro. I am just seriously blown away.
.................................................
Now here is the second part, i don't know if this was the cause of everything running better, but pay attention now.
I connected my extra DVI CONNECTOR( it came with the fx5200 card i have in the hosue)
to the DVI conntected on the 6200 card, and then i plugged in my montior cord to the VGA( blue part )
onto the DVI conntected that i just connected to the 6200 card.
I hope someone understand what i just did lol.
This last part, i don't believe it had anything to do with the 50% performance increase, yes 50%. My games are running like 50x times faster then before.
You folks need to download the 175.80 and see if they work this good on your end.
Note:
This also proves that the 2400 HD PRO PCI sucks and wasn't too powerful for my card, because the 6200 has a way higher bandwidth level.
Note 2:
I also took apart my 90watts PSU and clean it out , its super clean, free of dust. Took me 3 hours to clean it tho, i have never took the thing apart before, so its been collecting dust since 2000.
Edited by $till LegendaryU2K - 6/9/08 at 6:09pm
CPU
Motherboard
Graphics
RAM
Intel Xeon X3220 @ 2.40GHz Kentsfield 65nm Tech...
Dell Inc. 0GX297 (Microprocessor)
PNY GTX 550 TI 1GB GDDR5
4GB DDR2 Memory
Hard Drive
Optical Drive
Cooling
OS
500GB WD+External 500GB WD
Super Ritemaster Speed Plus DVD
Speed fan Software+Stock Cooler Fan
Windows 7 Ultimate x64
Monitor
Keyboard
Power
Case
LCD Acer 21inch Monitor
HP Black Keyboard
Thermaltake 430 PSU
Dell Optiplex 745
Mouse
Mouse Pad
Audio
Dynex Grey and Black Mouse
Air National Guard
Diamond C-Media PCI Audio Device
View all
hide details
CPU
Motherboard
Graphics
RAM
Intel Xeon X3220 @ 2.40GHz Kentsfield 65nm Tech...
Dell Inc. 0GX297 (Microprocessor)
PNY GTX 550 TI 1GB GDDR5
4GB DDR2 Memory
Hard Drive
Optical Drive
Cooling
OS
500GB WD+External 500GB WD
Super Ritemaster Speed Plus DVD
Speed fan Software+Stock Cooler Fan
Windows 7 Ultimate x64
Monitor
Keyboard
Power
Case
LCD Acer 21inch Monitor
HP Black Keyboard
Thermaltake 430 PSU
Dell Optiplex 745
Mouse
Mouse Pad
Audio
Dynex Grey and Black Mouse
Air National Guard
Diamond C-Media PCI Audio Device
View all
hide details