Hell yeh you just read that right!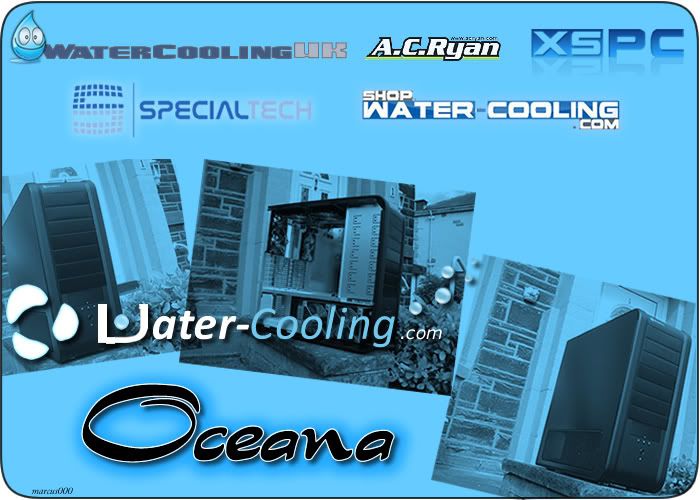 To celebrate the re-opening of
Water-Cooling.com
we've teamed up with some of the key names in water cooling and modding to produce a one off custom case loaded with water cooling goodies as a prize to one lucky winner!
This case is being modded by us (
Watercooling UK
/
Watercooling Shop
) by myself and will be our part towards the sponsorship for both shops.
The cool guys over at
Specialtech
have kindly supplied the Silverstone TJ07 case which will be subject to much modding.
Paul over at
XSPC
is being a star and supplying
all
the watercooling for the case.
Then to top it off, the boys at
AC Ryan
will be supplying all panels/mesh/cathodes/fans etc.
As if that wasn't already good enough, the guys over at
Water-Cooling.com
will be giving away this custom case + watercooling on an opening competition, more info on how to enter to win will be announced within the next few weeks... stay tuned!
Edited by marcus000 - 7/9/08 at 7:21pm
CPU
Motherboard
Graphics
RAM
Q6600
Asus P5K3
Leaktek 8800GTS 640Mb
2GB DDR3
Hard Drive
Optical Drive
OS
Monitor
500GB SATA
DVD-RW
XP
2x 19" Widescreens
Keyboard
Power
Case
Mouse
Logitech
Coolermaster 850W
Lasered & Painted Akasa Omega
Microsoft Habu
Mouse Pad
Bugs Bunny!
View all
hide details
CPU
Motherboard
Graphics
RAM
Q6600
Asus P5K3
Leaktek 8800GTS 640Mb
2GB DDR3
Hard Drive
Optical Drive
OS
Monitor
500GB SATA
DVD-RW
XP
2x 19" Widescreens
Keyboard
Power
Case
Mouse
Logitech
Coolermaster 850W
Lasered & Painted Akasa Omega
Microsoft Habu
Mouse Pad
Bugs Bunny!
View all
hide details