Well, you all are going to hate me for this, and everyone who reads this is gonna say "Well why did he even bother asking and putting up a poll?!?!?!" But I have actually decided on the memory that has gotten the LEAST amount of votes, lol. Now let me explain why:
1. I couldn't really find ANYONE that could say anything bad about Mushkin. And I tried.
2. OCN, in general, seems to be in a "fan boy" status over those G.Skills. That can be good, and it can be bad. Resale, yes, that's great. But I want something that not EVERYONE ELSE has. Plus, most people's REAL reasoning for getting them was the price. But most people I talked to agreed that if they were both equally priced, they would go with the equivalently-rated Mushkins.
3. From what I've been able to see, Mushkin has the lowest RMA rate in the industry, which says alot. And their higher-binned chips coming at a slightly higher premium seem worth it to me. (As a side note, I should mention that I read where a Mushkin employee stated that about the lowest RMA rate, which I do take with a grain of salt. But I have yet to find any evidence that would debunk that. And that sets my mind at ease.)
4. The Mushkin Ascent XP's are boasting their newest heatsink, which brag of being the thinnest, yet absolutely most effective stock RAM heatsinks:
Quote:
DENVER, CO May 6, 2008 – Mushkin, Inc. (http://www.mushkin.com), a global leader in high-performance computer products, announced the launch of a new high performance line of memory modules aimed at the power gamer market. Called Ascent, the new line raises the bar on its Redline and XP premium memory offering by using eVCI (enhanced Vapor Chamber Interface) cooling technology, the current state-of-the-art in heat spreaders.

"By combining high frequency memory chips into a package uniquely designed to handle increased heat and voltage demands, the Ascent product line offers gamers and other PC enthusiasts a new level of performance,†said Brian Flood, director of product development for Mushkin. "The line boosts maximum performance by keeping the memory chips up to 48 per cent cooler using Celsia's new eVCI technology.†

At the heart of Mushkin's eVCI cooling solution are two 123mm x 25mm liquid filled copper vapor chambers developed by Celsia Technologies (http://www.celsiatech.com) that are encased on the outer dimensions by high conductivity 6063 aluminum alloy. In direct contact with 95% of the memory chip surface area, the vapor chambers effectively eliminate hot spots on the chip and quickly transfer heat to the aluminum where it is dissipated into the surrounding air.

eVCI, Celsia's unique vapor chamber solution, was exclusively designed for the Mushkin Ascent line of Redline and XP memory modules, and the new line is among the first to use this innovative approach to rapid cooling of high performance chips. Additionally, the low profile, thin design allows full usage of all memory slots while complementing many of the largest CPU coolers, which often limit memory module height.
Here are a couple of links and pictures:
From mushkin.com:
Ascent XP2-6400 800MHz (2x2GB) 996622
$142.30 Direct
From newegg.com:
Ascent XP2-6400 800MHz (2x2GB) 996622
$104.99 after $30.00 MIR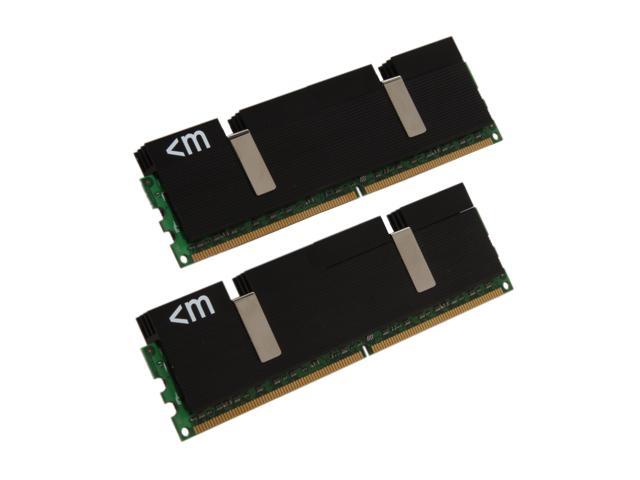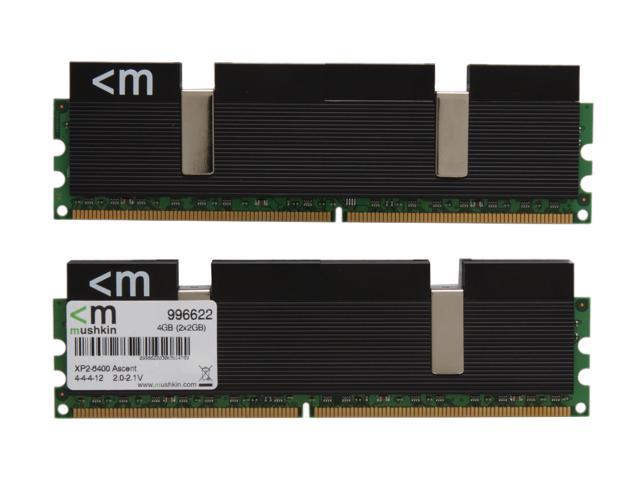 So everyone go ahead and bash me now. I know I deserve it. I just am really sold on these Mushkins. Also, I won't be purchasing for at least a month or so, so hopefully they'll come down just a little between now and then. Who knows, maybe you guys could successfully convince me otherwise. I'll keep an open mind.
P.S. These black heatsinks are going to look amazing in my new murderMod TJ07 once it finally arrives!!!