I'm planning on (finaly) buying a new rig! It's going to contain a GTX 280 or an 4870 ATI graphix card, and i need some advise on picking the right stuff. I'm not planning to spend a great deal of money on it, since i also want to go for the nehalem processor when it gets released! this is my current plan, using the case from my current rig: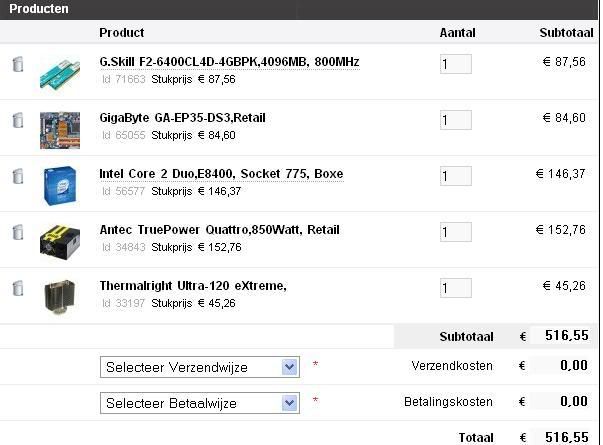 The advise i need is mostly on the mobo, i've already decided to go for that processor since i don't think i'll really need a quad for the time being... Is that gigabyte mobo a good OCer? Or should i look for another mobo or another chipset? If so what do you recommend, what brand and what chipset?
I'm just quite worried that the CPU might be a bottleneck to the GPU if i buy it, or that i can't OC it far enouf to get rid of the bottleneck.
Then i'm also planning on getting another 200mm fan for my antec 900 and mod the side of the case to fit one, placing it on the outside of the window (with a fan guard) to make sure the TRUE 120 still fits in. Any advise on how to do that?
CPU
Motherboard
Graphics
RAM
Core I7 920
Asus Rampage Extreme II
2x Visiontek HD4870 CF
G.skill Black Pi 6GB 1600 Mhz
Hard Drive
OS
Monitor
Power
RAID 0 Seagate 1000 gb 32 mb
Windows 7 pro 64 bit
Samsung syncmaster P2450H + hyundai 22" widescreen
Antec truepower quatro 850 watt
Case
Mouse
HAF 932
Razer Lachesis
View all
hide details
CPU
Motherboard
Graphics
RAM
Core I7 920
Asus Rampage Extreme II
2x Visiontek HD4870 CF
G.skill Black Pi 6GB 1600 Mhz
Hard Drive
OS
Monitor
Power
RAID 0 Seagate 1000 gb 32 mb
Windows 7 pro 64 bit
Samsung syncmaster P2450H + hyundai 22" widescreen
Antec truepower quatro 850 watt
Case
Mouse
HAF 932
Razer Lachesis
View all
hide details