I am writing this guide (my first) to help people choose a CPU cooler that is perfect to fit their needs. Keep in mind, this is only for Intel CPUs. Hopefully an AMD counterpart will be on its way.
Part One: What Are Your Needs??
Ok, so you know you want to go beyond the intel stock cooler on your CPU. You probably want to go further with your overclocking abilities, and this is a great way to expand your possibilities. First things first, though, you need to know what your limits and needs are. Here we go.
Step One: How Much Can You Afford?
Everyone has a budget. Well maybe not everyone, but you get the point. How much can you, or will you, spend on cooling? Coolers range from $5 to $80, and their performance does too. Decide what your possibilities are, and move on to step two.
Step Two: Do You Have Room?
Many people do not factor this into their decision. Let's face it, you're not going to fit a TRUE120 into your MiniATX case. Therefore, you need to figure out how much room you have. Is it going to fit heightwise? Will it clear the side of your case? Will it clear your Northbridge? You'd better figure this out now, because if you order without checking, you could become stuck with a cooler you can't use. So before you buy, shut your rig down, pop the side panel off, and measure. All dimensions of coolers are shown on their specs, like shown here: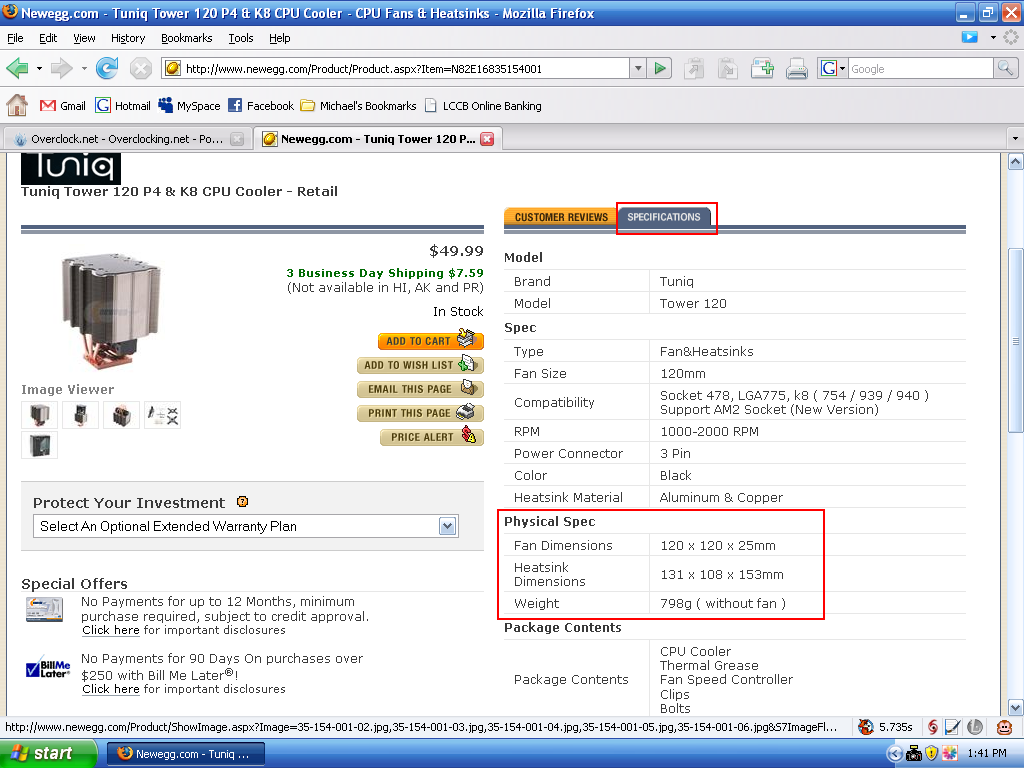 Step Three: Do You Know How?
You may know what cooler you want, but do you know how to install it? The directions included almost always suck, so you probably want to know how just in case. If you don't get the instructions, you're in a pickle, since you can't exactly boot a computer up to check online when it's half torn apart. Usually, you will have to take the motherboard out during installation.
Part Two: The Coolers.
Here i will list many of the main coolers on the market, in order from highest performing to lowest. I will also give a short description, and a rating system to allow other users to put in input.
The Thermalright Ultra 120 eXtreme
Rating: 4/5 based on 1 opinion
Price:
$60 at Tankguys + a fan (est $10)
The Thermalright Ultra 120 eXtreme (nicknamed the TRUE for shortness) is the highest performing intel air cooler on the market right now, and has been the king for some time. It is enormous, and requires the purchaser to buy a separate fan. Most users will recommend the
Skythe Ultra Kaze
, but there are many options, as any 120mm fan works. The TRUE is for the people that want the best of the best, and are willing to pay for it. It has a little brother, the Ultra 120, not the eXtreme, so do not buy that thinking it's a TRUE.
OCZ Vendetta 2
Rating: N/A
Price:
$50 at Newegg
The OCZ Vendetta 2 is the sequel to the Vendetta. They really improved on this one, as this is a heck of a cooler. For the money, it kills the TRUE. However, in bare performance, it can't stand up to the king. You fanboys can argue all you want, but the facts stand. At higher fan RPMs, the TRUE beats it. This cooler is one of the highest performing coolers available, however. If you can't quite cough up the $80 to get a TRUE, or just don't need the best, this is the one for you.
Xigmatek HDT-S1283
Rating: 5/5 based on 1 opinion
Price:
$36
The third of the three top coolers on the market. The TRUE can beat both the S1283 and the V2. This Xigmatek, although it has one heck of a name to remember
is one of the best bang-for-your-buck coolers there. It will fit on practically any newer socket, specifically AMDs (it only goes on 775 intels) , and its only downfall is the fact that its fan doesn't spin at speeds as fast as its rivals. However, it is, supposedly, easy to mod a different fan onto, and the Skythe Ultra Kaze spins at 3000 rpms, so i'd say that'll do the trick. I'd say get it, as with the above coolers, you can't go wrong
Zalman 9500A 92mm
Rating: N/A
Price:
$50 at Newegg
<Description needed, PM me if you have one>
Zerotherm Nirvana 120 Premium
Rating: 2/5 out of 1 opinion
Price:
$60
The NV120 is a good heatsink, but the bad part about it is the build quality. It's terrible.
this TH review
agrees! It's cooling potential is amazing if you get a decent one. Be careful though...also Zerotherm's cutomer support dept sucks.
Tuniq Tower 120
Rating: 5/5 based on 1 opinion
Price:
$50
The TT120 is a very good midway cooler. It performs well al around, and is perfect for someone who doesn't need to go all out. It also has an LED-infested varient for $20 extra.
Arctic Cooling Freezer 7 92mm
Rating: 4/5 based on 1 opinion
Price:
$29 at Newegg
The Arctic Cooling Freezer 7 is a lower end cooler, but still boasts excellent potential for its price. Although it may not be as bulky or have as big of a fan as some of its rivals, at the price, this thing is unbeatable. All the heatpipes are copper, and the thing is hardly audible when the fan is toned down a notch. This is the ultimatum when it comes to lower budget air cooling.
More on the way!!!
Please leave ratings and feedback, this is my first guide.
Log
June 16, 2008: Posted original material
June 17, 2008: Added Freezer 7, Zalman 9500A, added log.
June 17, 2008: Added OCZ Vendetta 2, Xigmatek HDT-1283
Edited by wierdo124 - 7/11/08 at 11:03am