First off just wanted to say hey to all, Looks like a great forum and everyone knows there stuff so it seems i'm in good hands.
About three days ago i purchased a new set of PC components and assembled it myself. Now its not the first time I've built myself a PC however it was a fair wack of cash I spent and just wanted to make sure that my new machines not going to turn into a flaming pile of scrap metle, if I leave it at its current temps.
Heres a couple readings. My ambient room temperature is at about 26 degrees Celcius. the case fan is currently off and front drive bays open. North Bridge 68 degrees Celcius and the South Brige is at 63 degrees Celcius
Case fans need to be upgraded this weekend but at the moment have 2 80mm Exhausts and 2 80mm Intakes not ideal but as I said I'm getting a number of 120mm fans this week.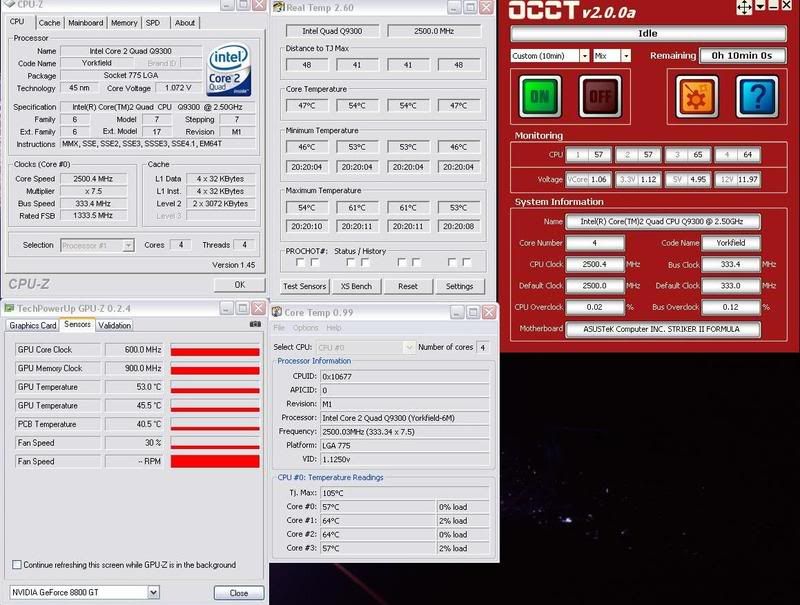 Now my questions are which ones got the truest reading, is the stock intel HS really this crap, and are the North and South Bridges meant to get so hot.
Edited by Ironfield - 6/17/08 at 10:41am
CPU
Motherboard
Graphics
RAM
Q9300 @2500 @3000
Asus Striker II Formula
XFX 8800GT 512mb in SLI
4GB Kingston DDR2 6400
Hard Drive
Monitor
Power
Western Digital 1TB
22" HPw2207
1000 Watt Topower
View all
hide details
CPU
Motherboard
Graphics
RAM
Q9300 @2500 @3000
Asus Striker II Formula
XFX 8800GT 512mb in SLI
4GB Kingston DDR2 6400
Hard Drive
Monitor
Power
Western Digital 1TB
22" HPw2207
1000 Watt Topower
View all
hide details