Quote: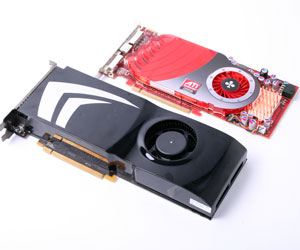 I certainly wasn't expecting the events of the past few days to play out the way they did...

Over the course of this week, I've been subjected to some pretty heavy marketing messages from both AMD and Nvidia and it's fair to say that we're well past the sleeve-rolling-up stage – the daggers are out and they're being waved around pretty frantically.

As I was preparing to board the plane to Malaga for AMD's Radeon HD 4000-series press event, I received a call from Nvidia to tell us that it was seeding certain websites—including bit-tech—with GeForce 9800 GTX+ cards ahead of their mid-July launch.

Our card arrived just yesterday and Richard was on hand to reveal the details while I was on my way back from Malaga after being out of the country for less than 18 hours.

Nvidia wanted this new card directly compared against the Radeon HD 4850 – my guess was that it was worried. And that's with good reason, because AMD put out some very lofty claims for the Radeon HD 4000-series during the short event in the sunny Costa Del Sol (it was a shame I didn't have time to soak up some sun, as I'm looking rather pale at the moment).

Originally, the Radeon HD 4000-series was completely under cover until next week, but certain retailers in Europe were over-eager to get on with selling the Radeon HD 4850 in particular. They refused to comply with AMD's requests to stop them selling the unreleased hardware, so AMD felt the only thing it could do was to lift the embargo on its performance.

I can't tell you a great deal about the architecture at the moment, but let's just say that it's looking rather impressive and the early (theoretical) performance tests we've done seem to add up, matching AMD's claims. What's more, the price AMD's going to hit has resulted in Nvidia basically dropping its pants on the GeForce 9800 GTX price, and forcing it to pre-announce the GeForce 9800 GTX+ ahead of its mid-July availability date.

The GeForce 9800 GTX price drop is sure to upset anyone that purchased a card in the past few days, but then I guess that's just the technology industry sticking its proverbial two fingers up at you. This isn't the first time that I've seen this happen in my years as a hardware enthusiast.

That said, I'm quite enthused by AMD's new take on GPU design – it's now targeting the price point that it never ever used to get right. Based on what we saw with the Radeon HD 3850, and what we're starting to see with the Radeon HD 4850, it looks like it's causing Nvidia some problems – there were three products that tried to compete with the Radeon HD 3850, and there are already two products going up against the 4850. I wouldn't be at all surprised if we see more coming as time goes by as well...

One thing is for sure now, I've got my work cut out to bring you everything you want to know about these new products in a timely manner – I'm sure there'll be many sleepless nights over the next couple of weeks while we work to bring you enough information to enable you to make informed buying decisions.

Stay tuned for our GeForce GTX 280 coverage shortly, too!
Source