Correct. DDR3 uses lower signalling voltage. It also uses less power.
While clock speeds increase, latency does as well. However, latency generally does lower as manufactoring process gets better.
As trueg50 mentioned, the signalling has changed. In addition, there are a few other subtle differences that most of us don't care about but paves the way for faster clocks.
Please read this awesome article:
http://www.bit-tech.net/hardware/200...emory_part_4/1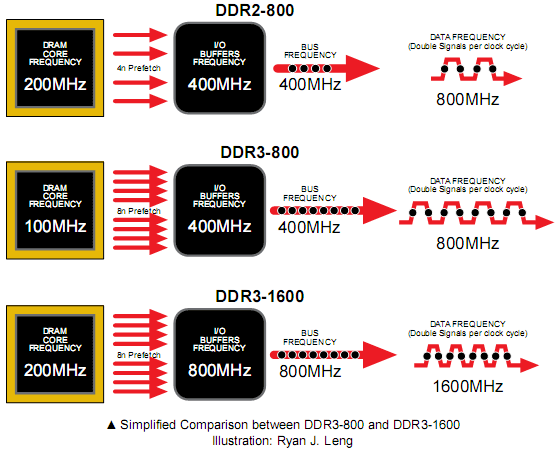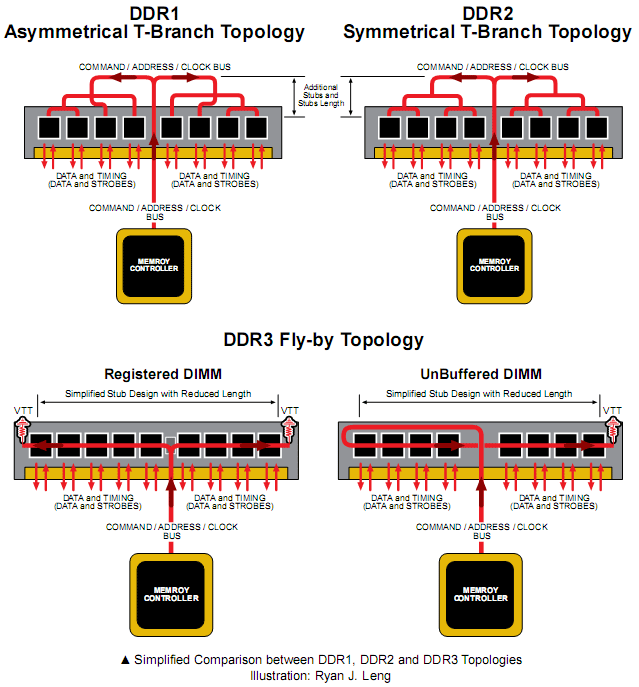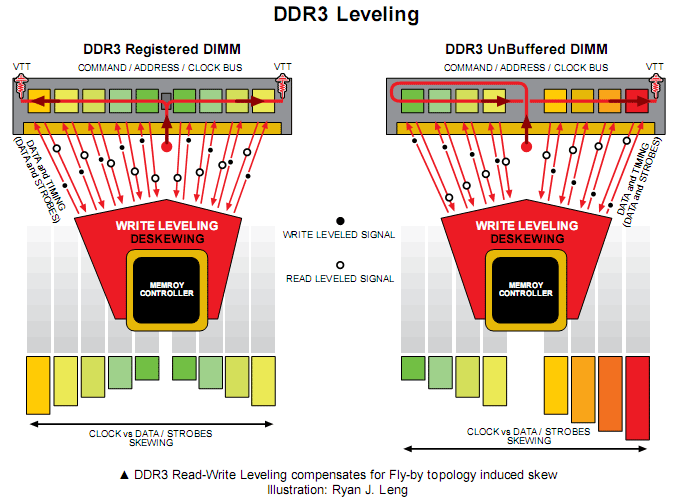 CPU
Motherboard
Graphics
RAM
i7 920 [4.28GHz, HT]
Asus P6T + Broadcom NetXtreme II
VisionTek HD5850 [900/1200] + Galaxy GT240
2x4GB G.Skill Ripjaw X [1632 MHz]
Hard Drive
OS
Monitor
Keyboard
Intel X25-M 160GB + 3xRAID0 500GB 7200.12
Window 7 Pro 64
Acer H243H + Samsung 226BW
XARMOR-U9BL
Power
Case
Mouse
Mouse Pad
Antec Truepower New 750W
Li Lian PC-V2100 [10x120mm fans]
Logitech G9
X-Trac Pro
View all
hide details
CPU
Motherboard
Graphics
RAM
i7 920 [4.28GHz, HT]
Asus P6T + Broadcom NetXtreme II
VisionTek HD5850 [900/1200] + Galaxy GT240
2x4GB G.Skill Ripjaw X [1632 MHz]
Hard Drive
OS
Monitor
Keyboard
Intel X25-M 160GB + 3xRAID0 500GB 7200.12
Window 7 Pro 64
Acer H243H + Samsung 226BW
XARMOR-U9BL
Power
Case
Mouse
Mouse Pad
Antec Truepower New 750W
Li Lian PC-V2100 [10x120mm fans]
Logitech G9
X-Trac Pro
View all
hide details