Hello everyone in OCN land. I first just want to say that I am inspired buy the good guys and gals here. I built my first rig early this spring. In doing the research to build what I wanted I became hooked on these forums. Seeing all the really cool mods and advice given to people asking questions I decided to try a bit of modding myself. Not having the imagination or experience of some of the better modders I stuck with a fairly simple plan of action and name.
I love my A900 case, but the bare metal on the inside left something to be desired. So I went with trying to match the color of the Gigabyte blue of the motherboard for the inside except the area of the harddrive and front case fans which are going to be black. I bought a 1" hole drill for a few holes to help with cable managment too. Ill probably need a 24 pin extention before Im done.
heres the first steps: (the wife and kids freaked over the caseless setup,lol)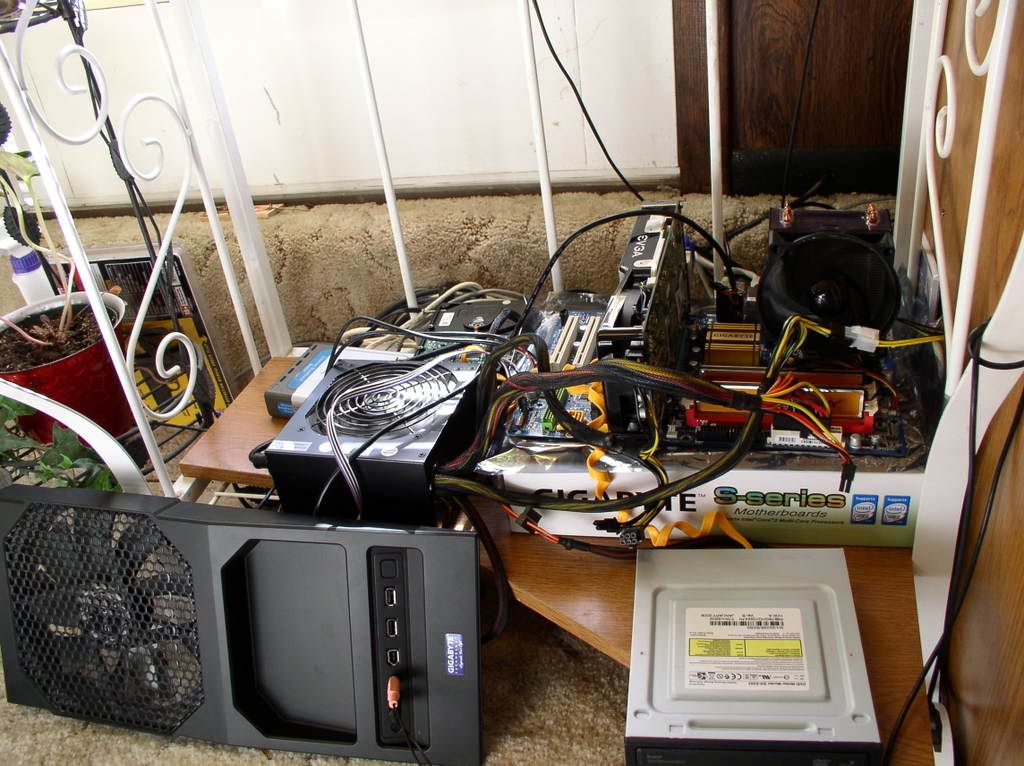 and the bare case, If found out how to get the top off by searching these forums.....thank you very much, I would have had no clue how to without breaking a few tabs.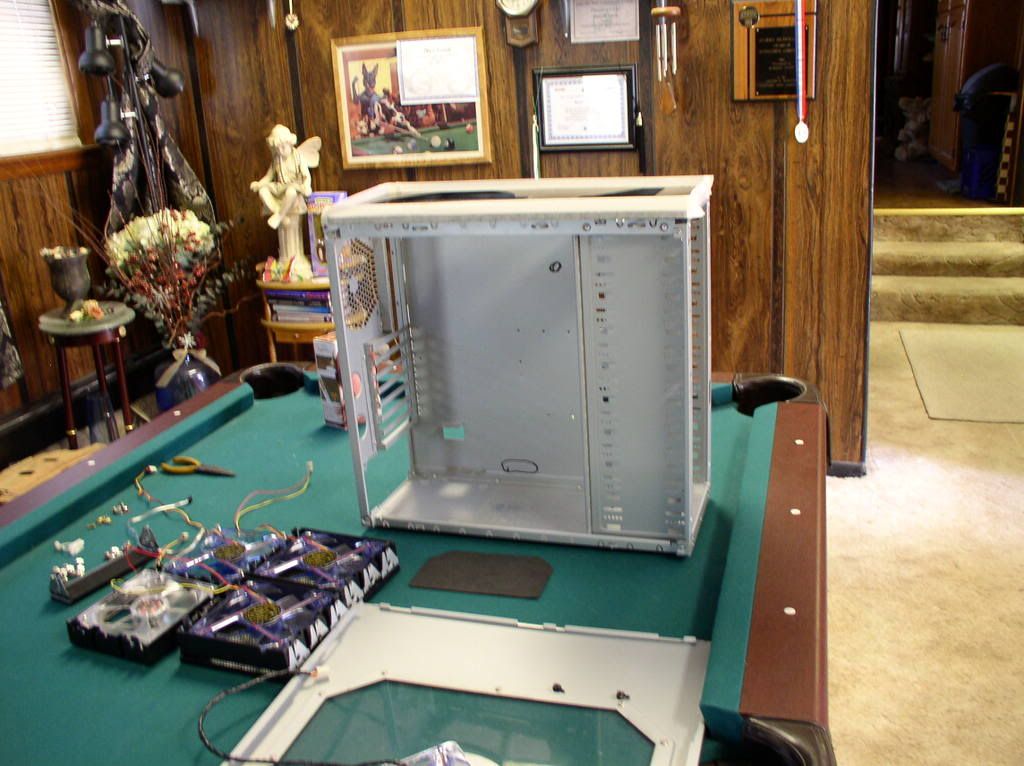 Start of the painting: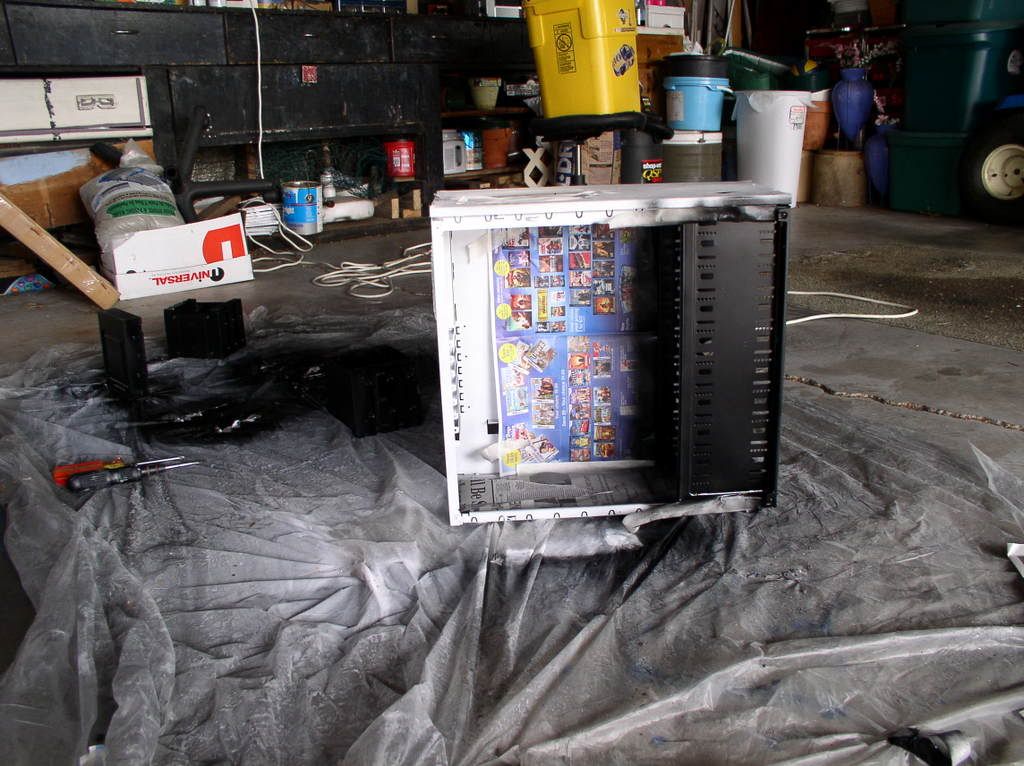 All I can say is "Damn This Is Fun"!
only problem I think i might have is being to impatient and want to get it put back together to quick, but Im trying my best take my time.Wish me luck.
Chef
CPU
Motherboard
Graphics
RAM
Core 2 Duo e8400 @ 4.0Ghz 1.30vcore
Gigabyte GA-P35-DS3L
Gigabyte GTX560Ti OC
G.SKILL 4GB (2 x 2GB) 240-Pin DDR2 SDRAM DDR2 1100
Hard Drive
Optical Drive
Cooling
OS
Seagate barracuda 7200.10 320 Gb + 500Gb WD ext...
Samsung DVD burner
Coolermaster TX3
Windows 7 Home Premium 64 bit
Monitor
Keyboard
Power
Case
ASUS 24" LCD VW246YH + Hannspree 20" HF207
Logitech G110
OCZ StealthXStream 600
Antec 900
Mouse
Mouse Pad
Audio
Other
Logitech G5
rocketfish
Asus DX
Klipch Promedia 2.1 + Audio Technica A-700 head...
View all
hide details
CPU
Motherboard
Graphics
RAM
Core 2 Duo e8400 @ 4.0Ghz 1.30vcore
Gigabyte GA-P35-DS3L
Gigabyte GTX560Ti OC
G.SKILL 4GB (2 x 2GB) 240-Pin DDR2 SDRAM DDR2 1100
Hard Drive
Optical Drive
Cooling
OS
Seagate barracuda 7200.10 320 Gb + 500Gb WD ext...
Samsung DVD burner
Coolermaster TX3
Windows 7 Home Premium 64 bit
Monitor
Keyboard
Power
Case
ASUS 24" LCD VW246YH + Hannspree 20" HF207
Logitech G110
OCZ StealthXStream 600
Antec 900
Mouse
Mouse Pad
Audio
Other
Logitech G5
rocketfish
Asus DX
Klipch Promedia 2.1 + Audio Technica A-700 head...
View all
hide details